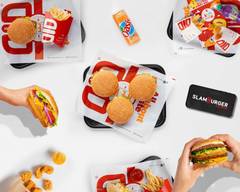 Location and hours
17 Granby Place, Leicester, LE1 6EJ
Sunday
12:00 - 23:45
Monday - Thursday
11:00 - 23:45
Friday
14:30 - 0:45
Saturday
12:00 - 0:40
Slamburger Leicester
4.6 (100+ ratings) • Wings • £
  •  
More info
17 Granby Place, Leicester, LE1 6EJ
Tap for hours, info and more
Delivery • Pick-up • Dine-in
Opens at 11:00 AM
Picked for you

[NEW] SMASH BURGERS [NEW]

[NEW] SLAM SALADS [NEW]

GRILLED BURGERS

Double Piri Piri Chicken Wooper

GOURMAND BURGERS

CLASSIC BURGERS

Smoked Double Cheeseburger

SUPREME BURGERS

VEGGIES

Veggie Burger (with Mayonnaise)

Veggie Burger (with Algerian sauce)

Veggie Wrap (with Mayonnaise)

Veggie Wrap (with Algerian sauce)

CHICKEN DONER KEBAB

OG Chicken Doner Kebab Wrap (New!)

Spicy Chicken Doner Kebab Wrap (New!)

OG Chicken Doner Kebab (New!)

Spicy Chicken Doner Kebab (New!)

GRAND SLAMS

WRAPS

BREADS

SLAM SAVERS

KIDS MEALS

SIDES

DESSERTS

DRINKS

Pepsi Max No Sugar Cola Can, 330ml

7Up Lemon & Lime Can, 330ml

SAUCES
Slamburger Leicester has a FHRS rating of 5. This information was updated on 01/09/2022. The current rating is on their page on the FSA Website. Allergies, intolerances and dietary requirements: Before ordering, please contact the restaurant directly and ask to speak to a member of staff who can assist if you require information about ingredients and help cater for your needs. Adults need around 2000 kcal a day.
Frequently asked questions
Can I order Slamburger Leicester takeaway in Leicester with Uber Eats?
Yes. Slamburger Leicester takeaway is available on Uber Eats in Leicester.
Is Slamburger Leicester delivery available near me?
Slamburger Leicester delivery might not be available everywhere in Leicester, so enter your address to see if it's available near you.
How do I order Slamburger Leicester takeaway online in Leicester?
There are 2 ways to place an order on Uber Eats: on the app or online using the Uber Eats website. After you've looked over the Slamburger Leicester menu, simply choose the items you'd like to order and add them to your cart. Next, you'll be able to review, place and track your order.
What's the best thing to order for Slamburger Leicester takeaway in Leicester?
What's best at Slamburger Leicester is totally up to you and your personal preference. If you're in need of some inspiration, consider trying one of the items featured in 'Picked for you'.
How do I get $0 Delivery Fee at Slamburger Leicester in Leicester?
The Delivery Fees may vary depending on a number of factors, like your location. Enter your Leicester address to see the current Delivery Fee. You can also explore the Uber Eats membership and subscription options available in your area to see if you can save money on Slamburger Leicester delivery with $0 Delivery Fee on select orders.