More Your Way Menu and Takeaway in London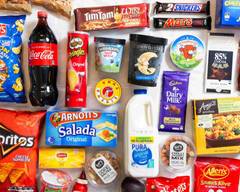 Location and hours
17 Pier Road, Erith, Da8 1ta,
Sunday
7:00 - 16:00
Monday - Thursday
7:00 - 19:00
Friday
7:00 - 20:00
Saturday
7:00 - 19:00
More Your Way
Enter your address above to see fees and delivery + pick-up estimates.
$$ • Off-licences
 • 
Everyday Essentials
 • 
Pet supplies
 • 
Frozen Food
 • 
Snacks
 • 
Drinks
 • 
Convenience
 • 
Store
BEER, LARGER, CIDER, ALE

Frosty Jack's Cider 500ml

Karapackie Super Mocne 500ml

Kopperberg StrawberryLime

Rekorderlig StrawberryLime

Bulmer's Crushed Berry and Lime

Brother's Rhubarb and Custard

Vodka, Whisky, Rum, Gin and Champagene

Cactus Jack Passion Fruit

Captain Morgan Dark Rum 35cl

Captain Morgan Spiced Gold 35CL

SIERRA TEQUILA SILVER 70CL

Johny Walker Black Label 70CL

Jameson Irish Whisky 70CL

Gordan's Sport of Elder Flower 70CL

Absolut Vodka Vanila 70CL

Absolut Vodka Passion Fruit 70CL

Au Vodka Green Watermelon

Glenlivet Founders Resarch

Sampans Charles Champegene

Wines

Premier Estate Sauvignon Blanc

Echo Falls Sauvignon Blanc

Blossom Hill White CrispFruity

Galllo Family Sauvignon Blanc

Yellow Tail Sauvignon Blanc

Oxford Landing Sauvignon Blanc

Casilero Del Dialbo Chardonnay

Casilero Del Dialbo Sauvignon Blanc

Jacob's Creek Shiraz Rose

Gallo Family Pink Moscato

Barefoot Pink Pinot Grigo

Bloosm Hil Pink Rose Crisp and Fruity

Echo Falls Summer Berries

Echo Falls Pinot Grigo Rose

Hardy's Chardonnay Semilian

Casilero Del Dielero Sauvignon Blanc

Bloosom Hil Pink Pinot Grigo

Jacob's Creek Cabernet Sauvignon

Barefoot Cabernet Sauvignon

Gallo Family Cabernet Sauvignon

Hardy's Vr Cabernet Sauvignon

Stowells Cabernet Sauvingnon

Echo Falls White Zinfadel

Blossom Hil White Zinfadel

Oxford Landing Cabernet Sauvignon

Yellow Tail Cabernet Sauvignon

Echo Falls Cabernet Sauvignon

Blossom Hil Crisp Fruity White

Blossom Hil Sauvignon Blanc

Gallo Family White Granche

Blossom Hill Granche Rose

AMERICAN DRINK

Fanta Orange american can

Soft Drink

Coke Zero Sugar Vanila Can

Coke Zero Sugar Cheery Can

Light, crisp taste, all the refreshment with no sugar and no calories. A bold and robust fizzy drink

MAXIMUM CHERRY, NO SUGAR. A bold fizzy drink with a refreshing Cherry twist

Fanta Orange american can

7Up Lemon & Lime Can, 330ml

Light, crisp taste, all the refreshment with no sugar and no calories. A bold and robust fizzy drink

Pepsi Max Ginger No Sugar Cola Bottle, 500ml

Tango Orange Bottle, 500ml

Schwepps-Slim Line Lemonade

Boost Energy Original 1 ltr

Lucozade Wild Cheery 1ltr

Crisp, bold lemon lime flavour. Refreshing, the right balance of bursting citrus flavour, sweetness and carbonation

Old Jamaica Ginger Beer can

Old Jamaica Pineapple Beer can

Ribena Sparkling Blackcurrent can

Ribena Sparkling Raspberry can

Rubicon Sparkling Lychee can

Rubicon Sparkling Mango can

Redbull Coconut and Berry

Rubicon Raw Blueberry and Raspebry

Rubicon Raw Cheery and Pomgrante

Rockstar Blueberry and Pomgranate

Rockstar Tropical Orange Passion Fruit

Tropical Sun Coconut Water

Coca Cola Zero Sugar 500ml

Coca Cola Cherry Zero Sugar 500ml

Diet Coca Cola Sublime Lime

Great tasting classic Pepsi Cola. A bold and robust fizzy drink

Rubicon Sparkling Passion 500ml

Rubicon Sparkling Guava 500ml

Rubicon Sparkling Lychee 500ml

Rubicon Sparkling Mango 500ml

Rubicon Sparkling StrawberryKiwi

Rubicon Sparkling BlackcherryRaspbery

Levi Roots Tropical Punch 500ml

Levi Roots Jamaican Punch 500ml

Levi Roots Carraibean Crush 500ml

Ka Sparkling Karraibean Cola

Calypso Coconut Colada Limede

Calypso Strawwberry Lemonade

Calypso Triple Melon Lemonade

Calypso Paradise Punch Lemonade

Calypso Pink Guava Limede

Calypso Original Lemonade

Calypso Sweet Cherry Limede

Calypso Black Cherry Lemonade

Calypso Grape Berry Lemonade

Calypso Pineapple Peach Limede

Lucozade Carraibean Crush

Lucozade Watermelon and Strawberry

Lucozade Raspeberry Ripple

Lucozade Sportcap Raspberry

Lucozade Sportcap Cherry Kick

Lipton Raspeberry Ice Tea

Ribena No Sugar Blackcurrent

Euro Shopper Summer Fruit

Euro Shopper Citrus Punch

Euro Shopper Sparkling Cherry

Euro Shopper Sparkling Orange

Euro Shopper Tropical Berries

Fruitshot Apple and Black Current

Caprisun Orange Small Pack

Caprisun Black Current Small Pack

Tropical Vibes Sorel Ginger

Tropical Pineappple Ginger

Fever Tree Premium Tonic Water

Ginger Ale Schwepps 1 Lit

Tropical Sun Aloe Vera Original

Tropical Sun Aloe Vera Mango

Jucee Orange No Sugar Black Current Apple

Robinson Apple and Black Current

Robinson Orange and Pineapple

Volvic 1.5 Lit Summer Fruit

Volvic 1.5 Lit Strawberry

Volvic 1.5 Lit Lemon and Lime

Volvic Orange 500ml Water

Volvic Summer Fruit 500ml

Volvic Strawberry Sugar Free 500ml

Volvic Watermelon Sugar Free 500ml

Volvic Mango Sugar Free 500ml

Volvic Lemon Nd Liime 75cl

Ice valley sparkling water 500 ml

Highland sparkling water 500 ml

Schwepps indian tonic water

Ribena raspeberry and rhuberb

Tea, Coffee and Mexican Rice Etc

Euro Shopper Instant Coffe

Happy Shopper Gold Roast Coffe

Cadbury Inst.Hot Choclate

Happy Shopper Tomato Puree

Uncle Bean Medium Curry Sauce

Happpy Shopper Mexican Micro Rice

Happy Shopper Long Grain Rice

Uncle Bean Golden Veg Rice

Uncle Bean Spicy Mexican Rice

Happy Shopper Pickeled Onion

Happy Shopper Sliced Beat Root

Biscuits

Happy Shopper Pink Wafers

Happy Shopper All Butter Short Bread

Happy Shopper Custard Creams

Happy Shopper Bourbon Creams

H.S Plain Choclate Digestive

H.S Milk Choclate Digestive

Happy Shopper Choclate Chip Cookies

Mcvities Milk Choc Hobnobs

Mcvities Choclate Chip Cookies

Mcvities Cookies White Choc Chip

Euro Shopper Choclate Chip Cookies

Choc

Mars Chocolate Duo Bar 78.8g

Twix Xtra Chocolate Biscuit Twin Bars 75g

Twix Xtra White Chocolate Biscuit Twin Bars 75g

Bounty Coconut Milk Chocolate Trio Bar 85g

Bounty Coconut Dark Chocolate Duo Bar 57g

Bounty Coconut Milk Chocolate Duo Bar 57g

Galaxy Ripple Chocolate Bar 33g

Choose Pleasure Galaxy® Ripple®, smooth & creamy milk chocolate with a luxurious rippled centre.

Cadbbury Dairy Miilk Double Decker

Galaxy Salted Caramel Chocolate Bar 135g

Smooth and creamy Galaxy® chocolate with luxurious salted caramel.

Nestle Milky Bar White Ch

Nestle Aero Caramal Black

Euro Shopper Milk Choclate

Euro Shopper White Choclate

Euro Shopper Milk Choc Fruit Nut

Kitkat Chunky Peanut Butter

Kitkat Zebra Dark and White

Nestle Yorkie Raisin Nd Biscuits

Drumstick Squashiies Sour

Drumstick Squahies Rhubarb and Cust

Drumstick Squashies Bubble Gum

Happy Shopper Choclate Raisiins

Cadbury White Giant Button

Cadbury Dairy Miilk Orange Giant

Cadbury Dairy Milk Caramel Ness

Cadbury Dairy Milk Giant Button

Maynarads Bassests Liqurice Assorts

Chewingum

Extra Peppermint Chewing Gum Sugar Free 10 pieces

Extra Cool Breeze Chewing Gum Sugar Free 10 pieces

Extra Cool Breeze Chewing Gum Sugar Free 10 pieces

Extra® gum known for its incredible, long-lasting flavours. It is available in a variety of distinctive flavours, tailored to local tastes around the world. This product is sugar free. Suitable for Vegetarians. Allergy Advice Contains: Soya.

Extra Refreshers Bubblemint

Wrigley"S Extra White Bubble

Wrigleys Extra Peppermint

Hubba Bubba Chunky and Bubbly

Crisp

Golden Wonder Salt and Vinegar

Asiko Exotic Crisps Platinum Banana

Exotic Crisps Banana Platinum

Deal Special Wines

Castelia Piinot Grige Blushh

Rocagranate Cabernet Sauvignon

Fridege Pack

Stella Artois 12 Bottle 284ml

Corona Extra 12 Bottle 330ml

Carlsberg Pilsner 10 Can 440ml

Guiness Draught 10 Can 440ml

Stella Artois 10 Can 440ml

Tissue Towel and Naan Pita

Euro Shoppper White Toilet Tissue

E.S White Toilet Tissue 4 Rolls

E.S Kitchen Towells 4 Rolls
Frequently asked questions
Can I order More Your Way delivery in London with Uber Eats?
Yes. More Your Way delivery is available on Uber Eats in London.
Is More Your Way delivery available near me?
Enter your address to see if More Your Way delivery is available to your location in London.
How do I order More Your Way delivery online in London?
There are 2 ways to place an order on Uber Eats: on the app or online using the Uber Eats website. After you've looked over the More Your Way menu, simply choose the items you'd like to order and add them to your cart. Next, you'll be able to review, place and track your order.
Where can I find More Your Way online menu prices?
View upfront pricing information for the various items offered by More Your Way here on this page.
How do I get free delivery on my More Your Way order?
To save money on the delivery, consider getting an Uber One membership, if available in your area, as one of its rewards is a $0 delivery fee on selected orders.
How do I pay for my More Your Way order?
Payment is handled via your Uber Eats account.
What's the best thing to order for More Your Way delivery in London?
If you're in need of some suggestions for your More Your Way order, check out the items showcased in "Picked for you" on this page.