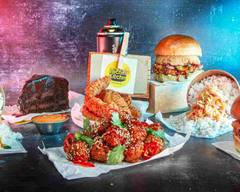 Location and hours
75 Hill St, Burton-On-Trent, DE15 9LD
Sunday
13:00 - 22:30
Monday
17:00 - 22:30
Tuesday
Closed
Wednesday - Thursday
17:00 - 22:30
Friday
15:00 - 23:59
Saturday
13:00 - 23:59
MICHIN KITCHN (Hill St, DE15)
4.9 (15 ratings) • Korean • $
  •  
More info
75 Hill St, Burton-On-Trent, DE15 9LD
Tap for hours, address, and more
Enter your address above to see fees and delivery + pick-up estimates.
Picked for you

STICKY RICE WITH SESAME SEEDS

KIMCHI RICE

CRAZY BURGERS FOR ALL TASTES

WINGS AND THINGS

VEGAN BURGERS & THINGS

VEGAN POPCORN CHCKN

GLAZED VEGAN POPCORN CHCKN

VEGAN NYAM NYAM BURGER

VEGAN GEO-DAE

VEGAN MAE-UN BURGER

SIDES (사이드 메뉴)

STICKY RICE WITH SESAME SEEDS

KIMCHI

KIMCHI RICE

MISO SLAW

SAUCES (소스)

DESSERTS (후식)

MICHIN RICE

Soft Drinks
MICHIN KITCHN (Hill St, DE15) has a FHRS rating of 5. This information was updated on 30/06/2022. The current rating is on their page on the FSA Website. Allergies, intolerances and dietary requirements: Before ordering, please contact the restaurant directly and ask to speak to a member of staff who can assist if you require information about ingredients and help cater for your needs. Adults need around 2000 kcal a day.