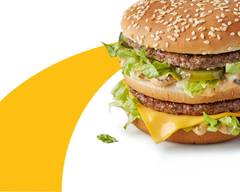 Location and hours
Stafford Trade Centre, Stafford, Staffordshire ST16 2
Every day
7:00 - 10:45
Breakfast
10:55 - 23:45
Lunch & Dinner
McDonald's® - Stafford Trade Centre
Enter your address above to see fees and delivery + pick-up estimates.
$ • Burgers
 • 
Breakfast and brunch
Featured

McMuffins

Mighty McMuffin® with Brown Sauce

Double Sausage and Egg McMuffin®

Sausage and Egg McMuffin®

Double Bacon and Egg McMuffin®

Rolls & Flatbread

Breakfast Roll with Ketchup

Breakfast Roll with Brown Sauce

Porridge & Pancakes

Pancakes & Sausage with Syrup

Porridge with Lyle's Golden Syrup®

Hash Brown & Sides

Sweet Snacks

McCafé® Hot Drinks

Water & Still Drinks

Nestle® Pure Life® Spring Water (Still) 500ml

Organic Semi Skimmed Milk

McCafé Iced & Smoothies

Regular Mango & Pineapple Smoothie

Regular Frozen Strawberry Lemonade

Fizzy Drinks

Small Coca-Cola® Zero Sugar

Milkshakes

Medium Chocolate Milkshake

Medium Strawberry Milkshake

Condiments
McDonald's® Stafford Trade Centre has a FHRS rating of 5. This information was updated on 11/11/2022. The current rating is on their page on the FSA Website. We cannot guarantee your food is allergen free. Your food and its packaging may come into contact with allergens during preparation, cooking or delivery. The food is produced in kitchens where allergens are handled and where equipment and utensils are used for multiple menu items, including those containing allergens. For nutrition and allergen information visit www.mcdonalds.co.uk/nutrition. Adults need around 2000 kcal a day.