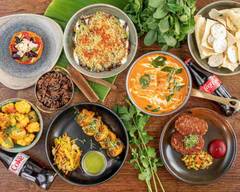 Location and hours
2, Wembley Boulevard, Wembley Park, London, England HA9 0HP
Sunday
11:30 - 21:30
Monday - Saturday
11:00 - 22:00
MASALCHI BY ATUL KOCHHAR
4.2 (70 ratings) • Biryani
  •  
More info
2, Wembley Boulevard, Wembley Park, London, England HA9 0HP
Tap for hours, address, and more
Enter your address above to see fees and delivery + pick-up estimates.
Picked for you

Mah di Daal

Chicken Hyderabadi Biryani

Kadhai Paneer

Grills

Achari Paneer Shashlik

Lahori Chaapein

Grilled lamb chops inspired from the street markets of Lahore

Grilled Broccoli with Lime and Kasundi Mustard.

Malwani spiced grilled prawns

Handi, Masala and Kalia

Kadhai Paneer

Subz Nariyal Korma

Saag Makai

Creamed spinach and corn kernels with cumin, chilli and garlic.

Prawns cooked with peppers, onions, tomato and coriander.

Chicken cooked with onions, tomatoes, peppers and freshly pounded spices.

Homestyle Punjabi Chicken Curry.

Boneless diced lamb leg with chilli and pickling spices.

Diced lamb cooked with browned onion, black cardamom and coriander.

Half Plates

Saag Aloo Pyazi

Dahi Bhalla

Chukunder Chaap

Chicken 65 - Hotel Buhari

Spicy

Punjabi Samosa

Classic Punjabi samosa, tamarind chutney.

Crispy lentil and spinach galette, spicy tomato chutney

Paneer tossed with peppers and Tibetan shapta sauce.

Biryani

Chicken Hyderabadi Biryani

Spicy

Nizami Subz Biryani

Vegetables

Smoked Aubergine Chokha

Punjabi Chole

Mah di Daal

Peeli Daal

Papad and Chutney

Cucumber Raita

Adraki Gobi

Gajar Aur Matar Ki Sabji

Aloo Jeera

Punjabi Laichha Pyaz

Rice and Bread

Cheese and Coriander Naan

Dessert

Velvety dark chocolate mousse.

Rose flavoured steamed yoghurt mousse.

Drinks

Sparkling Water 500ml Bottle

Koppaberg Strawberry and Lime

King Cobra 375ml 5.2% Alc
MASALCHI BY ATUL KOCHHAR has a FHRS rating of 5. This information was updated on 02/07/2022. The current rating is on their page on the FSA Website. Allergies, intolerances and dietary requirements: Before ordering, please contact the restaurant directly and ask to speak to a member of staff who can assist if you require information about ingredients and help cater for your needs. Adults need around 2000 kcal a day.