Mantra Menu and Takeaway in Cheddleton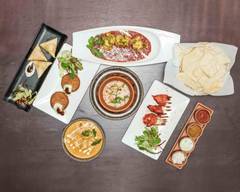 Location and hours
Cellarhead & Cellarhead Road, Stoke-On-Trent, EMEA ST9 0
Sunday
16:00 - 20:00
Monday - Thursday
Closed
Friday - Saturday
16:00 - 20:00
Mantra
Cellarhead & Cellarhead Road, Stoke-On-Trent, EMEA ST9 0
Enter your address above to see fees and delivery + pick-up estimates.
Rice

Breads

Garlic and Coriander Naan

Accompaniments

Selection of House Chutneys for 2

Children's Menu

Children's Chicken Nuggets, Chips and Salad

Children's Fish Fingers, Chips and Salad

Children's Chicken Korma and Rice

Children's Chicken Tikka Masala and Rice

Starters

Mantra Starter Platter For Two

Onion Bhaji

An all-time favourite. Sliced onions combined with mild spices and deep fried to perfection.

Delhi Aloo Tikki Chaat

Crunchy potato patties served with yoghurt and mint chutney.

Tandoor grilled king prawns flavoured with carom seeds, chillies, and mustard.

Includes 3 of your favourites, chicken tikka, onion bhaji, and lamb samosa.

Tandoori chicken tikka flavoured with mild spices, accompanied with peppers and onions.

Chicken tikka in 3 flavours. Tandoori, green nerbs, pickled.

Battered Tiger Prawns Chatpata

Crispy coated tiger prawns, sweet chilli, and fresh coriander sauce.

Pan seared seabass flavoured with fresh Indian herbs.

Paneer Tikka

Cottage cheese and peppers grilled with tandoori spices.

Lamb mince kebabs flavoured with herbs and skewered in tandoor.

Fried crunchy pastry filled with vegetables, spiced with garam masala.

Traditional Curries

Mild creamy coconut and cashew based sweet and flavourful sauce.

Spicy, think tomato, and onion gravy with peppers.

Classic mild, creamy tomato sauce with chunks of peppers, and onions.

Medium spiced smooth tomato gravy flavoured with cinnamon and cardamom.

A very spicy sauce of ripe tomato, green chillies, and peppers.

Hot and spicy caramelised onion sauce with whole spices.

Medium spiced pan seared onion and tomato thick sauce.

Ours is a traditional recipe with lentils, tamarind, and jaggery.

Medium spiced thick sauce with onions and peppers.

Tandoori Grills

Selection of Tandoori chicken.
Served with a sauce.

Succulent lamb mince seasoned with spices and roasted on skewers. Served with a sauce.

Indian cottage cheese flavoured with mild spices, accompanied with peppers and onions, grilled in the tandoor. Served with a sauce.

Tandoori chicken tikka flavoured with classic spices. Served with a sauce.

Tandoori grilled king prawns flavoured with carom seeds, chillies, fresh lime, and mustard. Served with a sauce.

An assortment of malai chicken tikka, tandoori chicken tikka, seekh kebab, lasooni prawns, and pan seared seabass. Served with a sauce.

Mantra Special

Grilled chicken tikka cooked with fresh ginger, garlic and green chillies, in a spicy tomato sauce.

Spicy Chicken tempered with curry leaves, simmered in roasted coconut sauce.

Chargrilled chicken tempered with pickle spices, cooked in a tomato onion curry.

Tender lamb shoulder slow braised with cardamom, roasted cumin and mace, simmered in cashew, and onion gravy.

Succulent lamb simmered with garlic, garam masala, slow cooked in a spinach curry.

Chicken breast cooked in a tandoor with classic creamy tomato curry.

Mild chicken tikka tossed with mushrooms in creamy onion curry.

Lamb shoulder in thick tomato curry with peppers and fresh coriander.

Mild and creamy lamb, braised with cardamom based onion curry.

Slow cooked lamb with fresh coriander, mint, and spinach.

Seabass Kerala Coconut Curry

Fillet of seabass infused with chillies and tamarind and cooked to perfection in a creamy coconut sauce.

Pan seared seabass flavoured with Indian spices, gently simmered in tangy tomato gravy.

King prawns tempered with asafoetida, simmered in a spicy coconut sauce.

Chicken prepared with saffron, cardamoms and spices, layered with aromatic basmati rice, and cooked to perfection. Served with a sauce or roita.

Hyderabadi Vegetable Biryani

Seasonal vegetables cooked with basmati rice, saffron, cardamom, and garam masala. Served with a sauce or raita.

Slow cooked spring lamb layered with aromatic basmati rice, spices, flavoured with saffron and kewra, cooked in a traditional 'dum' style. Served with a sauce or roita.

Vegetarian and Vegan

Indian cheese combined with fresh spinach and medium spices.

Indian cheese with onions, bell peppers, chillies, and coriander.

Bombay Aloo

Medium spiced potatoes in a tomato and onion sauce.

Saag Aloo

Potatoes combined with fresh spinach, garlic, and medium spices.

Jeera Aloo

Stir fried potatoes tempered with cumin, mustard seeds, curry leaves, and coriander.

Aloo Gobi Simlamirch

Potatoes, cauliflower, and peppers in cumin and coriander based thick curry.

Dal Tadka

Yellow lentils tempered with cumin, chillies, and garlic.

Pindi Chole

Chick peas and tomatoes are simmered in fried onion, garlic, ginger, cumin, garam masala, and coriander.

Soft Drinks

Wines 750ml

Red Giotto Merlot, Veneto IGT Italian

Fresh, ripe crushed berry fruit flavours

Red Punto De Vista Cabernet Sauvignon, Central Valley Chilean

Aromas of classic blackcurrant, with hints of black pepper. The palate has flavours of concentrated dark fruits and plum with soft oak and supple tannin.

A juicy red with spicy aromas of blackberries and tobacco.

White El Mazo Pardina Chardonnay Spanish

Crisp and refreshing subtle citrus flavours

White Giotto Catarratto Pinot Grigio Italian

Light and dry with fresh citrus fruit character.

Light and delicate with fresh red berry fruit character.

Beers

Kopparberg Mixed Fruit 330ml

Kopparberg Lime and Strawberry 330ml
Frequently asked questions
Can I order Mantra delivery in Cheddleton with Uber Eats?
Yes. Mantra delivery is available on Uber Eats in Cheddleton.
Is Mantra delivery available near me?
Enter your address to see if Mantra delivery is available to your location in Cheddleton.
How do I order Mantra delivery online in Cheddleton?
There are 2 ways to place an order on Uber Eats: on the app or online using the Uber Eats website. After you've looked over the Mantra menu, simply choose the items you'd like to order and add them to your cart. Next, you'll be able to review, place and track your order.
Where can I find Mantra online menu prices?
View upfront pricing information for the various items offered by Mantra here on this page.
How do I get free delivery on my Mantra order?
To save money on the delivery, consider getting an Uber One membership, if available in your area, as one of its rewards is a $0 delivery fee on selected orders.
How do I pay for my Mantra order?
Payment is handled via your Uber Eats account.
What's the best thing to order for Mantra delivery in Cheddleton?
If you're in need of some suggestions for your Mantra order, check out the items showcased in "Picked for you" on this page.