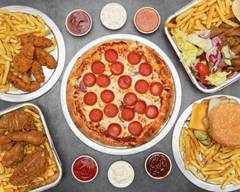 Location and hours
8 Berry Street Liverpool L1 4
Too far to deliver
Krunchy Fried Chicken
4.2 (50 ratings) • Comfort food • ¢ •
  •  
More info
8 Berry Street Liverpool L1 4
Enter your address above to see fees and delivery + pick-up estimates.
Of all the restaurants and retailers in Edge Hill, Krunchy Fried Chicken is among the 10 places users order from the most. Fun fact: Krunchy Fried Chicken serves one of the most popular things in Liverpool: cheese burger. • ¢ •
Comfort food
 • 
American
 • 
Wings
Picked for you

Pizza Menu

Garlic Bread

Burgers and Wraps

BBQ Spare Ribs

Fried Chicken

Spicy Wings

Meal Deals

Side Dishes

Milkshakes

Desserts
Krunchy Fried Chicken has a FHRS rating of AwaitingInspection. This information was updated on 10/01/2022. The current rating is on their page on the FSA Website. Allergies, intolerances and dietary requirements: Before ordering, please contact the restaurant directly and ask to speak to a member of staff who can assist if you require information about ingredients and help cater for your needs.