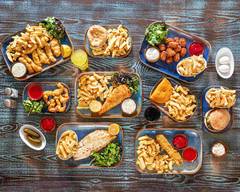 Jack the Chipper
4.6
(93)
  •  
View delivery time and booking fee.
---
Picked for you

Starters

7 pieces of whitebait, no chips

5 pieces of calamari, no chips

4 pieces of scampi, no chips

1 piece of fish cake, no chips

For Chicken Lovers

Fry Chicken Burger and Chips

Chicken Nuggets and Chips

Fried Vegetarian Burger and Chips

Savoury

Cornish Vegetable Pasty and Chips

Side Orders

Fish Supper

Hot Seafood Platter and Chips

Homemade Fish Cakes and Chips

Wholetall Scampi and Chips

Puddings

Caramel Sticky Toffee Pudding

Soft Drinks
Jack the Chipper has a FHRS rating of 5. This information was updated on 27/07/2021. The current rating is on their page on the FSA Website. Allergies, intolerances and dietary requirements: Before ordering, please contact the restaurant directly and ask to speak to a member of staff who can assist if you require information about ingredients and help cater for your needs.