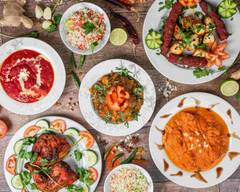 Location and hours
10 Doncaster Road, Bristol, England BS10 5PL
Sunday - Monday
16:30 - 23:00
Tuesday
Closed
Wednesday - Saturday
16:30 - 23:00
Indian Fusion
4.4 (25 ratings) • Indian
  •  
More info
10 Doncaster Road, Bristol, England BS10 5PL
Tap for hours, address, and more
Enter your address above to see fees and delivery + pick-up estimates.
Picked for you

Chicken Tikka Masala Curry

Starters

Tandoori Chicken and Salad

King Prawn Butterfly and Salad

Tandoori Dishes

Tandoori Chicken with Sauce

Tandoori Mixed Grill with Curry Sauce

Tandoori Curries

Chicken Tikka Masala Curry

Tandoori Chicken Masala Curry

Tandoori King Prawn Masala Curry

Biryani and Pilau Dishes

Indian Fusion Wraps

Chef's Specialities

Indian Fusion Special Chicken

Indian Fusion Special Lamb

Garlic Chilli Chicken Tikka

Chicken Tikka Chilli Masala

Garlic Chicken Tikka Bhuna

Lentil Curries

Chicken Red Kidney Bean Curry

Lamb Red Kidney Bean Curry

Balti Dishes

Korma Dishes

Kashmir Dishes

Malaya Dishes

Curries

Madras Dishes

Vindaloo

Rogan Dishes

Bhuna Dishes

Persian Dishes

Curry Sauce

Patia Dishes

Side and Main Dish

Saag Aloo Spinach and Potatoes

Mushroom and Chana Bhaji Chickpeas

Saag and Chana Bhaji Spinach and Chicpeas

Cauliflower and Matir Bhajee Peas

Aloo Gobi Bhajee Potato and Cauliflower

Chana Chickpeas and Mixed Vegetable Bhaji

Aloo and Peas Bhaji Potato and Peas

Dal Turka Assorted Lentils

Bindi and Chana Bhaji Okra and Chickpeas

Brinjal and Chana Bhaji Aubergine and Chickpeas

Bread

Rice

Drinks

Set Meals

Vegetarian Set Meal For Two Person
Indian Fusion has a FHRS rating of 4. This information was updated on 15/05/2022. The current rating is on their page on the FSA Website. Allergies, intolerances and dietary requirements: Before ordering, please contact the restaurant directly and ask to speak to a member of staff who can assist if you require information about ingredients and help cater for your needs. Adults need around 2000 kcal a day.
£0 Delivery Fee (spend £15)