Iceland Express - Norwich (2) Menu and Takeaway in Norwich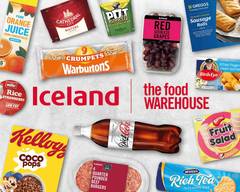 Location and hours
Unit 1/3 Anglia Square, Norwich, Norfolk,, Norwich (2), NR3 1DY
Sunday
10:30 - 15:30
Monday - Saturday
08:30 - 18:30
Iceland Express - Norwich (2)
4.4 (38 ratings) • Alcohol • $
  •  
More info
Unit 1/3 Anglia Square, Norwich, Norfolk,, Norwich (2), NR3 1DY
Tap for hours, info and more
Enter your address above to see fees and delivery + pick-up estimates.
Cathedral City 350g Mature Cheddar

Greggs 2pk Cheese & Onion Bakes

Petal Soft 9pk Toilet Tissue

Plenty 2pk Compact Kitchen Roll

Iceland 1.2k Ridiculously Crispy Chips

Iceland 460g Bbq Chic&baon Stf Crst Piz

Iceland 360g 5% Lean Beef Mince

Iceland 4pk Belgian Chocolt Majestics

Lucozade 4pk Energy Orange

Iceland 360g Cmbld Sausge

Iceland 4pt Semi Skimmed Milk

Iceland 6pk Free Range Lrge Eggs

Kellogg's 410g Choc Hazelnut Krave

Kellogg's 720g Cornflakes

Kenco 100g Really Smooth Coffee

Napolina 400g Chopped Tomatoes

Richmond 8pk Thick Irish Sausgs

Utterly Butterl 500g Spread

Warburtons 800g Toastie Thick White

Del Monte 1ltr Apple Juice

Del Monte 1ltr Apple Mango

Del Monte 1ltr Orange Juice

Del Monte 1ltr Orange With Bits

Del Monte 1ltr Pineapple Juice

Happy Monkey 4pk Orange & Mango Smoothies

Happy Monkey 4pk Strawb & Banana Smoothies

Iceland . 1ltr Apple Juice Drink

Barratt 4pk Fruit Salad Still Water

Iceland . 1ltr Cranberry Juice Drink

Barratt 4pk Wham Still Water

Iceland . 1ltr Mango Juice Drink

Iceland . 1ltr Orange Juice Drink

Iceland . 1ltr Tropical Juice Drink

Iceland 1ltr Orange Bits Juice

Frosty Jacks 2.5l Original Apple Cider

Kopparberg 10pk Strawbry & Lime Cider

Alfie 250m Pink Gin & Tonic

Birra Moretti 660m Premium Lager

Bishops Finger 500m Premium Bottled Ale

Strongbow 4pk Dark Fruits Cider

Baileys 70cl Original Irish Cream

Vape & Smoking Accessories

88 Vape 10ml Liquorice E-liquid

Zig Zag 3pk Silver Rolling Papr

88 Vape 10ml Menthol E-liquid

88 Vape 10ml Raspberry Ripll E Liquid

Zig Zag 8pk Green Rolling Papr

88 Vape 10ml Rolling Leaf E-liquid

88 Vape 1uni Black Vapourizer

Ambrosia 840m Ice Cream Vanilla

Askeys 325g Milk Chocolate Treats

Askeys 325g Strawberry Sauce

Angel Delight 800m Strawberry Ice Cream

Askeys 48pk Ice Cream Wafers

Baileys 3x.9 Baileys Choc Stick

Barratt 4pk Dip Dab Lollies

Barratt 4x70 Barratts Giant Straw

Barratt 6*60 Barratts Cola Bottles

Barratt 6*60 Barratts Milk Bottles

Doritos 180g Chilli Heatwave

Doritos 180g Cool Original

Doritos 180g Pepperoni Pizza

Doritos 180g Tangy Cheese

Doritos 180g Triple Cheese Pizza

Big Night In 250g Cinema Sweet Popcorn Bckt

Butterkist 140g Toffee Popcorn

Chiquito 200g Lightly Salted Tortil Chips

Crawfords 300g Cheese Savouries

Golden Wonder 6pk Cheese&onion Ringo's

Golden Wonder 6pk Salt & Vinegar Ringo's

Cadbury 114g Milk Chocolate Fingers

Cadbury 115g Snowy Fingers

Cadbury 150g Festive Friends

Cadbury 5pk Chocolate Chip Brunch Bar

Cadbury 5pk Raisin Brunch Bar

Cadbury 6pk Snack Shortcakebar

Bliss 5pk Caramel Biscuit Whip Bars

Bliss 5pk Raspberry/choc Whip Bars

Bliss 5pk Salted Caramel Whip Bars

Burtons 210g Jammie Dodge

Burtons 6pk Mini Jammie Dodge

Bakehill 175g Peanut Cookie

Aero 90g Purely Chocolate

After Eight 200g Cherry After Eight

Black Magic 174g Black Magic

Barratt 400g Liquorice Novelties

Cadbury 100g Bournville Old Jamaica

Bassetts 165g Liquorice Allsorts

Cadbury 100g Cdm Winterwonder

Bebeto 220g Assorted Fruit Twists

Cadbury 110g Mini Snow Balls

Bebeto 250g Strawberry Laces

Goodfellas 350g Fully Loaded Mac & Cheese

Cathedral City 450g Mac & Cheese

Iceland Luxury 400g Chicken Korma

Goodfella's 400g Beef Lasagne

Iceland Luxury 400g Chicken Makhani Msla

Goodfella's 400g Chorizo Carbonara

Iceland Luxury 450g Beef & Pancetta Al Forno Las

Iceland Luxury 450g Boeuf Bourg & Mash

Goodfellas 400g Meat Feast Pasta Bake

Iceland Luxury 450g Cheddar Mash Stk Chianti

Chicago Town 258g Tiger Crust Chs Garlic Bread

Chicago Town 296g Four Cheese Deep Dish

Chicago Town 305g Tiger Crust Cheese Pizza

Chicago Town 310g Pepperoni Deep Dish

Chicago Town 314g Mega Meaty Deep Dish

Chicago Town 315g Tiger Crust Chsy Ham&bac

Chicago Town 320g Tiger Crust Peproni Piza

Chicago Town 322g Ham & Pineapple Deep Dish

Chicago Town 630g Takeaway Four Cheese

Chicago Town 635g S/honey Bbq Slm Stuff Crust

Chicago Town 640g Stuffed Crust Pepperoni

Chicago Town 645g Spicy Pepperoni Tkaway Pizza

Chiquito 351g Nacho Cheese & Salsa Fltbrd

Cathedral City 2pk Cheese & Ham Pizzas

Goodfellas 1unt Loaded Cheese Deep Pan Piz

Goodfella's 237g Cheesy Garlic Bread

Goodfella's 250g Pepperoni Pizza Pocket

Goodfella's 250g Triple Cheese Pizza Pocket

Goodfella's 332g Thin Pepperoni

Goodfella's 363g Italian Hot Pizza

Tgi 400g Chilli Mayo Chkn Fingers

Tgi 470g Cheese Feast Pizza

Tgi 540g Meat Feast Pizza

Tgif 2pk Chargrld Amercn Stye Flattie

Tgif 480g Barbecue Bonles Wings

Tgif 480g Franks Bonles Wings

Tgif 480g Sesame Seed Chicken

Tgif 750g Smoked Wing Bbq Sauce

Greggs . 2pk Chicken Bake

Greggs 12pk Mini Steak Rolls

Greggs 16pk Mini Cheese Rolls

Greggs 16pk Mini Sausage Roll

Greggs 2pk Cajun Chicken Bakes

Greggs 2pk Cheese & Bacon Wrap

Greggs 2pk Cheese & Onion Bakes

Greggs 2pk Corned Beef Bakes

Greggs 2pk Creamy Chicken Pie

Greggs 2pk Nacho Chilli Bake

Greggs 2pk Sausage & Bean Melt

Greggs 2pk Vegan Sausage & Bean Melts

Greggs 2pk Vegetable Bakes

Greggs 4pk Vegan Sausage Roll

Greggs 6pk Milk Chocolate Cookie

Greggs 6pk Triple Chocolat Cookie

Pg Tips 50% Extra 160p Pyramid Tea Bags

Galaxy 370g Instant Hot Chocolat

Marvel 250g Skimmed Milk Powder

Costa 200g Roast & Ground Coffee

Quench 285g Instant Lemon Tea

Tassimo 8pk Cadbury's Chocolate

Options 395g Belgian Hot Chocolat

. 800g Medium Sliced White Bread

Warburtons 6pk Soft White Sandwc Thins

Becky's Bakery 4pk Cherry &sultana Scones

Bakery Delights 4pk Apple Turnovers

Becky's Bakery 4pk Devon Scones

Iceland 6pk Part Baked Crusty Rolls

Bakery Delights 7pk Almond Fingers

Becky's Bakery 4pk Sultana Scones

Iceland 6pk White Pitta Bread

Anchor 500g Spreadable Butter

Attack A Snack 99g Ham 'n Cheese Wrap Kit

Actimel 8pk Strawberry Probiotic

. 6pk Red Fruit L/f Yogurt

Alpro . Chilled Soya Milk

. 6pk Yellow Fruit L/f Yogurt

Iceland 12pk Large F/range Eggs

Yazoo 1lt Banana Milk Drink

Activia 4pk 0% Fat Peach Yoghrt

Yazoo 1lt Strawberry Milk

Bury Black Pud 4slc Black Pudding Slices

Iceland 300g Chicken Fillets

Iceland . 137 British Medium Whole Chicke

Iceland 500g Chicken Thigh Fillet

Iceland 750g Chicken Drumstick

Iceland 1 Big Daddy Srloin Steak

Iceland 750g Chicken Thighs

Iceland 1.15 Chicken Thighs

Florette 100g Baby Leaf Trio

Florette 125g Rainbow Crunchy Sala

Albert Bartlett 2kg Rooster Potatoes

Florette 220g Sweet & Crispy Salad Bowl

Florette 250g Baby Spinach

Florette 250g Sweet&crunch

Garden Of Elved 750g Baby Salad Potato

Florette 80g Babyleaf Rocket

Iceland 1.6k White Potatoes

Chilled Snacks & Cooked Meats

Fridge Raiders 3pk Southern Style Chickn Bites

Deli Speciale 160g Feta & Tomato Olives

Rustlers 141g Cheese Burger

Iceland . 200g Reduced Fat Houmous

Bernard Matthew 140g Wafer Thin Turkey Ham

Iceland . 200g Sourcream&chive Dip

Deli Speciale 200g Torchon Ham

Rustlers 150g Chicken Sandwich

Iceland . 4pk Classic Dip Selectn

Rustlers 155g Sausage Muffin

Ambrosia 400g Creamed Rice

Whitworths 1kg Granulated Sugar

Ambrosia 400g Chocolate Custard

Alpen 5x19 Light Choc & Fudge

Batchelors 300g Marrowfat Bigga Peas

Alpen 5x19 Light Jaffa Bar

Batchelors 176g Smash Instnt Potat

Batchelors 300g Mushy Peas

Cathedral City 15pk Cheese Bites

Aunt Bessie's 1.3k Homestyle Roasts

Chiquito 10pk Nacho Bites

. 10pk Jam & Cream Doughnuts

. 4pk Smoked Haddock Flts

Harry Ramsdens 1kg Chunky Chippy Chips

Cathedral City 178g Ham & Cheese Toastie

Chiquito 12pk Halloumi Fri

Aunt Bessies . 300g Jam Roly Poly

Ed's 202g Double Cheese Burger

Arctic Royal 350g Mexican Bay Scallops

Harry Ramsdens 250g Jumbo Scampi

Piccolino 400g Salmon & Brccol Pasta

Slimming World 16pk Beef & Pork Meatballs

Iceland 12pk Mini Beef & Veg Pasties

Birds Eye 10 Crispy Veg Fingers

Fry's 224g Big Fry Burger

Fry's 2pk Chick'n Fillets

Fry's 300g Popcorn Chick'n

Fry's 320g Like Chicken Burger

Fry's 380g Like Chicken Nuggets

Heinz 180g Original Beanz Burger

Heinz 180g Texan Style Beanz Burger

Iceland 2pk Nacho Spicy Bean Burgers

Iceland 4pk Cheese & Onion Crisp Bakes

Iceland 4pk Vegetable Burgers

Iceland 12pk Cheddar Cheese P/corn Bites

Iceland 18pk Mozzerella Sticks

Iceland 24pk Vegetable Spring Rolls

Iceland 250g S/f Cauilflower Popcorn

Iceland 26pk Onion Bhajis

Alberto Balsam 350m Raspberry Conditioner

Alberto Balsam 350m Raspberry Shampoo

Astonish 1ltr Golden Glow Bath Soak

Astonish 600m Aloe Vera Handwash

Astonish 600m Moistre & Protc Hand Wash

Aussie 490m Moist Conditioner

Aussie 700m Moist Shampoo

Bodyform 10pk Night Ultra Towels

Bodyform 10pk Normal Ultra

Bodyform 8pk Long Ultra Towels

Carex 500m Moisture Plus Shower Gel

Colgate 100m Cavity Protect Toothpaste

Colgate 100m Cool Stripe Pump

Colgate 100m Triple Action Toothpaste

Colgate 3pk Extra Clean Toothbrush

Andrex 36pk Aloe Vera Washlets

Bakers 1.1k Chicken S/dog Comple

Andrex 4pk Gentle Clean Toilet Roll

Breeze 1pk Maxi Kitchen Towel

Bakers 1kg Meaty Meals With Beef

Breeze 3pk Maxi Kitchen Roll

Bakers 98g Allsorts Dog Treats

Ambi Pur 1unt Cotton Fresh Starter Kit

Bakers Delight 180g Meaty Twists

Ambi Pur 2pk Blossom&breese 3volution

Butchers 12pk Chunks In Jelly Dog Food
Iceland Express Norwich (2) has a FHRS rating of 5. This information was updated on 01/09/2022. The current rating is on their page on the FSA Website. Allergies, intolerances and dietary requirements: before ordering, please contact the store directly and ask to speak to a member of staff who can assist if you require information about ingredients and help cater for your needs. Adults need around 2000 kcal a day.
Frequently asked questions
Can I order Iceland Express - Norwich (2) takeaway in Norwich with Uber Eats?
Yes. Iceland Express - Norwich (2) takeaway is available on Uber Eats in Norwich.
Is Iceland Express - Norwich (2) delivery available near me?
Iceland Express - Norwich (2) delivery might not be available everywhere in Norwich, so enter your address to see if it's available near you.
How do I order Iceland Express - Norwich (2) takeaway online in Norwich?
There are 2 ways to place an order on Uber Eats: on the app or online using the Uber Eats website. After you've looked over the Iceland Express - Norwich (2) menu, simply choose the items you'd like to order and add them to your cart. Next, you'll be able to review, place and track your order.
What's the best thing to order for Iceland Express - Norwich (2) takeaway in Norwich?
What's best at Iceland Express - Norwich (2) is totally up to you and your personal preference. If you're in need of some inspiration, consider trying one of the items featured in 'Picked for you'.
How do I get $0 Delivery Fee at Iceland Express - Norwich (2) in Norwich?
The Delivery Fees may vary depending on a number of factors, like your location. Enter your Norwich address to see the current Delivery Fee. You can also explore the Uber Eats membership and subscription options available in your area to see if you can save money on Iceland Express - Norwich (2) delivery with $0 Delivery Fee on select orders.