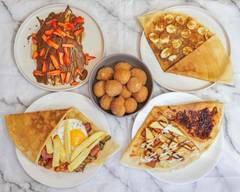 Location and hours
148 Hagley Road, Stourbridge, England DY8 2
Sunday
09:00 - 14:30
Monday - Thursday
08:00 - 15:30
Friday - Saturday
09:00 - 20:00
Too far to deliver
Grepes
4.9 (17 ratings) • Breakfast & brunch •
  •  
More info
148 Hagley Road, Stourbridge, England DY8 2
Enter your address above to see fees and delivery + pick-up estimates.
Picked for you

Sugar and Cinnamon Loukoubites

Savory Crepes

Sweet Crepes

Loukoubites

Sugar and Cinnamon Loukoubites

Loukoubites with 1 Topping

Loukoubites with 2 Toppings

Loukoubites with 3 Toppings

Make Your Own

Hot Coffees

Cold Coffees

Other Beverages

Smoothies

Banana Strawberry Smoothie 14oz

Banana Biscuit Smoothie 14oz

Mixed Fruits Smoothie 14oz

Green Power Smoothie 14oz
Grepes has a FHRS rating of 5. This information was updated on 02/12/2021. The current rating is on their page on the FSA Website. Allergies, intolerances and dietary requirements: Before ordering, please contact the restaurant directly and ask to speak to a member of staff who can assist if you require information about ingredients and help cater for your needs.