DojoBox Club Menu and Takeaway in London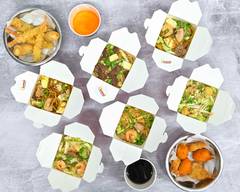 Location and hours
Unit 7, Landmark Commercial Centre, Commercial Road, Edmonton, Kitchen 15, London, England N18 1UB
Sunday
14:00 - 22:00
Monday - Friday
17:00 - 22:00
Saturday
14:00 - 22:00
DojoBox Club
Enter your address above to see fees and delivery + pick-up estimates.
Picked for you

Chicken Chow Mein DojoBox®

Breaded Crab Claws (5 pieces)

Sides

Breaded Crab Claws (5 pieces)

Breaded King Prawn (5 pieces)

Veg Gyoza (5 pieces)

Main Boxes

Chicken Chow Mein DojoBox®

Special Yakisoba DojoBox®

Chicken Yakisoba DojoBox®

Yakimeshi Rice DojoBox® (Veg)

Singapore Fried Noodles DojoBox®

Singapore Fried Rice DojoBox®

Special Fried Rice DojoBox®

Drinks

7UP Sugar Free lemon lime

Sushi DojoBox®
DojoBox Club has a FHRS rating of AwaitingInspection. This information was updated on 01/09/2022. The current rating is on their page on the FSA Website. Allergies, intolerances and dietary requirements: Before ordering, please contact the restaurant directly and ask to speak to a member of staff who can assist if you require information about ingredients and help cater for your needs. Adults need around 2000 kcal a day.
Frequently asked questions
Can I order DojoBox Club takeaway in London with Uber Eats?
Yes. DojoBox Club takeaway is available on Uber Eats in London.
Is DojoBox Club delivery available near me?
DojoBox Club delivery might not be available everywhere in London, so enter your address to see if it's available near you.
How do I order DojoBox Club takeaway online in London?
There are 2 ways to place an order on Uber Eats: on the app or online using the Uber Eats website. After you've looked over the DojoBox Club menu, simply choose the items you'd like to order and add them to your cart. Next, you'll be able to review, place and track your order.
What's the best thing to order for DojoBox Club takeaway in London?
What's best at DojoBox Club is totally up to you and your personal preference. If you're in need of some inspiration, consider trying one of the items featured in 'Picked for you'.
How do I get $0 Delivery Fee at DojoBox Club in London?
The Delivery Fees may vary depending on a number of factors, like your location. Enter your London address to see the current Delivery Fee. You can also explore the Uber Eats membership and subscription options available in your area to see if you can save money on DojoBox Club delivery with $0 Delivery Fee on select orders.