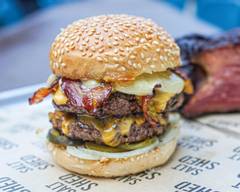 Location and hours
2-10 Bethnal Green Rd, Shoreditch, London E1 6
Your menu will appear like this to customers once it's live.
Edit menu
Picked for you

Meal Deals

Burgers

Salt Shed Pastrami Burger

Double Classic Cheese Burger

Double Salt Shed Pastrami Burger

Double Bacon Cheese Burger

Steaks & Buns

Sides

Drinks

Sauces
Salt Shed has a FHRS rating of 5. This information was updated on 18/01/2022. The current rating is on their page on the FSA Website. Allergies, intolerances and dietary requirements: Before ordering, please contact the restaurant directly and ask to speak to a member of staff who can assist if you require information about ingredients and help cater for your needs.