Chiquito (Leicester) Menu and Takeaway in Braunstone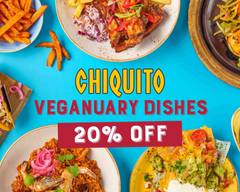 Location and hours
Chiquito, Meridian Leisure Centre, Braunstone, Leicester, LE19 1
Sunday - Thursday
12:00 - 21:45
Friday - Saturday
12:00 - 22:15
Chiquito (Leicester)
Enter your address above to see fees and delivery + pick-up estimates.
This is among the 3 most popular places for Mexican delivery in Braunstone on Uber Eats. Of the 70 things on the menu at this evening go-to, the Tortilla Meal Deal is one of the most popular and the Build Your Own Burrito and the Build Your Own Chimichanga are two of the items most commonly ordered together. • $ •
Mexican
 • 
Vegetarian friendly
 • 
Healthy
Picked for you

🌟Chiquito's Favoritos🌟

Chiquito's choice dishes

🌱Veganuary🌱

Loaded Dusted Green Beans

✨Meal Deals✨

Starters & Street Food

A vibrant selection of starters and street food. Order one to start or a selection to share for the Mexican street food experience!

Blue Corn Tortilla Chips & Dips

Cajun Dusted Green Beans (V)

Garlic Jalapeño Corn Bread

Vegan Loaded Wedges (VE)

Crispy baked sweet potato wedges, loaded with vegan chorizo, sweetcorn & vegan cheddar melt

Patatas Bravas (V) 🌶️🌶️

Roasted and fried baby potatoes in hot habanero sauce with crumbled feta

🌯Tortillas - Build Your Own🌯

🍔Burgers🍔

All served in our hand-finished artisan bun with homemade slaw and skin-on-fries

Southern Fried Chicken Burger

🥘North & South🥘

Five Bean & Roasted Veg Chilli 🌶️ (V)

Chicken & Chorizo Skewers

Served on rice with corn on the cob, sour cream, crumbled feta cheese, a hint of chilli and a spicy coconut sauce

🔥Grill🔥

Southern Fried Chicken & BBQ Pulled Pork

🌮Build Your Own Fajitas🌮

Everything you need to for an at home Chiquito's Fajita experience. How will you wrap yours?

Classic Grilled Chicken Fajita

BBQ Chicken & Pulled Pork Fajita

Halloumi & Veg Skewer Fajita (V)

🍟Sides🍟

A great accompaniment to any of our main meals.

Corn Riblets (V)

Tossed and roasted in garlic, with feta cheese, spring onion and chilli

🥤Soft Drinks and Fruit Juices🥤

Thirst quenchers

Coca-Cola Original Taste 330ml Can

Coca-Cola Zero Sugar 330ml Can

Belvoir Elderflower Presse

Belvoir Raspberry Lemonade

J20 Orange & Passion fruit

Strathmore Sparkling Water

Jude's Chocolate Milkshake (V)

🍰Desserts🍰

Treat yourself!

White Chocolate & Passion Fruit Tart (VE)

Golden Nugget Cheesecake (V)

Jude's Vegan Vanilla Ice Cream Mini Pot (100ml) (VE)

Callestick Clotted Cream & Vanilla Mini Pot (125ml) (V)

Callestick Clotted Cream Strawberry Mini Pot (125ml) (V)

Callestick Double Chocolate Fudge Mini Pot (125ml) (V)

Double cream ice cream with chocolate and chocolate fudge pieces

10 churros loops for sharing served with chocolate and dulce de leche sauces

🍭Something Sweet🍭

Galaxy Minstrels Pouch 125g
Frequently asked questions
Can I order Chiquito (Leicester) delivery in Braunstone with Uber Eats?
Yes. Chiquito (Leicester) delivery is available on Uber Eats in Braunstone.
Is Chiquito (Leicester) delivery available near me?
Enter your address to see if Chiquito (Leicester) delivery is available to your location in Braunstone.
How do I order Chiquito (Leicester) delivery online in Braunstone?
There are 2 ways to place an order on Uber Eats: on the app or online using the Uber Eats website. After you've looked over the Chiquito (Leicester) menu, simply choose the items you'd like to order and add them to your cart. Next, you'll be able to review, place, and track your order.
Where can I find Chiquito (Leicester) online menu prices?
View upfront pricing information for the various items offered by Chiquito (Leicester) here on this page.
How do I get free delivery on my Chiquito (Leicester) order?
To save money on the delivery, consider getting an Uber One membership, if available in your area, as one of its perks is a $0 Delivery Fee on select orders.
How do I pay for my Chiquito (Leicester) order?
Payment is handled via your Uber Eats account.
What's the best thing to order for Chiquito (Leicester) delivery in Braunstone?
If you're in need of some suggestions for your Chiquito (Leicester) order, check out the items showcased in Picked for you" on this page.