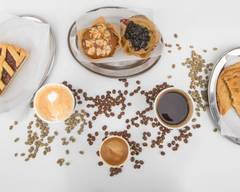 Location and hours
4 Chapel Market, London, England N1 9
Sunday
08:10 - 16:00
Monday
Closed
Tuesday - Saturday
08:10 - 16:00
Chapel Market Roastery
Enter your address above to see fees and delivery + pick-up estimates.
Picked for you

Flat White

Colombian Papayan Reserve

Bags of Coffee

Brazilian Santos Dark Roast

Papa New Guinea

Djimmah/Ethiopia Single Origin Beans

Colombian/ Papayan dark roast

Colombian Papayan Reserve

Just Coffee

Milky Coffee

Flat White

Small Latte

Regular Cappuccino

Hot Drinks

Small Matcha Latte

Small Hot Chocolate

Regular Chai Latte

Regular Hot Chocolate

Small Chai Latte

Tea

Bakes

Pastel de nata

Mandarin and Chocolate loaf

Salted caramel brownie

Peanut butter blondie

Chocolate and hazelnut cookie

Cold Drinks

Blended with crisp apple and sparkling water. No added sugar.

Elderflower mint lightly sparkling water.

Cold brew coffee. 24 hour brew.

Peach ginger lightly sparkling water.

Sparkling low calories soft drink with vegetable extracts with sweeteners. No calories.
Chapel Market Roastery has a FHRS rating of 4. This information was updated on 28/06/2022. The current rating is on their page on the FSA Website. Allergies, intolerances and dietary requirements: Before ordering, please contact the restaurant directly and ask to speak to a member of staff who can assist if you require information about ingredients and help cater for your needs. Adults need around 2000 kcal a day.