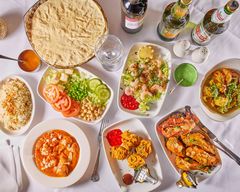 Cellars Indian Cuisine
4.7
(122)
  •  
View delivery time and booking fee.
Location and hours
Sunday
17:15 - 22:45
Monday - Thursday
17:30 - 22:40
Friday
17:35 - 23:45
Saturday
17:20 - 23:50
Picked for you

Starters

Paneer pineapple tikka (st)

Vegetable Side Dishes

Vegetable Mixed Bhaji (s)

Tandoori Mains

Paneer Pineapple Tikka (M)

Chef's Recommendations

South Indian Garlic Chilli Chicken

Traditional Mains

Popular Dishes

Biryanis

English Dishes

Rice

Breads

Soft Drinks
Cellars Indian Cuisine has a FHRS rating of 3. This information was updated on 24/11/2021. The current rating is on their page on the FSA Website. Allergies, intolerances and dietary requirements: Before ordering, please contact the restaurant directly and ask to speak to a member of staff who can assist if you require information about ingredients and help cater for your needs.