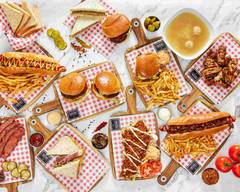 Location and hours
70 Mowbray Parade, Edgware, England HA8 8
Sunday
12:00 - 21:30
Menu
09:00 - 22:00
Vegetarian Menu
09:00 - 22:00
Gluten Free Menu
Monday - Thursday
16:00 - 21:30
Menu
12:00 - 14:30
Vegetarian Menu
17:00 - 22:00
Vegetarian Menu
12:00 - 14:30
Gluten Free Menu
17:00 - 22:00
Gluten Free Menu
Friday - Saturday
Closed
Benny's Diner
Enter your address above to see fees and delivery + pick-up estimates.
Vegetarian Sides

Children's Vegetarian Menu

Ella's Kitchen
Benny's Diner has a FHRS rating of 3. This information was updated on 04/07/2022. The current rating is on their page on the FSA Website. Allergies, intolerances and dietary requirements: Before ordering, please contact the restaurant directly and ask to speak to a member of staff who can assist if you require information about ingredients and help cater for your needs. Adults need around 2000 kcal a day.