Bagel Stop Menu and Takeaway in Leicester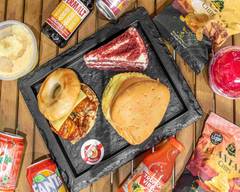 Location and hours
43 Western Boulevard, Leicester, LE2 7
Picked for you

Meal Deal2. (Bagel + Cake + Slush)

Our famous jerk chicken with a sweet twist!

Minced beef cooked with herbs and spices, wrapped in a pastry casing.

Minced chicken cooked with Hot Peppers, herbs and spices, wrapped in a pastry casing.

Meal Deals (Saver Routes)

Meal Deal2. (Bagel + Cake + Slush)

Filled Bagels / Coco Bread

Sliced chicken cooked in a peri peri marinade

Sliced chicken marinated in a BBQ sauce

Sliced chicken cooked in a tasty mexican marinade

Tender chicken tikka filling

Our famous jerk chicken with a sweet twist!

Marinated sliced grilled chicken

Desserts

Chocolate fudge cake slice, served with or without custard

A slice of our moist carrot cake, filled and topped with delicious frosting and a sprinkling of hazelnut pieces. Served alone or with custard.

A delicious selection of fresh chocolate chip, white chocolate and double chocolate cookies

Chocolate Chip Shortbread

Melt-in-your-mouth shortbread combined with a little bit of chocolate

Patties w/Coco Bread

Minced chicken cooked with herbs and spices, wrapped in a pastry casing.

Minced chicken cooked with Hot Peppers, herbs and spices, wrapped in a pastry casing.

Minced lamb cooled with herbs and spices, wrapped in a pasty casing.

Salted Ling Fish Fillets cooked with herbs and s spices, wrapped in a pastry casing.

Vegetable Pattie

A pastry case filled with curried mixed vegetables including carrots, peas and onions.

Minced beef cooked with herbs and spices, wrapped in a pastry casing.

Sweet and soft coconut milk bread

Hot Food and Snacks

Sweet, chilli and spicy flavours available

Jamaican spiced bun and mature cheddar cheese

Sweet and soft coconut milk bread

Slush

Regular Slush pick from 15 Flavours

Not your average slush, choose from our wide variety of exciting flavours! You can even mix two flavours and create your own

Large Slush. Pick from 15 Flavours & Mix for free plus its double the size of our regular

Not your average slush, choose from our wide variety of exciting flavours! You can even mix two flavours and create your own

Fanta Fruit Twist Regular Slush. NEW!!

Be first to try our Fanta fruit twist flavoured slush

Fanta Fruit Twist LARGE Slush. NEW!!

Be first to try our Fanta fruit twist flavoured slush

Cold Drinks

Sauces 2oz tubs
Bagel Stop has a FHRS rating of 5. This information was updated on 15/08/2022. The current rating is on their page on the FSA Website. Allergies, intolerances and dietary requirements: Before ordering, please contact the restaurant directly and ask to speak to a member of staff who can assist if you require information about ingredients and help cater for your needs. Adults need around 2000 kcal a day.
Frequently asked questions
Can I order Bagel Stop takeaway in Leicester with Uber Eats?
Yes. Bagel Stop takeaway is available on Uber Eats in Leicester.
Is Bagel Stop delivery available near me?
Bagel Stop delivery might not be available everywhere in Leicester, so enter your address to see if it's available near you.
How do I order Bagel Stop takeaway online in Leicester?
There are 2 ways to place an order on Uber Eats: on the app or online using the Uber Eats website. After you've looked over the Bagel Stop menu, simply choose the items you'd like to order and add them to your cart. Next, you'll be able to review, place and track your order.
What's the best thing to order for Bagel Stop takeaway in Leicester?
What's best at Bagel Stop is totally up to you and your personal preference. If you're in need of some inspiration, consider trying one of the items featured in 'Picked for you'.
How do I get $0 Delivery Fee at Bagel Stop in Leicester?
The Delivery Fees may vary depending on a number of factors, like your location. Enter your Leicester address to see the current Delivery Fee. You can also explore the Uber Eats membership and subscription options available in your area to see if you can save money on Bagel Stop delivery with $0 Delivery Fee on select orders.