Aipim Menu and Takeaway in Manchester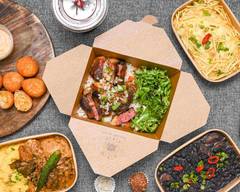 Location and hours
Foodstars Manchester Unit 13, 1 Dark Ln, England M12 6FA
Sunday
17:00 - 21:00
Monday - Wednesday
Closed
Thursday - Saturday
17:00 - 21:00
Aipim
4.9 (13 ratings) • Brazilian
  •  
More info
Foodstars Manchester Unit 13, 1 Dark Ln, England M12 6FA
Tap for hours, info and more
Enter your address above to see fees and delivery + pick-up estimates.
Picked for you

The Grill Of Ipanema

Queijo Esfiha (V)

Hearty Mains

Vegan Feijoada (Ve)

Moqueca

Gluten Free

Vegan Moqueca (Ve)

vegan, gluten free

The Grill Of Ipanema

Aipim Pie

Snacks

Vegan Coxinha (Ve)

Vegan Empadinhas (Ve)

Pastels

Cheese Pastel (V)

Vegan Cheese Pastel (Ve)

Vegan Beyond Mince Pastel (Ve)

Esfihas Flatbreads

Queijo Esfiha (V)

Vegan Carne Esfiha (Ve)

Vegan Queijo Esfiha (Ve)

Sides

Pão De Queijo (V)

Gluten Free

Polenta Fries

Fries And A Dip

Classic skin on fries, deep fried, spiced with cajun, and served with a dip.

Cassava Fries And A Dip

Steak-cut fries made from cassava, deep fried, spiced with cajun, and served with a dip.

Extras

Classic Brazilian Rice (Ve)

vegan, gluten free

Primavera Rice (Ve)

vegan, gluten free

Fried Couve (Ve)

Couve or cavolo Nero, is a very popular green leaf that is consumed with several dishes in Brazil. At aipim, we fry it with olive oil and light spices.

Carioca Beans (Ve)

Carioca beans is a dish made with pinto beans, slow cooked in a hearty stew. Perfect for accompanying any dish.

Dips

Tabasco Mayo

Our own homemade blend of tabasco and mayo, perfect if you want to add a little heat to your "aipim" fries.

Basil Mayo

Own hearty blend of herby spices, basil and mayo.

Garlic Mayo

Our homemade fried garlic mayo. Perfect for topping your fries.

Barbecue Sauce

Traditional smokey barbeque sauce, perfect for topping fries.

Desserts

Brigadeiro (V)

vegetarian, gluten free

Pudim (V)

vegetarian, gluten free

Dulce de Leche Filled Churros (V)

Drinks

Ice matte tea with açai. Açai adds a superfood twist to our matte ice tea, and it's the ultimate energy drink with the exotic flavours of the amazon.
Aipim has a FHRS rating of AwaitingInspection. This information was updated on 01/09/2022. The current rating is on their page on the FSA Website. Allergies, intolerances and dietary requirements: Before ordering, please contact the restaurant directly and ask to speak to a member of staff who can assist if you require information about ingredients and help cater for your needs. Adults need around 2000 kcal a day.
Frequently asked questions
Can I order Aipim takeaway in Manchester with Uber Eats?
Yes. Aipim takeaway is available on Uber Eats in Manchester.
Is Aipim delivery available near me?
Aipim delivery might not be available everywhere in Manchester, so enter your address to see if it's available near you.
How do I order Aipim takeaway online in Manchester?
There are 2 ways to place an order on Uber Eats: on the app or online using the Uber Eats website. After you've looked over the Aipim menu, simply choose the items you'd like to order and add them to your cart. Next, you'll be able to review, place and track your order.
What's the best thing to order for Aipim takeaway in Manchester?
What's best at Aipim is totally up to you and your personal preference. If you're in need of some inspiration, consider trying one of the items featured in 'Picked for you'.
How do I get $0 Delivery Fee at Aipim in Manchester?
The Delivery Fees may vary depending on a number of factors, like your location. Enter your Manchester address to see the current Delivery Fee. You can also explore the Uber Eats membership and subscription options available in your area to see if you can save money on Aipim delivery with $0 Delivery Fee on select orders.