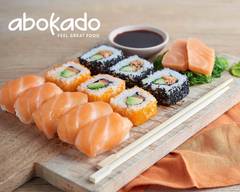 Location and hours
27 Throgmorton Street, London, EC2N 2
Sunday
Closed
Monday - Thursday
11:00 - 15:30
Friday - Saturday
Closed
Picked for you

Teriyaki Chicken Yakisoba

Sushi

California Crab Dragon Roll

Poke, Salads & Dumplings

Miso Salmon "on rice" Salad

Vegan Gyoza "on rice" Salad

Teriyaki Chicken "on rice" Salad

Katsu Curry, Vitality & Noodle Bowls

Teriyaki Chicken Yakisoba

Red Thai Chicken Vitality Bowl

Teriyaki Chicken Vitality Bowl

Sweet Chilli Dumplings Vitality Bowl

Teriyaki Salmon Vitality Bowl

Asian Burgers

Sides

Beverages

A 500ml bottle of Coconut Water. An excellent source of electrolytes, good for rehydration.

Nutrient rich blueberry-blackberry-banana-appley goodness.

Bottled goodness from a blend of apples, mango, pineapple, banana and kiwi.
Abokado Sushi & Katsu (Throgmorton Street) has a FHRS rating of 5. This information was updated on 25/06/2022. The current rating is on their page on the FSA Website. Allergies, intolerances and dietary requirements: Before ordering, please contact the restaurant directly and ask to speak to a member of staff who can assist if you require information about ingredients and help cater for your needs. Adults need around 2000 kcal a day.