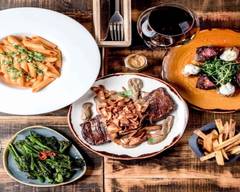 Macellaio RC - South Kensington
4.8
(53)
  •  
View delivery time and booking fee.
Location and hours
84 Old Brompton Road, London, EMEA SW7 3LQ
84 Old Brompton Road, London, EMEA SW7 3LQ • More info
---
Starters

2 toasted bread slice, with lardo, honey, and walnuts.

Prosciutto crudo e burrata

Parma ham with burrata, salad, and cherry tomatoes.

Beef tartare with extravergin olive oil, and salt and pepper.

Beef tartare with capers, anchovies, gherkins, onions, Worchestershire sauce, tabasco, salsa rubra, mustard, brandy, and salt and pepper.

Cotto ham with stracciatella cheese, salad, and cherry tomatoes.

Fassona bresaola, mozzarella, cherry tomatoes, and mixed leaves.

Pasta

Penne pasta served tomato sauce.

Homemade fresh pasta stuffed with beef and spinach. Served with a slow cooked shoulder fassona ragu.

Trenette pasta served with homemade basil pesto, potatoes, and green beans.

Homemade pasta served with fresh fassona ragu.

Grill

Diaphragm marinated 24 hours with herbs, garlic, chilly rub, and Worchestershire sauce, cooked for 5 hours at 54 degrees, served with potato gratin and apple wood smoke.

7 to 9 weeks dry aged fassona beef rib steak.

Fiorentina del Macellaio 700g

7 to 9 weeks dry aged fassona beef T-bone steak.

Grilled lamb leg steak, served with aubergine baba ghanoush.

180g of rump scamone steak, served with rocket and shaved parmigiano.

180g of rump scamone steak, served with mixed leaves salad.

Poussin served with grilled lemon, garlic, and aromatic herbs.

Extra Ordinary Beef Burger

Succulent fassona burger with lettuce, burned and smoked tomato, galaverna cheese, and spicy habanero mayo.

Beef Burger Spinach and Gorgonzola Cheese

Classic flavours combination. Fresh spinach, succulent fassona burger, and topped with a gorgonzola sphere.

Sides

Fluffy inside, crunchy outside, these roast potatoes are a perfect sidekick for any meat dish.

Fresh potatoes, cutted, and fried. Crunchy and salted.

Fresh spinach, cooked in with a touch of butter and garlic.

Fresh fennel, cutted really thin, served with a orangette, orange slice, and salt and pepper.

Mixed Leaves and Cherry Tomatoes

Fresh mixed leaves with vinegar, extra virgin olive oil, and salt.

Desserts

Homemade cheese cake with a digestive base, mascarpone, and philadelphia cheese, served with a mixberry jam on top.

Homemade tiramisu, made with fresh mascarpone, eggs, savoiardi, sugar, and dark chocolate.

Fresh pineapple quarted served already sliced.

Drinks

Coke Zero Glass Bottle 220ml

Ferrarella Still Water 500ml

Ferrarella Sparkling Water 500ml
Macellaio RC - South Kensington has a FHRS rating of 5. This information was updated on 19/02/2021. The current rating is on their page on the FSA Website. Allergies, intolerances and dietary requirements: Before ordering, please contact the restaurant directly and ask to speak to a member of staff who can assist if you require information about ingredients and help cater for your needs.