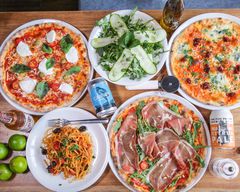 Clissold Park Tavern
$ • Pizza • Salads
A top-rated restaurant with 5.0 out of 5 stars based on 10 reviews.
View delivery time and booking fee.
 • 
N16 9db, London, England N16 9DB • More info
---
Picked for you

Pizza

Salads

Beers

Soft Drinks

Beers & Vino

Pasta & Main Courses
Clissold Park Tavern has a FHRS rating of 2. This information was updated on 01/04/2020. The current rating is on their page on the FSA Website. Allergies, intolerances and dietary requirements: Before ordering, please contact the restaurant directly and ask to speak to a member of staff who can assist if you require information about ingredients and help cater for your needs.