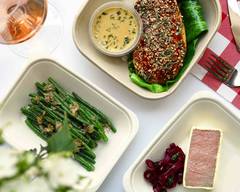 Anna's Bistro
$ • French • English • Comfort Food • Vegetarian friendly • Salad • Burger
View delivery time and booking fee.
Location and hours
1a Langton St , London, England SW10 0JL
Sunday - Monday
Tuesday - Saturday
11:00 - 21:00
1a Langton St , London, England SW10 0JL • More info
Delivered by Anna's Bistro
The restaurant uses its own couriers. You'll get updates, but you won't be able to track their location.
Why can't I track my order?
---
Starters

Croque monsieur

Ham, cheese & béchamel toastie

Mains

Paris Burger

Beef fillet medallions, crispy shallot, AB burger sauce

Roast Fish of the Day and Provençal Sauce

Anna's Caesar Salad main course

Lettuce, kale, anchovy, crouton, and parmesan.

Beef Bourguignon

Wild mushrooms, lardons, and red wine.

Roast stuffed bell pepper

Couscous, goats' cheese, Espelette pepper

Sides

Green Beans Confit Shallots

Desserts

Apple Tarte Fine

Puff pastry with apple purée and apple slices

Deals

Picnic for 2

Smoked Salmon, pâté, sausage rolls, tomato salad, apple pastries, bread, olives, and bottle of wine red or white.

Contains Alcohol

Champagne Picnic for 2

Smoked salmon, pâté, sausage rolls, tomato salad, apple pastries, bread, olives and a bottle Ayala Brut Nature NV

Contains Alcohol

White

Wally Sauvignon Blanc VdP du Val de Loire, France

With beautiful perfume of fresh cut grass on the nose, this wine definitely delivers on the palate as well. Bone dry, but with exciting riper notes of apricots and passion fruit, a great match with dishes like Anna's Ceasar salad or grilled peppers with goats' cheese.

Contains Alcohol

Tibaldi Favorita (Vermentino), Piamonte, Italy

Hailing from Piemonte in northern Italy, this wine has a beautiful freshness to it with lingering aromas of ripe apricot and orange peel and curious hint of pumpkin seeds. No wonder locals call this grape variety Favorita!

Contains Alcohol

Quarzit Riesling, Peter Jakob Kühn, Rheingau, Germany

Dry Riesling can be amongst the most exciting wines in the world and this one from Kuhn Family is proving this in style. Vibrant citrus character with some more exotic notes like pineapple accompanied with mouthwatering freshness.

Contains Alcohol

Chablis Premier Cru (Chardonnay), Domaine Ventoura Fourchaume, Burgundy France

A Chablis estate now run by third generation - Thomas Ventoura. Small in size, this estate definitely does not lack in quality, Ventoura family is pouring all the efforts in this single vineyard which for centuries has been recognized as one of the best not just in Chablis, but in the whole of the Burgundy. People who are tired from oaky and overly heavy Chardonnay's should try this explosion of zesty citrus and green orchard fruits.

Contains Alcohol

Red

Les Terres du Roy (Grenache/ Syrah/Shiraz/Carignan), Côtes-du-Rhône, France

Enticing wine rich with ripe black fruit and spice of black pepper, it is drinking very well on its own, but would be even more enjoyable with our burger or chicken breast.

Contains Alcohol

Chiroubles (Gamay), Domaine de la Grosse Pierre, Beaujolais, France

Hailing from south of Burgundy, this classic style of Beaujolais is the ultimate summer wine - light, elegant and brimming with red berry fruit like strawberries and raspberries. Benefits from being served slightly chilled.

Contains Alcohol

Basso` Garnacha, S.C .Pannell, McLaren Vale, Australia

Grenache( A.K.A Garnacha ) gives plenty of ripe red cherry and strawberry fruit with just a whiff of rose petal and violet blossom . McLaren vale in South Australia has really mastered this grape variety and it is quickly becoming one of the wine world classics. Try it with our delicious Chicken Liver Pate for silky and rich food and wine combination.

Contains Alcohol

Dedicado Malbec, Finca Flichman, Tupungato Vineyard, Uco Valley, Argentina

Dark in colour and offering plentiful of robust earthy notes, Malbec has always been known as Argentinian grape, even though the origins of it are in South West France. Genuine fleshiness and black berry fruit in the Malbec make it ideal partner for the red meat dishes.

Contains Alcohol

Chassagne-Montrachet(Pinot Noir), Domaine Fontaine-Gagnard , Burgundy, France

A Pinot Noir is truly the most elegant of red grape varieties and has an army of followers for whom this is the ultimate enjoyment in the glass. This example from a well-known Burgundian village produced by Celine Fontaine is in spectacular shape and drinking perfectly, especially if helped by another Burgundian Classic like Beef Bourguignon.

Contains Alcohol

Sparking

Ayala Brut Nature NV, Champagne, France

Nothing says France quite like a glass of Champagne and House of Ayala for a long time has been one of the secret gems of this region. The sister house of Bollinger, it specialises in crisp and invigorating style with very little added sweetness. This results in drink one can never get tired of. Try it on its own before to start the meal or accompany it with Smoked Salmon.

Contains Alcohol

Spirits

Anna's Bistro G&T 50cl

A double shot Bombay Sapphire London dry gin, served with fresh lemon zest and Fever Tree tonic

Contains Alcohol

Beer

Camden Hells Lager

Contains Alcohol

Camden Town Brewery

Contains Alcohol

Soft drinks
Anna's Bistro has a FHRS rating of 5. This information was updated on 05/08/2020. The current rating is on their page on the FSA Website. Allergies, intolerances and dietary requirements: Before ordering, please contact the restaurant directly and ask to speak to a member of staff who can assist if you require information about ingredients and help cater for your needs.