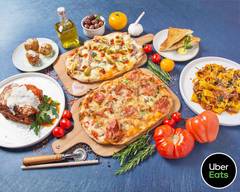 Eusebi Deli
$ • Italian • Pasta • Pizza • Deli • Alcohol • Coffee and tea
4.8
(296)
  •  
View delivery time and booking fee.
Location and hours
152 Park Road, GLASGOW, G4 9HB
Sunday
08:30 - 11:30
Breakfast Menu
12:00 - 20:30
Lunch & Evening Menu
Monday
Closed
Tuesday - Saturday
08:30 - 11:30
Breakfast Menu
12:00 - 20:30
Lunch & Evening Menu
152 Park Road, GLASGOW, G4 9HB • More info
Delivered by Eusebi Deli
The restaurant uses its own couriers. You'll get updates, but you won't be able to track their location.
Why can't I track my order?
---
Breakfast Items

Bombolone Giant Sugar Ring

Italian Filled Donuts . Choose your filling.

Bombolone Raspberry Jam

Italian Filled Donuts . Choose your filling.

Bombolone Apple Crumble

Italian Filled Donuts . Choose your filling.

Bombolone Hazelnut Praline

Italian Filled Donuts . Choose your filling.

Bombolone Creme Brulee

Italian Filled Donuts . Choose your filling.

Bombolone White Chocolate, Pistacchio & Amarena Cherry

Italian Filled Donuts . Choose your filling.

Crema Cornetti

Croissant fried and filled with custard cream

Porridge

Organic Oatmeal with berry compote and pistachio crumble V

Berry Smoothie bowl

Summer Berry soy yoghurt pot with summer berries, banana & almond. V, GF

Roll & McKaskie Square Sausage

Nduja Hash

Potato, bacon, sausage with fried egg and aioli . GF

Hot drinks

Soft Drinks
Eusebi Deli has a FHIS rating of Pass. This information was updated on 30/08/2020. The current rating is on their page on the FSS Website. Allergies, intolerances and dietary requirements: Before ordering, please contact the restaurant directly and ask to speak to a member of staff who can assist if you require information about ingredients and help cater for your needs.
Snacks, Sandwiches & Prepared Meals

Ravioli Fritte

Crispy fried ravioli stuffed with pork, Italian herbs & Parmigiano Reggiano, served with a classic tomato sauce.

Butternut Squash, Ricotta & Chilli Arancini

Arancini risotto balls filled with black pepper and parmesan, served with aioli.

Panino Fritto

Crispy ham & cheese sandwich served with sugo.

Mixed Antipasto Platter

A selection of our cured meats, olives & foccacia. Serves 1

Eusebi Meatballs In Rich Sugo Individual

This Eusebi classic is made to our original family recipe with ethically reared pork from organic producers "Peelham Farm ". Multi-award winning Peelham Farm is a 670 acre organic, family-run farm located close to the Berwickshire coast in the Scottish Borders. Its organic on-farm butchery uses free range pork. The meatballs are slow cooked in a rich tomato sugo and are perfect with our fresh pappardelle finished with Parmigiano Reggiano.

Roast Salmon, Caper Butter

Our fillet of wild salmon is simply roasted, served with green beans, cavolo nero, new potatoes & a dill & caper butter to finish. The perfect choice for the healthier amongst us.

Porchetta, Salsa Verde Beans

Our boneless pork roast from award winning butcher McCaskies is savoury and moist, stuffed with lemon, fennel, chilli and garlic and accompanied with white beans dressed in salsa verde.

Filled Focaccia - The Big Italian

Salami, mortadella, roasted peppers, cream cheese.

Filled Focaccia - Roast Chicken

Roast chicken, basil aioli, lettuce

Filled Focaccia - Avocado Caprese

Crushed avocado, tomato & mozzarella.

Pasta

Macaroni Arrabiata

Calabrian slow cooked tomato's with chilli and garlic V

Macaroni Bolognaise

Rich Beef ragu served with our homemade short macaroni.

Nduja Ravioli

Pork & nduja filling. Served with sugo

Aubergine Parmigiana

Layers of sliced fried aubergine, parmesan, basil and tomato. Baked to perfection

Cannelloni Ricotta, Porcini & Chestnut

Roman Sourdough Pizza

Napolitano Roman Pizza

Tomato, torn buffalo mozzarella, Basil . V

Calabrese Roman Pizza

Tomato, Mozzarella, Spicy Salami, torn Burrata

Big Carne Roman Pizza

Tomato, Mozzarella, Guanciale, Italian Sausage, Salami

Toscano Roman Pizza

Bianco base, Mozzarella, Italian Sausage, potato, onion & chilli

Parmigiana Roman Pizza

Tomato, sliced aubergine, parmesan and basil. V

Pugliese Roman Pizza

Bianco base with mozzarella Anchovy, Smoked Scarmoza, Nduja & Olive

Carbonara Roman Pizza

Bechemel base, pecorino, guancale & egg

Nutella Roman Pizza

Nutella base, topped with marshmallow.

Bakery

Gluten Free Chocolate Cake

Hot Drinks

Soft Drinks

Wines & Beers

Agricola Bottle

A lager-style, bottom fermented beer with a light golden colour. Agricola is characterised by a white compact head with a round body and a well-balanced bitterness. It is the perfect choice at all times of the day.

Beggia Bottle

Amber-coloured beer with a persistent head. Beggia is dedicated to the most demanding connoisseurs. Its soft taste, enhanced alternatively by biscuit and caramel flavours as a result of the special malts, and its strong body make it the perfect beer to enjoy slowly. It is excellent if paired to complex dishes and desserts.

Fresca Bottle

The name tells it all. Fresca reminds of the wheat, pale ales, with a compact and creamy head, an opalescent colour and an intense smell, with a balanced taste and a light spicy note that emanates a natural freshness. It is perfect for the Summer season.

TIPA Bottle

An opalescent coloured IPA, with a fresh and captivating taste. The malted aromas, pils and pale, balance the hops, with a honey flavour. The hopping, occurring several times throughout the production process, results in a variety of aromas, from the grassy to the citrus ones, and ends in a dry and persistent bitterness. It is a complex beer that can be drunk at every time of the day.

Ponte Pietra, Merlot/Corvina, 2018, 75cl

Juicy and fresh with a cherry pie nose, with plummy soft notes from the merlot.

Gran Sasso, Montepulciano d'Abruzzo, 2018, 75cl

Intense, ripe-fruit bouquet. Full bodied with good, supple tannins.

Fantini Farnese, Sangiovese Terre di Chieti, 2018, 75cl

Intense strawberry and black cherry notes on the nose and woody flavours.

A Mano, `Imprint` Primitivo Appassito, 2017, 75cl

Perfumes of red and black berry fruits, with notes of spice.

Corte Giara, Bardolino, 2018, 75cl

Intense and fragrant, bursting with aromas of red berries, pepper and rose-hip.

A Mano, Bianco 2018, 75cl

Peach, floral and grapefruit aromas and a lovely zestiness on the palate.

Poggiotondo, Organic Vermentino 2018, 75cl

Aromatic, showing delicate fruit and floral aromas and a refreshing finish.

Ponte Pietra, Trebbiano/Garganega 2018, 75cl

Almond blosson and green apple aromas with subtle marzipan and honey.

Alpha Zeta, `Terrapieno` Pinot Grigio 2017, 75cl

Classic aromas of pear, it is dry, biscuity and wonderfully fresh on the finish.

Pieropan, Soave Classico 2018, 75cl

Fresh, expressive with classic white flower, almond blossom and citrus.