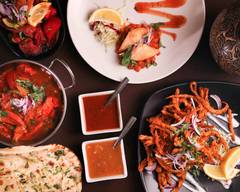 Celebrity Indian Restaurant
2.7
(11)
  •  
View delivery time and booking fee.
Location and hours
Celebrity Indian Restaurant, Birmingham, England B1 2HP
---
Appetizers

Succulent pieces of tilapia fish, flavoured with mango chutney and chilli masala before being pan-fried.

Tender pieces of duck marinated with spices, grilled in the tandoor then cooked in a tamarind and sesame seed sauce.

Cubes of Indian cottage cheese grilled on a skewer with capsicum, tomatoes, onions, and mushrooms.

Chunks of cod immersed in a gram flour batter, delicately spiced and deep-fried to a rich golden colour.

World famous snack of crisp onions deep-fried in a coating of gram flour batter and fresh herbs and spices.

Chicken cubes matured in a rich spicy yoghurt based marinade and then roasted in the tandoor.

Traditional skewers of fine mince delicately flavoured with herbs and spices then grilled.

Shallow fried potato cakes filled with tempered peas, chaat masala, and herbs and spices.

Deep-fried triangular savoury pastries with a spicy mixed vegetable filling.

Succulent prawns cooked in a spicy bhuna sauce and served on a puree bread.

A selection of vegetarian appetizers; onion bhaji, aloo tikki, paneer tikka, and vegetable samosa.

An assortment of tandoori appetizers; chicken tikka, lamb tikka, tandoori chicken, and sheekh kebab.

Main Courses

World famous dish, mild to medium in strength, cooked in a smooth masala sauce.

Prepared in a medium spicy sauce with peppers, tomatoes, and fresh green chillies.

Dish cooked in a spicy sauce of onions, tomatoes, sliced capsicum, and fresh chillies.

Rich chilli sauce based offering made with crisp red chillies, hot, and spicy.

Mild and sweet sauce prepared with a mixture of coconut and cream.

Relatively hot and spicy dish prepared with rich gravy and fresh chilli sauce.

Popular brummie dish of medium strength sauce prepared with onions, tomatoes, and peppers.

Sweet and sour sauce, slightly hot, with a generous helping of tomatoes and rich gravy.

Wok-fried with herbs, spices, onions, peppers, and mushrooms.

Basmati rice stir-fried, served with a vegetable curry sauce.

Grilled chicken, lamb, duck, shekh kebab, and seafood, served with a naan and salad.

Vegetarian

Potatoes cooked with onions, tomatoes, and spices.

Assorted vegetables cooked in a medium strength curry sauce.

Lentils exotically prepared with garlic and ginger.

Chickpeas braised in a thick, smooth masala sauce.

Rice and Bread

Extras

Mint sauce, mango chutney, and spiced onions.

Drinks
Celebrity Indian Restaurant has a FHRS rating of 4. This information was updated on 01/02/2021. The current rating is on their page on the FSA Website. Allergies, intolerances and dietary requirements: Before ordering, please contact the restaurant directly and ask to speak to a member of staff who can assist if you require information about ingredients and help cater for your needs.