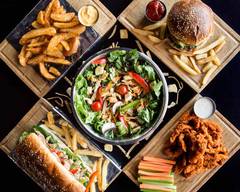 State & Main (5015 111 Street)
$ • Burgers • American • Sandwiches • Family Meals
4.1
(63)
  •  
View delivery time and booking fee.
Location and hours
#850 5015 111th Street, Edmonton, AB T6H 4M6
Sunday - Thursday
11:00 AM - 09:00 PM
Friday - Saturday
11:00 AM - 10:00 PM
#850 5015 111th Street, Edmonton, AB T6H 4M6 • More info
---
Shareables & Small Plates

Pretzel Bites

Buttered and salted with warm bacon and beer cheese dip on the side.

Chicken Wings

Buffalo, hot, salt and pepper, BBQ, teriyaki or gochujan. Your choice of ranch or bleu cheese dip.

Bang Bang Shrimp

Tempura battered, spicy chili aioli, unagi sauce and togarashi.

Dragon Boat Lettuce Wraps

Roasted chicken and vegetables, chow mein noodles, cashews, cilantro, and lime. Tossed in a hoisin peanut sauce and served with crisp romaine boats.

Baja Brussels Sprout

Flash fried with red pepper and chopped bacon, tossed with lime juice, Parmesan, and chilis. Garnished with lime crema and cilantro.

Jalapeno Mac and Cheese

Creamy cheese sauce, toasted parmesan panko with garlic bread.

Spinach & Artichoke Dip

Warm tortilla chips, salsa & sour cream on the side

Margherita Flatbread

Tomatoes, cream cheese, mozzarella, basil, and oregano.

Spanako Flatbread

Tomatoes, roasted red peppers, spinach, red onion, goat cheese, and oregano drizzled with balsamic glaze.

Calamari

Jalapenos, onions, and bell pepper with roasted red pepper aioli.

Spicy Tuna Tartare

Sashimi grade tuna, with a spicy sesame chili oil, togarashi, and finely sliced scallions. Served on crispy rice with a drizzle of sriracha mayonnaise.

Crab Cakes

Herbed garlic dill sauce & cucumber salsa.

Soups & Salads

West Coast Chop Salad

Mixed greens, cucumber, dried cranberries, candied almonds, avocado, baked chickpeas, and crumbled goat cheese in a honey dijon vinaigrette.

Grilled Chicken Caesar

Croutons, chopped bacon, shaved Parmesan, and a lemon wedge.

The Cobb Salad

Chicken, bacon, shredded cheddar, egg, cucumber, tomato, avocado, and balsamic bleu cheese vinaigrette on the side.

Grilled Sirloin Salad

Sterling SIlver sirloin sliced over chopped romaine, tomato, crumbled bleu cheese, grilled mushrooms, and red onion. Tossed with buttermilk bleu cheese dressing.

Pacific Rim Noodle Bowl

Chicken, shrimp, steamed vegetables and rice noodles, simmered in a spicy flavorful broth. Chili oil and lime on the side.

Spicy Thai Noodle Salad

Lemongrass chicken, mango, carrots, avocado, toasted coconut, peanuts, noodles, basil, mint, cilantro, spicy citrus vinagrette

Bowls

The Burrito Bowl

chicken, black beans, corn, red onions, shredded cheese & lettuce, over basmati rice w/ chipotle sauce, cilantro, lime, pico de gallo & guacamole

Teriyaki Rice Bowl

Chicken and veggies in teriyaki sauce. Served over sesame brown rice garnished with cashews.

The Butter Chicken

simmered in a fragrant curried tomato cream sauce w/ cashew butter, lightly spiced yogurt & fresh cilantro. served over basmati rice w/ a side of warmed garlic naan.

Spicy Tuna Poke Bowl

brown rice, sesame sauce, cabbage, pickled cucumber, avocado, green onions & spicy sushi grade tuna.

Burgers & Sandwiches

The Main Burger

Two patties, each with melted American cheese make up this classic. Topped with lettuce, tomato, onion, pickle, and sauce.

The Grilled Cheese Burger

Butter grilled bread with American, Swiss and provolone, bacon, lettuce, tomato, and crisp fried onions.

Grilled Chicken Club

With lettuce, tomato, mayonnaise, avocado, peppered bacon, and melted Cheddar.

The Veggie Burger

Double stacked black bean and veggie patties, with American cheese, state sauce, lettuce, tomato, onion, and pickle.

French Dip

Slow roasted Certified Angus beef, shaved thin on a toasted baguette with sauteed mushrooms, caramelized onions, Swiss cheese, and horseradish mayonnaise.

Steak Sandwich

Six ounces Certified Angus top sirloin, seasoned and cooked your way served open faced on garlic toasted french bread.

California Chicken Wrap

Chicken, peppered bacon, aged cheddar, avocado, tomato, red wine vinaigrette, mayonnaise, and shredded lettuce.

Steak & Mains

Long Beach Fish Tacos

Chili & lime spiced mahi mahi, avocado, crisp slaw, pico de gallo & garlic aioli. Your choice of one side.

Chicken Enchiladas

Chicken, black beans, corn and red onions rolled into soft tortillas; baked with enchilada sauce, cheese, topped with lettuce, jalapenos, cilantro,and lime crema.

Fish and Chips

Beer battered haddock with tartar sauce, fries, and gravy or dill dip.

Fried Chicken Tenders

Buttermilk brined tenderloin breaded and fried, with fries and plum sauce.

The Empire State

Ten ounces of premium Angus beef striploin, served with choice of two sides, a side of sauteed garlic mushrooms. Includes a starter caesar or mixed green salad. Please order a temperature under the desired level as the steak will continue to cook en route.

Pistachio Crusted Salmon

Drizzled with maple butter; served with choice of two sides.

Truffle & Shrimp Rigatoni

Crispy prosciutto, mushrooms, peas & parmesan, in a black truffle cream sauce.

The Sirloin

Available in 6oz or 9oz, lightly seasoned & cooked to your preference.

Family Bundles & Meal Kits

Dinner for 2

You may be housebound, but that doesn't mean you shouldn't have great dates! This four course meal includes your choice of starter salad, our bang bang shrimp, your choice of entrees, and 2 chocolate brownies for dessert.

Steak Meal Kit

For those who still want to cook but want all the ingredients for a top-notch meal at the tip of your fingers. This kit includes two 6oz sirloin steaks w/ marinade & seasoning, accompanied w/ BBQ or oven ready pre-seasoned asparagus and heat to serve mashed potatoes.

Family Style Chicken Wings

40 wings w/ carrots, celery, ranch & bleu cheese dip. Choose up to 4 flavours.

Family Style Chicken Tenders

15 buttermilk marinated, hand breaded tenders w/ plum sauce & your choice of 3 sides. Plus 4 chocolate brownies for dessert. Serves 4 - 6 people.

Family Style Butter Chicken

curried tomato cream sauce, cashew butter, spiced yogurt & cilantro served with naan and basmati rice. Plus 2 chocolate brownies for dessert. Serves 4 - 6 people.

Sides & Extras

Sweet Potato Fries No Dip Side

Sweet Potato Fries with Chipotle Aioli Side

Extra Dips

Add your favourite dip to your order.

Extra Dressings

Choose from a variety of dressings.

Happy Endings

Chocolate Brownie

drizzled w/ caramel & chocolate sauce.

Beverages

Budweiser Prohibition Non-Alcoholic Beer

Beck's Non-Alcoholic Beer

Kids

Kids Chicken Fingers

Served with choice of French Fries, Tots, Sliced Apples & Oranges, Mixed Greens or Caesar Salad

Kids Mac & Cheese

Cavatappi noodles in a light cheese sauce

Kids Grilled Cheese Sandwich

Served with choice of French Fries, Tots, Sliced Apples & Oranges, Mixed Greens or Caesar Salad

Kids Cheeseburger

Served with choice of French Fries, Tots, Sliced Apples & Oranges, Mixed Greens or Caesar Salad

Kids Chicken & Broccoli

in plum sauce, over brown rice.