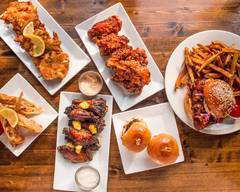 Stoneys Bar & Grill
4.5
(109)
  •  
View delivery time and booking fee.
Location and hours
1111 Lincoln St, Denver, CO 80203
Sunday
10:00 AM - 09:00 PM
Menu
Monday - Tuesday
12:00 PM - 08:00 PM
Menu
Wednesday
12:00 PM - 10:00 PM
Menu
03:00 PM - 08:30 PM
BOGO Wing Wednesday
Thursday - Friday
12:00 PM - 09:30 PM
Menu
Saturday
10:00 AM - 09:30 PM
Menu
---
Starters

Items will be in separate containers. Choice of Ground Beef of Chicken, Queso, Pork Green Chili, Black Beans, House Pickled Jalapenos, Diced Tomatoes, Cilantro Crema

Chips, Salsa, Gaucamole, and Queso

Fried Chicken Tenders and Tots

Baked Pretzel bites, queso, and brown mustard.

Hatch green chili macaroni cheese, crisp wonton, and Ranch dressing.

All items will be in separate containers. smoked pulled pork, baked beans, shredded cheese, lettuce, tomatoes, fresh jalapenos, seasoned sour cream, bbq sauce, green onions, chips.

Mozzarella & pepperonis deep fried in a crisp wonton. Served with ranch or marina.

Wings

Traditional Bone-in Chicken Wings

Nashville Hot Fried Chicken Wings

8 breaded fried chicken wings, Nashville hot sauce, pickles, ranch dressing.

Party Fries

Waffle Fries, Buffalo Chicken Bites, Green Onion, Blue Cheese Crumbles, Side of Ranch.

Loaded Baked Potato Fries

Waffle Fries, Cheddar Jack Cheese, Bacon, Green Onion, Sour Cream.

Waffle fries, Mozzarella, Shredded parmesan, pepperoni. Served with a small ranch and large marinara.

Burgers

Stoney's hamburger, jalapeno, ghost pepper aioli, siracha, pepper jack, caramelized onions, and grilled jalapeno.

House Made Black Bean Patty, Cheddar Jack Cheese, Chipotle Aoli, Lettuce, Tomato, Onions.

Stoney's hamburger, bleu cheese crumbles, bacon, sautéed mushrooms, and A-1 sauce served on a Brioche bun.

Sandwiches

Stoney's fried chicken, buffalo sauce, bleu cheese crumbles, lettuce, and tomato.

Falafel, hummus, lettuce, tomato, red onions, cucumber, tzatziki, and pita bread.

Shaved ribeye, onions, mushrooms,  peppers, American Swiss cheese, and amoroso roll.

Buttermilk fried chicken breast, bacon, pepper jack, lettuce, pickles, pickled onion, and dill pickle aioli.

Spicy fried chicken breast, Sweet and spicy glaze, pickles, brioche bun.

Fried chicken with rosemary mashed potatoes & herb gravy served on a brioche bun.

Sides

Mashed potatoes with herb gravy

Soups and Salads

Cheddar Jack Cheese. Flour or Corn Tortilla

Southwestern Chopped Salad

Romaine lettuce, grilled chicken breast, pico de gallo, tomato, corn, Avocado, hardboiled egg, black beans, red onion, and southwester ranch dressing.

Grilled chicken, Romaine, red onion, tomato, cucumber, Caesar dressing, parmesan cheese, croutons.

Mixed Greens, Cucumber, Feta Cheese, Tomato, Red Onion, Croutons

Southwest Chopped Salad Wrap

Desserts

House Baked Cookies, Milk

Cinnamon, Sugar, Caramel Sauce

Stoney's Rib Shack

[Half Rack] Ribs with Sides

[Full Rack] Ribs with Sides

All on flour tortillas and dry rub ribs

One meat and all served with two and half pint sides and Texas toast.

House smoked pork ribs. Sold with dry rub or honey chipotle bbq sauce

Drinks
2,000 calories a day is used for general nutrition advice, but calorie needs vary. Additional nutrition information available upon request. Please contact the restaurant.
BOGO Wings

BOGO wings automatically DOUBLES your order for no additional price!

BOGO wings automatically DOUBLES your order for no additional price!

BOGO wings automatically DOUBLES your order for no additional price!

BOGO wings automatically DOUBLES your order for no additional price!

Starters

Items will be in separate containers. Choice of Ground Beef of Chicken, Queso, Pork Green Chili, Black Beans, House Pickled Jalapenos, Diced Tomatoes, Cilantro Crema

Chips, Salsa, Gaucamole, and Queso

Fried Chicken Tenders and Tots

Baked Pretzel bites, queso, and brown mustard.

Hatch green chili macaroni cheese, crisp wonton, and Ranch dressing.

All items will be in separate containers. smoked pulled pork, baked beans, shredded cheese, lettuce, tomatoes, fresh jalapenos, seasoned sour cream, bbq sauce, green onions, chips.

Mozzarella & pepperonis deep fried in a crisp wonton. Served with ranch or marina.

Party Fries

Waffle Fries, Buffalo Chicken Bites, Green Onion, Blue Cheese Crumbles, Side of Ranch.

Loaded Baked Potato Fries

Waffle Fries, Cheddar Jack Cheese, Bacon, Green Onion, Sour Cream.

Waffle fries, Mozzarella, Shredded parmesan, pepperoni. Served with a small ranch and large marinara.

Sides

Mashed potatoes with herb gravy

Burgers

Stoney's hamburger, jalapeno, ghost pepper aioli, siracha, pepper jack, caramelized onions, and grilled jalapeno.

House Made Black Bean Patty, Cheddar Jack Cheese, Chipotle Aoli, Lettuce, Tomato, Onions.

Stoney's hamburger, bleu cheese crumbles, bacon, sautéed mushrooms, and A-1 sauce served on a Brioche bun.

Sandwiches

Stoney's fried chicken, buffalo sauce, bleu cheese crumbles, lettuce, and tomato.

Falafel, hummus, lettuce, tomato, red onions, cucumber, tzatziki, and pita bread.

Shaved ribeye, onions, mushrooms,  peppers, American Swiss cheese, and amoroso roll.

Buttermilk fried chicken breast, bacon, pepper jack, lettuce, pickles, pickled onion, and dill pickle aioli.

Spicy fried chicken breast, Sweet and spicy glaze, pickles, brioche bun.

Fried chicken with rosemary mashed potatoes & herb gravy served on a brioche bun.

Soups and Salads

Cheddar Jack Cheese. Flour or Corn Tortilla

Southwestern Chopped Salad

Romaine lettuce, grilled chicken breast, pico de gallo, tomato, corn, Avocado, hardboiled egg, black beans, red onion, and southwester ranch dressing.

Grilled chicken, Romaine, red onion, tomato, cucumber, Caesar dressing, parmesan cheese, croutons.

Mixed Greens, Cucumber, Feta Cheese, Tomato, Red Onion, Croutons

Southwest Chopped Salad Wrap

Desserts

House Baked Cookies, Milk

Cinnamon, Sugar, Caramel Sauce

Drinks