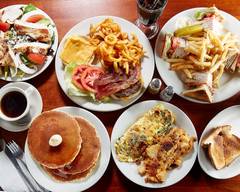 Overeasy
$ • Breakfast and Brunch • American • Sandwiches
4.6
(26)
  •  
View delivery time and booking fee.
Location and hours
1914 Commerce St, Dallas, TX 75201
Every Day
06:30 AM - 03:30 PM
Menu
06:30 AM - 04:00 PM
Restaurant Week
1914 Commerce St, Dallas, TX 75201 • More info
---
Sides

Chicken and Cranberry Sausage

Toast

Choice of wheat, sourdough, or marble rye.

Plates

Sausage Biscuits and Gravy

Steel Cut Oats

Seasonal fresh fruit, brown sugar, and local honey.

Buttermilk Biscuits

3 pieces. Served with house preserves, butter, and local honey.

Avocado Toast

Nine grain toast, cherry tomatoes, and cotija cheese.

Buttermilk Pancakes

Pure maple syrup and whipped sweet cream butter.

Ricotta Lemon Zest Pancakes

Lemon curd and blueberry compote.

Chicken and Biscuits

Buttermilk brined tenders, bacon, and cheddar cheese with sausage gravy.

The Perfect Omelet

Cotija cheese, chives, and baby red tomato-watercress fennel salad.

Easy Living

2 eggs any style, choice of sausage or bacon, breakfast potatoes, and choice of toast.

Chilaquiles

Appaloosa beans, roasted tomatillo salsa, pepper jack cheese, fried corn tortillas, and fried egg.

Short Rib Hash

Roasted potatoes, onion, piquillo peppers, and 2 sunny side up eggs. Served with toast.

Smoked Salmon

Everything bagel, sliced tomato, capers, pickled onions, and whipped goat cheese.

Breakfast Tacos

Scrambled eggs, breakfast potatoes, cotija, corn or flour tortillas, salsa Rojas, and pico.

Power Breakfast

Two eggs any style, chicken and cranberry sausage, fresh fruit.

Mains

Quinten's Grilled Cheese

White cheddar, American cheese, ham on sourdough, pickle spear, a cup of soup or choice of fries.

Pot Roast Sandwich

Open-faced toasted garlic bread, beef short ribs, onions, peppers, horseradish gremolata, served with choice of fries or side salad.

Patty Melt

American, white cheddar cheeses, caramelized onions, toasted rye, and served with choice of fries.

Classic Reuben

Corned beef, swiss cheese, Russian dressing, sauerkraut, marble rye, served with choice of fries.

Statler Club

Smoked turkey, ham, avocado, bibb lettuce, tomato, white cheddar, and mayo on toasted wheat.

Grilled Chicken Sandwich

Smoked bacon, swiss cheese, lettuce, tomato, and honey mustard. Served with fries.

Commerce St. Burger

Smoked bacon, cheddar, lettuce, tomato, pickle, onion, and dijonaise. Served with fries.

Beyond Burger

Zaatar spiced patty, goat cheese, watercress, tomato, onion, and roasted garlic hummus. Served with quinoa salad.

Roasted Chicken Salad

Granny smith apple, red grapes, golden raisin, curry mayonnaise, toasted almonds, and served on toasted nine-grain or lettuce cups.

Tuna Salad Sandwich

Celery, capers, pickled red onion, lemon dijon aioli, and arugula on toasted nine-grain served with choice of fries.

Pastries

Coffees

Soup and Salad

Power Greens Salad

Baby kale, pea tendrils, bibb lettuce, apple, crispy shiitake, baby red tomato, walnuts, and citrus vinaigrette.

Statler Cobb

Romaine lettuce, blue cheese, cherry tomatoes, avocado, bacon, hard-boiled egg, lemon vinaigrette, and buttermilk ranch.

Texas Caesar

Roasted corn, spiced croutons, cotija cheese, pico de gallo, and cilantro caesar dressing.

Texas Tortilla Soup

spicy grilled chicken, cotija cheese, avocado, cilantro, tortilla strips

Seasonal Sweet
Restaurant Week

Lunch

Choose from options below.