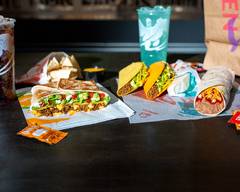 Taco Bell (3605 S High St)
$ • Burritos • Fast Food • Mexican
4.1
(78)
  •  
View delivery time and booking fee.
Location and hours
3605 S High St, Columbus, OH 43207
Every Day
02:00 PM - 05:00 PM
HappyHour
09:00 AM - 11:30 PM
AllDayMenu
09:00 AM - 10:30 AM
Breakfast
3605 S High St, Columbus, OH 43207 • More info
---
Happier Hour
Items marked with a green & white "V" graphic are American Vegetarian Association certified vegetarian food items are lacto-ovo, allowing consumption of dairy and eggs but not animal byproducts. The same frying oil may be used to prepare menu items that could contain meat. Vegetarian and meat ingredients are handled in common, and cross contact may occur, which may not be acceptable to certain types of vegetarian diets. Neither Taco Bell, our employees, franchisees, licensees nor the AVA assume any responsibility for such cross contact.
Featured

Grilled Cheese Burrito

Nacho cheese sauce, seasoned rice, red strips, seasoned beef, creamy chipotle sauce, reduced-fat sour cream, and our three-cheese blend wrapped inside a warm flour tortilla, with even more three-cheese blend grilled on the top.

Grilled Cheese Burrito Box

Includes a Grilled Cheese Burrito, Crunchy Taco, Cinnamon Twists, and a medium drink.

Nacho Crunch Double Stacked Taco

A flour tortilla layered with a warm nacho cheese sauce wrapped around a crunchy taco. Filled with seasoned beef, crispy lettuce, and red strips.

Taco Party Pack

Your choice of 12 of the following tacos: Crunchy or Soft Tacos, Crunchy or Soft Taco Supremes®.

Variety Taco Party Pack

Your choice of 12 of the following tacos: Crunchy or Soft Taco, or Nacho Cheese Doritos® Locos Tacos.

Supreme Taco Party Pack

Your choice of 12 of the following tacos: Crunchy or Soft Taco Supremes®.

Supreme Variety Taco Party Pack

Your choice of 12 of the following tacos: Crunchy or Soft Taco Supremes®, or Nacho Cheese Doritos® Locos Tacos Supremes®

Supreme Soft Taco Party Pack

Includes 12 Soft Tacos Supreme®.

Taco and Burrito Party Pack

Your choice of 10 of the following: Bean Burritos, Soft or Crunchy Tacos.

Combos

Grilled Cheese Burrito Box

Includes a Grilled Cheese Burrito, Crunchy Taco, Cinnamon Twists, and a medium drink.

3 Crunchy Tacos Supreme® Combo

Served with a large drink and 3 tacos.

3 Crunchy Tacos Combo

Served with a large drink and 3 beef tacos.

3 Soft Tacos Supreme® Combo

Three Soft Taco Supremes served with a large drink

3 Soft Tacos Combo

Served with a drink and 3 beef tacos.

Burrito Supreme® Combo

Served with a large drink, beef burrito supreme and crunchy taco supreme.

Crunchwrap Supreme® Combo

Served with a large drink and a regular crunchy taco.

Nachos BellGrande® Combo

Served with a large drink and a crunchy taco supreme.

2 Chicken Chalupas Supreme Combo

Served with a drink, chicken quesadilla, regular crunchy taco.

Chicken Quesadilla Combo

Served with large drink, chicken quesadilla, regular crunchy taco.

Mexican Pizza Combo

Served with a large taco, 2 crunchy taco supreme and a Mexican pizza.

Party Packs

Taco Party Pack

Your choice of 12 of the following tacos: Crunchy or Soft Tacos, Crunchy or Soft Taco Supremes®.

Supreme Taco Party Pack

Your choice of 12 of the following tacos: Crunchy or Soft Taco Supremes®.

Variety Taco Party Pack

Your choice of 12 of the following tacos: Crunchy or Soft Taco, or Nacho Cheese Doritos® Locos Tacos.

Supreme Variety Taco Party Pack

Your choice of 12 of the following tacos: Crunchy or Soft Taco Supremes®, or Nacho Cheese Doritos® Locos Tacos Supremes®

Supreme Soft Taco Party Pack

Includes 12 Soft Tacos Supreme®.

Taco and Burrito Party Pack

Your choice of 10 of the following: Bean Burritos, Soft or Crunchy Tacos.

Sauce Packets

Specialties

Crunchwrap Supreme®

A flour tortilla layered with seasoned beef, warm nacho cheese sauce, a crispy tostada shell, crispy lettuce, ripe tomatoes and topped with cool sour cream all wrapped in our signature crunchwrap fold and grilled to go.

Chalupa Supreme

Chewy fried chalupa bread filled with seasoned beef, sour cream, crispy lettuce, three-cheese blend and ripe tomatoes.

Cheesy Gordita Crunch

A warm flatbread layered with three-cheese blend and warm nacho cheese sauce and wrapped around a crunchy taco filled with seasoned beef, spicy ranch sauce, crispy lettuce and shredded cheddar cheese.

Mexican Pizza

A fresh fried Mexican pizza shell layered with refried beans and seasoned beef, another Mexican pizza shell and then topped with our Mexican pizza sauce, three-cheese blend and ripe tomatoes.

Cheesy Roll Up

A warm flour tortilla filled with our 3-cheese blend. Item is lacto-ovo, allowing for dairy & egg consumption. Preparation methods may lead to cross contact with meat. See ta.co for full details.

Tacos

Nacho Crunch Double Stacked Taco

A flour tortilla layered with a warm nacho cheese sauce wrapped around a crunchy taco. Filled with seasoned beef, crispy lettuce, and red strips.

Soft Taco

A warm flour tortilla filled with seasoned beef, crispy lettuce and shredded cheddar cheese.

Soft Taco Supreme®

A warm flour tortilla filled with seasoned beef, cool sour cream, crispy lettuce, shredded cheddar cheese and ripe tomatoes.

Crunchy Taco

A crunchy taco shell filled with seasoned beef, crispy lettuce and shredded cheddar cheese.

Crunchy Taco Supreme®

A crunchy taco shell filled with seasoned beef, cool sour cream, crispy lettuce, shredded cheddar cheese and ripe tomatoes.

Cheesy Gordita Crunch

A warm flatbread layered with three-cheese blend and warm nacho cheese sauce and wrapped around a crunchy taco filled with seasoned beef, spicy ranch sauce, crispy lettuce and shredded cheddar cheese.

Chalupa Supreme

Chewy fried chalupa bread filled with seasoned beef, sour cream, crispy lettuce, three-cheese blend and ripe tomatoes.

Nacho Cheese Doritos® Locos Tacos

A crunchy taco shell made from Nacho Cheese Doritos® is filled with seasoned beef, crispy lettuce, and pico de gallo.

Nacho Cheese Doritos® Locos Tacos Supreme®

A crunchy taco shell made from Nacho Cheese Doritos® is filled with seasoned beef, cool sour cream, crispy lettuce, shredded cheddar cheese and ripe tomatoes.

Grilled Steak Soft Taco

A warm flour tortilla filled with flavorful grilled steak, avocado ranch sauce, crispy lettuce, shredded cheddar cheese and ripe tomatoes.

Chicken Soft Taco

A warm flour tortilla filled with flavorful shredded chicken, crispy lettuce and shredded cheddar cheese.

Burritos

Grilled Cheese Burrito

Nacho cheese sauce, seasoned rice, red strips, seasoned beef, creamy chipotle sauce, reduced-fat sour cream, and our three-cheese blend wrapped inside a warm flour tortilla, with even more three-cheese blend grilled on the top.

Quesarito

A melty cheese quesadilla, with shredded cheddar cheese and warm nacho cheese sauce is opened and wrapped around a burrito filled with seasoned beef, seasoned rice, cool sour cream and creamy chipotle sauce.

Bean Burrito

Warm flour tortilla filled with refried beans, shredded cheddar cheese, flavorful red sauce and diced onions. Item is lacto-ovo, allowing for dairy & egg consumption. Preparation methods may lead to cross contact with meat. See ta.co for full details

Beefy 5-Layer Burrito

A warm tortilla is covered in a layer of warm nacho cheese and topped with seasoned beef, refried beans, cool sour cream and shredded cheddar cheese. Then it's wrapped creating a layer of nacho cheese all around the outside of the burrito.

Cheesy Bean and Rice Burrito

A warm flour tortilla filled with refried beans, seasoned rice, nacho cheese sauce and creamy jalapeño sauce. Item is lacto-ovo, allowing for dairy & egg consumption. Preparation methods may lead to cross contact with meat. See ta.co for full details

Shredded Chicken Burrito

A warm flour tortilla loaded with shredded chicken, seasoned rice, Avocado Ranch sauce, and cheddar cheese.

Burrito Supreme®

A warm flour tortilla loaded with seasoned beef, refried beans, tomatoes, onions, iceberg lettuce, reduced-fat sour cream, red sauce and cheddar cheese.

Cheesy Potato Griller

A warm flour tortilla is filled with fiesta potato bites, warm nacho cheese sauce and cool sour cream - rolled and grilled to perfection.

Beefy Nacho Griller

A warm flour tortilla is filled with seasoned beef, crunchy tortilla strips and warm nacho cheese - rolled and grilled to perfection.

7-Layer Burrito

Warm flour tortilla, refried beans, seasoned rice, three-cheese blend, guacamole, reduced fat sour cream, lettuce & tomatoes. Item is lacto-ovo, allowing for dairy & egg consumption. Preparation methods may lead to cross contact with meat. See ta.co.

Quesadillas

Chicken Quesadilla

An extra flour tortilla filled with melty three-cheese blend, fire grilled chicken, creamy jalapeño sauce folded and grilled to perfection.

Chicken Quesadilla Combo

Served with large drink, chicken quesadilla, regular crunchy taco.

Shredded Chicken Quesadilla Melt

Comes with shredded chicken, 3 cheese blend, and chipotle sauce.

Steak Quesadilla

A warm flour tortilla filled with USDA Select Marinated Grilled Steak, Three Cheese Blend, Creamy Jalapeno Sauce, folded over and grilled.

Cheese Quesadilla

Large flour tortilla filled with melty three-cheese blend, creamy jalapeño sauce, perfectly folded & grilled. Item is lacto-ovo, allowing for dairy & egg consumption. Preparation methods may lead to cross contact with meat. See ta.co for full details

Nachos

Nachos BellGrande®

A portion of crispy tortilla chips topped with warm nacho cheese sauce, refried beans, seasoned beef, ripe tomatoes and cool sour cream.

Nachos BellGrande® Combo

Served with a large drink and a crunchy taco supreme.

Chips and Nacho Cheese Sauce

Nacho chips with a side of warm nacho cheese sauce for dipping.

Chips and Guacamole

Nacho chips served with a side of premium guacamole.

Chips and Pico De Gallo

Nacho chips served with a side of pico de gallo.

Value Menu

Nacho Crunch Double Stacked Taco

A flour tortilla layered with a warm nacho cheese sauce wrapped around a crunchy taco. Filled with seasoned beef, crispy lettuce, and red strips.

Cheesy Bean and Rice Burrito

A warm flour tortilla filled with refried beans, seasoned rice, nacho cheese sauce and creamy jalapeño sauce. Item is lacto-ovo, allowing for dairy & egg consumption. Preparation methods may lead to cross contact with meat. See ta.co for full details

Shredded Chicken Quesadilla Melt

Comes with shredded chicken, 3 cheese blend, and chipotle sauce.

Cheesy Roll Up

A warm flour tortilla filled with our 3-cheese blend. Item is lacto-ovo, allowing for dairy & egg consumption. Preparation methods may lead to cross contact with meat. See ta.co for full details.

Cinnamon Twists

Crispy, puffed corn twists sprinkled with cinnamon and sugar.

Cinnabon Delights® 2 Pack

Warm donut holes filled with Cinnabon® signature cream cheese frosting, and dusted in Makara Cinnamon sugar

Spicy Potato Soft Taco

A soft flour tortilla filled with Potato Bites, iceburg lettuce, cheddar cheese, and Creamy Chipotle sauce.

Sweets

Cinnamon Twists

Crispy, puffed corn twists sprinkled with cinnamon and sugar.

Cinnabon Delights® 12 Pack

Warm donut holes filled with Cinnabon® signature cream cheese frosting, and dusted in Makara Cinnamon sugar.

Cinnabon Delights® 2 Pack

Warm donut holes filled with Cinnabon® signature cream cheese frosting, and dusted in Makara Cinnamon sugar

Sides

Cheesy Fiesta Potatoes

Potato bites topped with nacho cheese sauce and reduced-fat sour cream.

Cheesy Roll Up

A warm flour tortilla filled with our 3-cheese blend. Item is lacto-ovo, allowing for dairy & egg consumption. Preparation methods may lead to cross contact with meat. See ta.co for full details.

Chips and Nacho Cheese Sauce

Nacho chips with a side of warm nacho cheese sauce for dipping.

Chips and Guacamole

Nacho chips served with a side of premium guacamole.

Chips and Pico De Gallo

Nacho chips served with a side of pico de gallo.

Black Beans and Rice

Black beans served with seasoned rice. Item is lacto-ovo, allowing for dairy & egg consumption. Preparation methods may lead to cross contact with meat. See ta.co for full details.

Black Beans

Savory black beans. Item is lacto-ovo, allowing for dairy & egg consumption. Preparation methods may lead to cross contact with meat. See ta.co for full details.

Drinks

Pineapple Whip Freeze

A tropical pineapple freeze blended with sweet vanilla cream.

Pineapple Freeze

A tropical pineapple freeze.

Wild Strawberry Freeze

A refreshing Strawberry freeze.

Mountain Dew Baja Blast® Freeze

Mountain Dew® Baja Blast in a frozen slushy drink.

Mountain Dew® Kickstart™ Orange Citrus

Lipton® Unsweetened Iced Tea

Orange Juice

15.2 oz Bottle of Tropicana® Orange Juice.

Regular Iced Coffee

Rainforest alliance certified™ coffee poured over ice.

Premium Hot Coffee

Rainforest alliance certified™ coffee.

Mountain Dew® Baja Blast™ Zero Sugar

Power Menu

Power Menu Bowl - Veggie

Seasoned rice, black beans, pico de gallo, guacamole, reduced fat sour cream, lettuce, shredded cheese & avocado ranch sauce. Item is lacto-ovo, allowing for dairy & egg consumption. Preparation methods may lead to cross contact with meat. See ta.co.

Power Menu Bowl

We start with a bed of seasoned rice and top it with fire grilled chicken, black beans, fresh pico de gallo, premium guacamole, sour cream, lettuce, shredded cheddar cheese and avocado ranch sauce.

Vegetarian

Cheese Quesadilla

Large flour tortilla filled with melty three-cheese blend, creamy jalapeño sauce, perfectly folded & grilled. Item is lacto-ovo, allowing for dairy & egg consumption. Preparation methods may lead to cross contact with meat. See ta.co for full details

Bean Burrito

Warm flour tortilla filled with refried beans, shredded cheddar cheese, flavorful red sauce and diced onions. Item is lacto-ovo, allowing for dairy & egg consumption. Preparation methods may lead to cross contact with meat. See ta.co for full details

7-Layer Burrito

Warm flour tortilla, refried beans, seasoned rice, three-cheese blend, guacamole, reduced fat sour cream, lettuce & tomatoes. Item is lacto-ovo, allowing for dairy & egg consumption. Preparation methods may lead to cross contact with meat. See ta.co.

Cheesy Roll Up

A warm flour tortilla filled with our 3-cheese blend. Item is lacto-ovo, allowing for dairy & egg consumption. Preparation methods may lead to cross contact with meat. See ta.co for full details.

Cheesy Bean and Rice Burrito

A warm flour tortilla filled with refried beans, seasoned rice, nacho cheese sauce and creamy jalapeño sauce. Item is lacto-ovo, allowing for dairy & egg consumption. Preparation methods may lead to cross contact with meat. See ta.co for full details

Black Bean Quesarito

Cheese & nacho cheese sauce quesadilla wrapped around a black bean, seasoned rice, reduced fat source cream & chipotle sauce burrito. Item is lacto-ovo, allowing for dairy & egg consumption. Preparation methods may lead to cross contact with meat.

Black Bean Crunchwrap Supreme®

Flour tortilla, black beans, nacho cheese sauce, tostada shell, lettuce, tomatoes & reduced fat sour cream layers grilled in a crunchwrap. Item is lacto-ovo, allowing for dairy & egg consumption. Preparation method may lead to cross contact with meat
Breakfast

Cheesy Toasted Breakfast Burrito

Fluffy eggs, nacho cheese sauce, and sausage wrapped up in a flour tortilla and toasted to perfection.

Cheesy Toasted Breakfast Burrito Potato

Fluffy eggs, nacho cheese, and potato wrapped up in a flour tortilla and toasted to perfection.

Hash Brown Toasted Breakfast Burrito

A toasted flour tortilla filled with fluffy eggs, three melted cheeses, bacon, and a perfectly flaky hash brown.

Hash Brown Toasted Breakfast Burrito Steak

A toasted flour tortilla filled with fluffy eggs, three melted cheeses, steak, and a perfectly flaky hash brown.

Grande Toasted Breakfast Burrito

Starts with sausage, then double the fluffy eggs, melted three-cheese blend, potato bites, and fresh pico de gallo. All wrapped up and toasted until melty.

Grande Toasted Breakfast Burrito Steak

Starts with steak, then double the fluffy eggs, melted three-cheese blend, potato bites, and fresh pico de gallo. All wrapped up and toasted until melty.

Breakfast Crunchwrap

A warm flour tortilla layered with a crispy hashbrown, fluffy eggs, bacon, shredded cheddar cheese and creamy jalapeño sauce wrapped in our signature crunchwrap fold and grilled to perfection.

Hash Brown Toasted Breakfast Burrito Combo

Includes a Hash Brown Toasted Breakfast Burrito with Bacon, Cinnabon Delights (2 pack), and a medium Drink

Grande Toasted Breakfast Burrito Combo

Includes a Grande Toasted Breakfast Burrito with Sausage, Hash Brown, and a medium Drink

Breakfast Crunchwrap Combo

Served with a medium drink, a Bacon Crunchwrap and Cinnabon Delights 2 Pack.

Hash Brown

A warm freshly fried potato hashbrown.

Mini Skillet Bowl

Eggs and fiesta potato bites topped with warm nacho cheese sauce and fresh pico de gallo.

Cinnabon Delights® 12 Pack

Warm donut holes filled with Cinnabon® signature cream cheese frosting, and dusted in Makara Cinnamon sugar.

Cinnabon Delights® 2 Pack

Warm donut holes filled with Cinnabon® signature cream cheese frosting, and dusted in Makara Cinnamon sugar

Orange Juice

15.2 oz Bottle of Tropicana® Orange Juice.

Premium Hot Coffee

Rainforest alliance certified™ coffee.

Regular Iced Coffee

Rainforest alliance certified™ coffee poured over ice.

Sauce Packets

Drinks

Pineapple Whip Freeze

A tropical pineapple freeze blended with sweet vanilla cream.

Pineapple Freeze

A tropical pineapple freeze.

Wild Strawberry Freeze

A refreshing Strawberry freeze.

Mountain Dew Baja Blast® Freeze

Mountain Dew® Baja Blast in a frozen slushy drink.

Mountain Dew® Kickstart™ Orange Citrus

Lipton® Unsweetened Iced Tea

Orange Juice

15.2 oz Bottle of Tropicana® Orange Juice.

Regular Iced Coffee

Rainforest alliance certified™ coffee poured over ice.

Premium Hot Coffee

Rainforest alliance certified™ coffee.

Mountain Dew® Baja Blast™ Zero Sugar