Provence Marinaside Menu and Delivery in Vancouver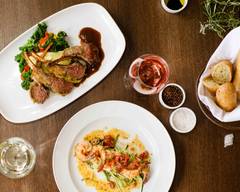 Location and hours
1177 Marinaside Crescent, Vancouver, BC V6Z 2Y3
Sunday
09:15 a.m. - 02:45 p.m.
BRUNCH
02:45 p.m. - 09:30 p.m.
DINNER
Monday - Friday
10:15 a.m. - 11:15 a.m.
BRUNCH
11:15 a.m. - 02:45 p.m.
LUNCH
02:45 p.m. - 09:30 p.m.
DINNER
Saturday
09:15 a.m. - 02:45 p.m.
BRUNCH
02:45 p.m. - 09:30 p.m.
DINNER
Provence Marinaside
4.8 (52 ratings) • French
  •  
More info
1177 Marinaside Crescent, Vancouver, BC V6Z 2Y3
Tap for hours, address, and more
Enter your address above to see fees, and delivery + pickup estimates.
Wish you could ask provence marinaside customers what to order here? Of the 60 things on the menu at this evening go-to, the Wild Mushroom Ravioli is one of the most-ordered items. •
French
 • 
Pasta
 • 
Salads
 • 
Healthy
Picked for you

PRAWN AND SCALLOP SPAGHETTINI

BRUNCH

AVOCADO AND SMOKED STEELHEAD BAGUETTE

PRAWN AND SCALLOP SPAGHETTINI

VEGAN MOROCCAN SPICED CHICKPEA CRÊPE

SIDES

PROVENCE BREAKFAST POTATOES

DESSERTS

CLAFOUTIS AUX FRUITS ROUGES

FRENCH FOOD MADE EASY
Frequently asked questions
Can I order Provence Marinaside delivery in Vancouver with Uber Eats?
Yes. Provence Marinaside delivery is available on Uber Eats in Vancouver.
Is Provence Marinaside delivery available near me?
Provence Marinaside delivery might not be available everywhere in Vancouver, so enter your address to see if it's available near you.
How do I order Provence Marinaside delivery online in Vancouver?
There are 2 ways to place an order on Uber Eats: on the app or online using the Uber Eats website. After you've looked over the Provence Marinaside menu, simply choose the items you'd like to order and add them to your cart. Next, you'll be able to review, place, and track your order.
What's the best thing to order for Provence Marinaside delivery in Vancouver?
What's best at Provence Marinaside is totally up to you and your personal preference. If you're in need of some inspiration, consider trying one of the items featured in "Picked for you."
How do I get $0 Delivery Fee at Provence Marinaside in Vancouver?
The Delivery Fees may vary depending on a number of factors, like your location. Enter your Vancouver address to see the current Delivery Fee. You can also explore the Uber Eats membership and subscription options available in your area to see if you can save money on Provence Marinaside delivery with $0 Delivery Fee on select orders.