Oakville Pump & Patio Menu and Delivery in Oakville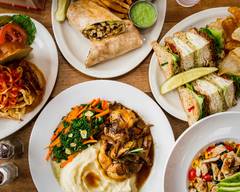 Location and hours
1011 Upper Middle Road East, Oakville, ON L6H
Sunday
11:00 a.m. - 09:30 p.m.
The Oakville Pump & Patio
Monday - Tuesday
11:00 a.m. - 10:30 p.m.
The Oakville Pump & Patio
Wednesday - Thursday
11:00 a.m. - 11:30 p.m.
The Oakville Pump & Patio
Friday
11:00 a.m. - 06:30 p.m.
The Oakville Pump & Patio
08:00 p.m. - 12:15 a.m.
The Oakville Pump & Patio
Saturday
11:00 a.m. - 06:30 p.m.
The Oakville Pump & Patio
08:00 p.m. - 12:30 a.m.
The Oakville Pump & Patio
Oakville Pump & Patio
4.6 (168 ratings) • American • $
  •  
More info
1011 Upper Middle Road East, Oakville, ON L6H
Tap for hours, address, and more
Enter your address above to see fees, and delivery + pickup estimates.
Picked for you

Starters

Individually cut port spare ribs, fried and tossed in a house made jerk sauce.

Salads & Bowls

Sandwiches & Wraps

Southwest Chicken Sandwich

Burgers

Pasta & Classics

Pizza

Baby spinach, mushrooms, bell peppers, cherry tomatoes, black olives, goat cheese, pomodoro sauce, mozzarella.

Pepperoni and more pepperoni with pomodoro sauce, mozzarella.

BBQ sauce, mozzarella, chicken, bacon, roasted red peppers, red onion, scallions, southwest chipotle drizzle.

Bacon, ham, grilled cinnamon dusted pineapple, pomodoro sauce, mozzarella.

Pepperoni, jalapeños, red pepper flakes, honey drizzle, pomodoro sauce, mozzarella.

Wings & Things

Tex & Mex

Hand-cut corn chips, tex mex cheese, lettuce, tomato, side con queso sauce and sour cream, black beans, corn, bell peppers, olives, onion, jalapeños.

Bundles

40 of our Famous Wings, and your choice of 2 Pizza's, French Fries or Sweet Potato Fries, Caesar Salad or House Salad, and 8 Mozzarella Sticks.

Beverages

White Wine

Crush Pinot Grigio (Bottle)

Peller Sauv Blanc (Bottle)

Vineland Riesling (Bottle)

Blu Giovello Sparkling (Bottle)

Red Wine

Gnarled Vine Cab Sauv (Bottle)

Gnarled Vine Merlot (Bottle)

Dos Fincas Malbec (Bottle)

Baywood Cab Sauv (Bottle)

Beer

24x341ml bottle (5.00% ABV)

The Shop

Extras
Adults and youth (ages 13 and older) need an average of 2,000 calories a day, and children (ages 4 to 12) need an average of 1,500 calories a day. However, individual needs vary.