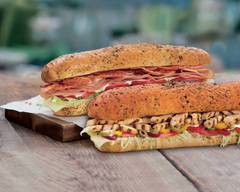 Location and hours
14 Lisa St, Brampton, ON L6T
Sunday
12:00 a.m. - 2:00 a.m.
Delivery / Livraison
11:00 a.m. - 11:59 p.m.
Delivery / Livraison
Monday - Friday
9:30 a.m. - 11:59 p.m.
Delivery / Livraison
12:00 a.m. - 2:00 a.m.
Delivery / Livraison
Saturday
12:00 a.m. - 2:00 a.m.
Delivery / Livraison
10:00 a.m. - 11:59 p.m.
Delivery / Livraison
Mr. Sub (Dixie & Lisa)
14 Lisa St, Brampton, ON L6T
Pickup
20–30 min • 519.8 KM
PROTEIN PACKED SUBS

Looking to pack in the protein? Feast on one of these tasty subs!

SELECT SUBS

Delicious specialty subs.

CLASSIC SUBS

A wonderful variety of timeless classics.

MIGHTY MEATLESS SUBS

0% Meat. 100% Delicious. MR.SUB's Mighty Meatless subs are an excellent source of plant-based proteins with all the flavour you want. Try one today!

SPECIALTY WRAPS

Bite into a tasty selection of delicious specialty wraps.

ENTRÉE SALADS

Choose from a selection of fresh, hand-crafted salads made with quality ingredients.

KIDS' MEAL

All Kids meals come served with your choice of milk and a chocolate chip cookie.

THIRST QUENCHERS

Quench your thirst with a cool and refreshing beverage.