Friandises Exotique Muncheez Menu and Delivery in Gatineau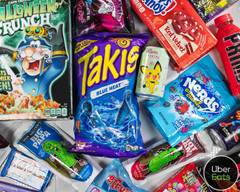 Location and hours
35 Boulevard Gréber, Gatineau, Québec J8T 3P4
Every day
11:00 a.m. - 9:00 p.m.
Friandises Exotique Muncheez
Enter your address above to see fees, and delivery + pickup estimates.
$ • Specialty Foods
 • 
Gift shop
Picked for you

Autres / Others

Airheads Gum Bleu Framboise / Airheads Gum Blue Raspberry

Applehead Bonbons aux Pommes / Apple Candy Applehead

Haribo Chamallows Rose et Blanc (Royaume-Uni) / Haribo Chamallows Pink and White (Uk)

Des Bonbons / Candy

Mélange Airheads Gum Paradise / Airheads Gum Paradise Blend

Airheads Gomme Pastèque / Airheads Gum Watermelon

Birthday Cake Bouchées de Pâte à Biscuits / Birthday Cake Cookie Dough Bites

Chewy Lemonhead Berry Génial / Chewy Lemonhead Berry Awesome

Sacs Efrutti / Efrutti Bags

Sac Shopping Efrutti Bakery / Efrutti Bakery Shopper Bag

Efrutti Bonbons Gommeux au Gâteau au Fromage / Efrutti Cheesecake Gummi Candy

Efrutti Sacs à Lunch / Efrutti Lunch Bags

Efrutti Sac de Flm / Efrutti Movie Bag

Haribo Gingembre Citron / Haribo Ginger Lemon

Haribo Gold Coffret Ours / Haribo Goldbears Box

Haribo Vers Arc-en-Ciel / Haribo Rainbow Worms

Haribo Serpent Jumeau / Haribo Twin Snake

Hi Chew Pastèque / Hi Chew Watermelon

Jaw Busters Boîte / Jaw Busters Box

Jolly Rancher Bouchées Douces / Jolly Rancher Bites Soft

Juicy Drop Gencive / Juicy Drop Gum

Krabby Patties Boîte de Couleur / Krabby Patties Color Box

Krabby Patties Boîte d'Origine / Krabby Patties Original Box

Krabby Patties Sacs de Pastèque / Krabby Patties Watermelon Bags

Laffy Taffy Banane / Laffy Taffy Banana

Laffy Taffy Tourbillon Mystérieux / Laffy Taffy Mystery Swirl

Laffy Taffy Corde Bleu Framboise / Laffy Taffy Rope Blue Raspberry

Laffy Taffy Corde Cerise / Laffy Taffy Rope Cerise

Laffy Taffy Ropes Raisin / Laffy Taffy Ropes Raisin

Laffy Taffy Ropes Fraise / Laffy Taffy Ropes Strawberry

Laffy Taffy Pomme Aigre / Laffy Taffy Sour Apple

Mike et Ike Raisin / Mike and Ike Grape

Mike et Ike Méga Mix / Mike and Ike Megamix

Mike et Ike Tropical / Mike and Ike Tropical

Nerds Big Chewy Acide / Nerds Big Chewy Sour

Nerds Melon d'Eau Pomme et Cerise Limonade / Nerds Watermelon Apple Cherry Lemonade

Nerds Raisin et Fraise / Nerds Grape and Strawberry

Nerds Corde Arc-en-Ciel / Nerds Rope Rainbow

Now et Later Mélange Original / Now et Later Original Mix

Pop Rock Gomme Craquelée / Pop Rock Crackling Gum

Red Velvet Bouchées de Petit Gâteau / Red Velvet Cupcake Bites

Skittles Gummies Original

Originale Skittles Gummies / Skittles Gummies Original

Slush Puppie Double Pression / Slush Puppie Double Squeeze

Slush Puppie Vaporisateur / Slush Puppie Spray

Céréale / Cereals

Céréale Franken Baie / Franken Berry Cereal

Chips

Cheetos au Poulet / Chicken Cheetos

Cheetos aux Fruits de Mer / Sea Food Cheetos

Lays Chinois Tomate Pure / Pure Tomato Chinese Lays

Lays Chinois Écrevisses Épicées / Spicy Crayfish Chinese Lays

Lays Chinois Tarot Citron Vert / Tarot Lime Chinese Lays

Lays Saveur de Poisson Rôti / Roasted Fish Flavor Lays

Pringles Lanières Épicées / Spicy Strips Pringles

Rap Snacks Notorious Gros / Rap Snacks Notorious Big

Chocolat / Chocolate

Cocoa Pebbles Grande Taille / Cocoa Pebbles King Size

Fuity Pebbles Candy Bar Grande Taille / Fuity Pebbles Candy Bar King Size

Kit kat Mocha Chocolat / Kit kat Mocha Chocolate

Milka Cerise et Crème / Milka Cherry and Creme

Milka Crème et Biscuit / Milka Cream and Biscuit

Biscuits / Cookie

Dunkaroos Vanille / Vanilla Dunkaroos

Miettes Oreo / Oreo Crumbs

Pocky Fraise Croquante / Crunchy Strawberry Pocky

Poisson Chinois Spicy / Spicy Chinese Fish

Reese Gâteau Snakcs Croustillant / Reese Crunchy Snack Cake

Boissons / Drinks

7 Up Exotique Ananas / 7 Up Exotic Pineapple

Canada Dry Canneberge / Canada Dry Cranberry

Chubby Ananas / Chubby Pineapple

Chupa Chups Fraise et Crème / Chupa Chups Strawberry and Cream

Fanta Bleuet / Fanta Blueberry

Fanta Chinois Ananas / Fanta Chinese Pineapple

Fanta Fraise USA / Fanta Strawberry USA

Fanta Raisin Chinois / Fanta Grape Chinese

Fanta Pêche Blanche Alu / Fanta White Peach Alu

Faygo Barbe à Papa / Faygo Cotton Candy

Faygo Moon Mist Bleu / Faygo Moon Mist Blue

Faygo Red Pop / Faygo Redpop

Hata Ananas / Hata Pineapple

Hata Bleuet / Hata Cornflower

Hata Pastèque / Hata Watermelon

Mélange d'Ananas Kool Aid / Kool Aid Ananas Mix

Kool Aid Cerise Noire / Kool Aid Black Cherry

Kool Aid Bleu Framboise / Kool Aid Blue Raspberry

Kool Aid Limonade Rose / Kool Aid Pink Limonade

Kool Aid Pastèque / Kool Aid Watermelon

Minute Maid Bleu Framboise / Minute Maid Blue Raspberry

Pastèque Minute Maid / Minute Maid Melon d'Eau

Cerise Noire Oldtyme / Oldtyme Black Cherry

Limonade aux Fraises Oldtyme / Oldtyme Strawberry Limonade

Pastèque Oldtyme / Oldtyme Watermelon

Jello

Jello Sour Patch Bleu / Jello Sour Patch Blue

Cornichon / Pickle

Cornichon Chaud de Maman / Hot Mama Pickle

Cornichons Chauds Géants / Jumbo Hot Pickle

Cornichon Aigre Géant / Jumbo Sour Pickle

Pop Tarts

Pop Tarts Coupe Glacée au Fudge Chaud / Pop Tarts Hot Fudge Sundae

Soupes / Soups

Nongshim Poulet / Nongshim Chicken

Samyang Hot Chicken Léger Épicé / Samyang Hot Chicken Light Spicy

Samyang Poulet Épice (X2) / Samyang Chicken Spice (X2)

Ramen de Samyang / Samyang Ramen

Pâtes aux Tomates Samyang / Samyang Tomato Pasta

Tartinade

Croquant de Pain Grillé à la Cannelle / Cinnamon Toast Crunch
Frequently asked questions
Can I order Friandises Exotique Muncheez delivery in Gatineau with Uber Eats?
Yes. Friandises Exotique Muncheez delivery is available on Uber Eats in Gatineau.
Is Friandises Exotique Muncheez delivery available near me?
Enter your address to see if Friandises Exotique Muncheez delivery is available to your location in Gatineau.
How do I order Friandises Exotique Muncheez delivery online in Gatineau?
There are 2 ways to place an order on Uber Eats: on the app or online using the Uber Eats website. After you've looked over the Friandises Exotique Muncheez menu, simply choose the items you'd like to order and add them to your cart. Next, you'll be able to review, place, and track your order.
Where can I find Friandises Exotique Muncheez online menu prices?
View upfront pricing information for the various items offered by Friandises Exotique Muncheez here on this page.
How do I get free delivery on my Friandises Exotique Muncheez order?
To save money on the delivery, consider getting an Uber One membership, if available in your area, as one of its perks is a $0 Delivery Fee on select orders.
How do I pay for my Friandises Exotique Muncheez order?
Payment is handled via your Uber Eats account.
What's the best thing to order for Friandises Exotique Muncheez delivery in Gatineau?
If you're in need of some suggestions for your Friandises Exotique Muncheez order, check out the items showcased in "Picked for you" on this page.