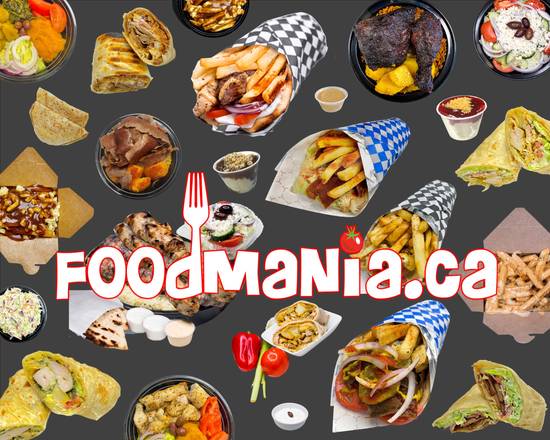 Location and hours
3 Harwood Avenue South, Ajax, ON L1S
Sunday
12:00 p.m. - 8:45 p.m.
Monday
Closed
Tuesday - Saturday
11:30 a.m. - 8:45 p.m.
Food Mania
Closed • Available at 11:30 AM
CRAZY GREEK

Welcome to FOOD MANIA where you will explore a phenomenal array of flavours from Greece, Trinidad and a Fusion mix of both nations. Order from any of our 3 Restaurants and allow our decades long experienced professional culinary team serve yourself, your family and friends.
CRAZY GREEK start from TOP of page,
MONA'S ROTI start from MIDDLE of page, GREEK'N TRINILICIOUS FUSION start from MIDDLE TO END of page.
We thank you and Enjoy.

Crazy Greek Pitas

Our Delicious pitas are sure to have you coming back for more. Our pitas come stuffed with your topping choice of tzatziki, tomatoes, onions, and fries OR just say " EVERYTHING ON IT". Enjoy any of our CRAZY pitas that come ALREADY STUFFED with EVERYTHING including CRAZY Sauce.

Crazy Greek Lite Meals

Enjoy our freshly prepared Lite Meals that offer a choice of 1 protein and 1 side. Served with our home-made tzatziki and grilled pita. Our souvlaki sticks are weighed at 4oz before cooked.

Crazy Greek Dinners

Enjoy our delicious authentic dinners prepared fresh when ordered. All dinners come served with Greek salad, rice, pita, home-made tzatziki, and your choice of lemon potatoes or fries. Our souvlaki sticks are weighed at 4oz before cooked.

MONA'S ROTI

For 2 decades Mona's Roti has been a landmark Restaurant in the Scarborough area. You may now enjoy Mona's delicious recipes and Hand crafted Roti in Durham! Now that's a Real Roti!

Mona's Wraps & Meals

Enjoy Chef Mona's delicious meat dishes served with your choice of 1 Veggie, comes wrapped in your choice of Roti skin Dahlpuri/Paratha or served on a bed of Rice and peas. Veggie dish is served with your choice of 3 vegetables.

Mona's by the Ounce oz

Welcome to the world of Trinidadian flavours and enjoy Chef Mona's delicious home made selections by the Ounce (oz). When purchasing by the ounce, you have the option of also purchasing individual hand crafted Paratha or Dahlpuri skins. Side gravy is also included.

GNT Fusion Family Feasts

Treat your family and friends to Greek and Trinidadian fusion flavours.

GNT Fusion Wraps

Enjoy a Healthy choice and try our Amazing Fusion Wraps. MAKE IT A COMBO! Choice of 11 different sides and a can of Pepsi.

GNT Fusion Burritos

Yup we did it. We guarantee to satisfy your taste buds with our amazing full of Flavours Fusion Burritos. Are you brave? Add our Home made pepper sauce to your Burrito. MAKE IT A COMBO! Choice of 10 different sides and a can of Pepsi.

GNT Fusion Dinner Bowls

Enjoy our freshly prepared Fusion Flavours in a Bowl. We have combined these two amazing cultures and have created endless flavours for everyone to enjoy.

GNT The Poutine's

Golden French Fries, your choice of protein, topped off with loads of Quebec's most popular Cheese Curds from, LA FROMAGERIE CHAMPETRE and finished with our delicious Beef Gravy. Mmmmmm good!