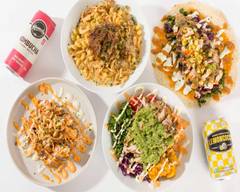 Location and hours
5205 Rue Angers, Montreal, QC H4E 4A1
Sunday - Monday
Closed
Tuesday - Saturday
11:00 a.m. - 9:00 p.m.
BONYARD
5205 Rue Angers, Montreal, QC H4E 4A1
Enter your address above to see fees, and delivery + pickup estimates.
Wish you could ask someone what's popular here? The Mac Français / French Mac is one of things that gets the most orders of the 40 items on the menu at this evening go-to. • Bowls
 • 
Macaroni cheese
 • 
Alcohol
Picked for you

BOL POULET TRINIDAD / TRINI CHICKEN BOWL

PATATAS MAMAS BRAVAS / MAMAS BRAVAS PATATAS

MAC FRANÇAIS / FRENCH MAC

COUVERTS / UTENSILS

NOMBRE D'USTENSILES REQUIS / NUMBER OF PLASTIC CUTLERY

Cette commande servira combien de personnes? / How many people will be eating from this order?

FLOTIES

POULET JERK ÉPICÉ / FIYAH JERK FLOTIE

"MONSIEUR" CANARD CONFIT / "MISTER" DUCK CONFIT

CÔTES LEVÉES BBQ STYLE ASIATIQUE / ASIAN SPICED BBQ RIBS

MACARONI ET FROMAGE / MAC AND CHEESE

MAC CLASSIQUE / CLASSIC MAC

MAC FRANÇAIS / FRENCH MAC

BOLS GOURMANDS / GOURMET BOWLS

BOL POULET TRINIDAD / TRINI CHICKEN BOWL

RACINES ET FEUILLES / ROOTS AND TREES

Chou-fleur et brocoli grillé, patate douce et champignons rôtis, edamame, kale, tahini au curcuma, sriracha à l'érable / Charred cauliflower and broccoli, roasted sweet potato and mushrooms, edamame, kale, turmeric tahini and maple sriracha

SAUMON POÊLÉ / KOI KRUNCH

Patate douce rôtie, brocoli grillé, concombre, edamame, salade de chou rouge, radis et oignon marinés, sriracha à l'érable, sesame gingembre, crumble wasabi et algue / Roasted sweet potato, grilled broccoli, cucumber, edamame, red slaw, pickled radish and onion, maple sriracha, sesame ginger, wasabi and seaweed crumble

À-CÔTÉS / SIDES

PATATAS MAMAS BRAVAS / MAMAS BRAVAS PATATAS

SOUPE DU MOMENT / SOUP OF THE DAY

SALADE DE CHOU ROUGE / RED SLAW

Vinaigrette maison et salade de chou rouge / House dressing and red cabbage coleslaw

FLOTIE EXTRA / EXTRA FLOTIE

Pain Flotie fait maison / House made Flotie bread

LES DESSERTS / DESSERTS

BROWNIE AU CHOCOLAT AVEC CARAMEL SALÉ / FUDGE BROWNIE WITH SALTED CARAMEL

GÂTEAU AU FROMAGE À L'AVOCAT / AVOCADO CHEESECAKE

EXTRAS / EXTRA

EXTRA POULET TRINIDAD / EXTRA TRINI CHICKEN

EXTRA POULET JERK / EXTRA JERK CHICKEN

EXTRA CANARD / EXTRA DUCK

EXTRA CÔTES LEVÉES / EXTRA RIBS

EXTRA TEMPEH / EXTRA TEMPEH

EXTRA SAUMON / EXTRA SALMON

SAUCES MAISON / HOUSE SAUCES

VINAIGRETTE AU SÉSAME ET GINGEMBRE / SESAME GINGER

SRIRACHA À L'ÉRABLE / MAPLE SRIRACHA

TAHINI AU CURCUMA / TURMERIC TAHINI

AÏOLI AUX AGRUMES / CITRUS AÏOLI

CRÈMA AUX CHILIS ET LIME / CHILI LIME CRÈMA

MAÏS CHIPOTLE / CHIPOTLE CORN

CRÈMA AUX CÈPES / PORCINI CRÈMA

BBQ À L'ASIATIQUE / ASIAN STYLE BBQ SAUCE

BIÈRE / BEER

VIN / WINE

Lupi Reali 2020 (1 x 750ml)

(12.5% ABV) Vin rouge, biologique, Italie, Montepulciano 100%

Adega de Penalva Maceration pelliculaire Dão 2020 (1 x 750ml)

(12.5% ABV) Vin Orange, Portugal, Cerceal Branco B 40%, Encruzado 30%, Malvasia fina 30%

Gérard Bertrand Languedoc Côte des Roses 2020 (1 x 375ml)

BREUVAGES / DRINKS

COCKTAILS / COCKTAILS

SPRITZ LES ÎLES (1 x 250ml)

WHITE CLAW CERISE NOIR / BLACK CHERRY WHITE CLAW (1 x 355ml)
Frequently asked questions
Can I order BONYARD delivery in Montreal with Uber Eats?
Yes. BONYARD delivery is available on Uber Eats in Montreal.
Is BONYARD delivery available near me?
Enter your address to see if BONYARD delivery is available to your location in Montreal.
How do I order BONYARD delivery online in Montreal?
There are 2 ways to place an order on Uber Eats: on the app or online using the Uber Eats website. After you've looked over the BONYARD menu, simply choose the items you'd like to order and add them to your cart. Next, you'll be able to review, place, and track your order.
Where can I find BONYARD online menu prices?
View upfront pricing information for the various items offered by BONYARD here on this page.
How do I get free delivery on my BONYARD order?
To save money on the delivery, consider getting an Uber One membership, if available in your area, as one of its perks is a $0 Delivery Fee on select orders.
How do I pay for my BONYARD order?
Payment is handled via your Uber Eats account.
What's the best thing to order for BONYARD delivery in Montreal?
If you're in need of some suggestions for your BONYARD order, check out the items showcased in "Picked for you" on this page.