BarBurrito (Queen & Dixie) Menu and Delivery in Brampton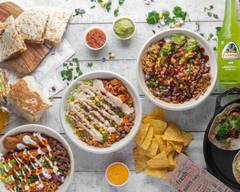 Location and hours
48 Peel Centre Dr, Brampton, ON L6T 5M2
Sunday
12:00 p.m. - 09:45 p.m.
Monday - Thursday
11:00 a.m. - 09:45 p.m.
Friday - Saturday
11:00 a.m. - 10:45 p.m.
Too far to deliver
BarBurrito (Queen & Dixie)
4.3 (75 ratings) • Mexican • ¢¢
  •  
More info
48 Peel Centre Dr, Brampton, ON L6T 5M2
Enter your address above to see fees, and delivery + pickup estimates.
If you're a fan of chicken burrito takeout like the rest of your city, you'll be happy to know it's offered at BarBurrito. Wondering what's popular here? The Mild Chicken Burrito is one of the most ordered items among the 110 things on the menu and the Fish Bowl and the Veggie Ground Bowl are two of the items most commonly ordered togethe...
Show more
If you're a fan of chicken burrito takeout like the rest of your city, you'll be happy to know it's offered at BarBurrito. Wondering what's popular here? The Mild Chicken Burrito is one of the most ordered items among the 110 things on the menu and the Fish Bowl and the Veggie Ground Bowl are two of the items most commonly ordered together at this evening go-to. • ¢¢ •
Mexican
 • 
Fast food
 • 
Family Meals
Picked for you

Steak Bowl

Pulled Pork Bowl

Family Fiesta Kit

Bowls

Pulled Pork Bowl

Ground Beef Bowl

Veggie Ground Bowl

GHS 11.74

• 400 - 680 Cal.

Steak Bowl

GHS 12.94

• 350 - 580 Cal.

Bean Bowl

Mild Chicken Bowl

Spicy Chicken Bowl

Jerk Chicken Bowl

Bowl Combos

Spicy Chicken Bowl Combo

GHS 18.93

• 390 - 980 Cal.

Pulled Pork Bowl Combo

GHS 18.93

• 460 - 1050 Cal.

Veggie Ground Bowl Combo

GHS 18.93

• 430 - 1020 Cal.

GHS 18.93

• 730 - 1320 Cal.

GHS 16.54

• 690 - 1560 Cal.

Steak Bowl Combo

GHS 20.14

• 430 - 1020 Cal.

GHS 17.74

• 640 - 1460 Cal.

Bean Bowl Combo

GHS 16.54

• 710 - 1300 Cal.

Mild Chicken Bowl Combo

GHS 18.93

• 390 - 980 Cal.

Jerk Chicken Bowl Combo

GHS 18.93

• 400 - 990 Cal.

Ground Beef Bowl Combo

GHS 18.93

• 450 - 1040 Cal.

Crunchy Chicken Bowl Combo

GHS 18.93

• 390 - 980 Cal.

Burritos

GHS 11.15

• 240 - 490 Cal.

GHS 11.15

• 270 - 590 Cal.

Veggie Ground Burrito

GHS 11.15

• 240 - 490 Cal.

GHS 11.15

• 410 - 1010 Cal.

GHS 8.75

• 430 - 1170 Cal.

GHS 12.35

• 260 - 560 Cal.

GHS 9.95

• 390 - 1090 Cal.

GHS 11.15

• 240 - 490 Cal.

Bean Burrito

GHS 8.75

• 480 - 890 Cal.

GHS 11.15

• 240 - 490 Cal.

GHS 11.15

• 250 - 510 Cal.

GHS 11.15

• 270 - 570 Cal.

Burrito Combos

Mild Chicken Burrito Combo

GHS 15.94

• 670 - 1260 Cal.

Pulled Pork Burrito Combo

GHS 15.94

• 740 - 1330 Cal.

Veggie Ground Burrito Combo

GHS 15.94

• 670 - 1260 Cal.

GHS 15.94

• 1010 - 1600 Cal.

GHS 13.54

• 970 - 1790 Cal.

GHS 17.14

• 710 - 1300 Cal.

GHS 14.74

• 920 - 1740 Cal.

Bean Burrito Combo

GHS 13.54

• 1010 - 1580 Cal.

Spicy Chicken Burrito Combo

GHS 15.94

• 670 - 1260 Cal.

Jerk Chicken Burrito Combo

GHS 15.94

• 680 - 1270 Cal.

Ground Beef Burrito Combo

GHS 15.94

• 730 - 1320 Cal.

Crunchy Chicken Burrito Combo

GHS 15.94

• 670 - 1260 Cal.

Gluten-Friendly Burritos

Gluten-Friendly Ground Beef Burrito

GHS 14.14

• 220 - 520 Cal.

Gluten-Friendly Bean Burrito

GHS 11.74

• 430 - 840 Cal.

Gluten-Friendly Jerk Chicken Burrito

GHS 14.14

• 200 - 460 Cal.

Gluten-Friendly Mild Chicken Burrito

GHS 14.14

• 190 - 440 Cal.

Gluten-Friendly Pulled Pork Burrito

GHS 14.14

• 250 - 540 Cal.

Gluten-Friendly Spicy Chicken Burrito

GHS 14.14

• 190 - 440 Cal.

Gluten-Friendly Steak Burrito

GHS 15.35

• 210 - 510 Cal.

Quesadillas

Veggie Ground Quesadilla

Bean Quesadilla

Quesadilla Combos

Mild Chicken Quesadilla Combo

GHS 17.74

• 630 - 1220 Cal.

Pulled Pork Quesadilla Combo

GHS 17.74

• 700 - 1290 Cal.

Ground Beef Quesadilla Combo

GHS 17.74

• 690 - 1280 Cal.

Veggie Ground Quesadilla Combo

GHS 17.74

• 544 - 870 Cal.

GHS 18.93

• 670 - 1260 Cal.

Bean Quesadilla Combo

GHS 15.34

• 910 - 1500 Cal.

Spicy Chicken Quesadilla Combo

GHS 17.74

• 630 - 1220 Cal.

Jerk Chicken Quesadilla Combo

GHS 17.74

• 640 - 1230 Cal.

Gluten-Friendly Quesadillas

Gluten-Friendly Bean Quesadilla

Gluten-Friendly Mild Chicken Quesadilla

Gluten-Friendly Spicy Chicken Quesadilla

Gluten-Friendly Jerk Chicken Quesadilla

Gluten-Friendly Pulled Pork Quesadilla

Gluten-Friendly Ground Beef Quesadilla

Gluten-Friendly Steak Quesadilla

Tacos

Veggie Ground Taco

Taco Combos

GHS 17.74

• 660 - 1250 Cal.

GHS 17.74

• 630 - 1220 Cal.

GHS 17.74

• 660 - 1250 Cal.

Veggie Ground Taco Combo

GHS 17.74

• 630 - 1220 Cal.

GHS 18.93

• 650 - 1240 Cal.

GHS 17.74

• 630 - 1220 Cal.

GHS 17.74

• 640 - 1230 Cal.

GHS 17.74

• 800 - 1390 Cal.

Sides

Regular Fries

GHS 8.39

• 1010 - 1580 Cal.

Drinks

GHS 3.95

• 120 - 250 Cal.

GHS 3.95

• 120 - 250 Cal.

Nutritional Information

Adults and youth (ages 13 and older) need an average of 2,000 calories a day.

And children (ages 4-12) need an average of 1,500 calories a day.

However individual needs vary