7-Eleven (1 Carlton Ave) Menu and Delivery in Toronto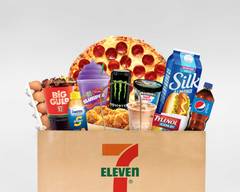 Location and hours
1 Carlton Ave, Toronto, ON M5B 1L2
Every day
12:00 a.m. - 11:59 p.m.
7-Eleven (1 Carlton Ave)
4.6 (500+ ratings) • Bakery • $
  •  
More info
1 Carlton Ave, Toronto, ON M5B 1L2
Tap for hours, address, and more
Enter your address above to see fees, and delivery + pickup estimates.
You've found one of the hottest spots in Toronto on Uber Eats. At this early morning go-to, the White Chocolate Macademia Nut Cookie is one of the most popular items on the menu and the Mogu Mogu Lychee and the Mogu Mogu Mango are two of the items most commonly ordered together. • $ •
Bakery
 • 
Comfort food
 • 
Ice cream & frozen yogurt
 • 
Juice Bars
 • 
pizza
 • 
wings
 • 
Convenience
 • 
Everyday Essentials
 • 
Snacks
 • 
Home & Personal Care
Jamaican Patty Beef - Take Home Cold

Egg Cheddar & Bacon Muffin

Egg Sausage & Cheddar Muffin

Doritos Jalapeno & Cheddar Nacho Bowl

Rotiserie Chicken Chipotle Wrap

Chicken Caesar Wrap - 205g

Rotisserie BBQ Chicken Ciabatta 8" Sub

3-Cheese & Jalapeno Smokie

Dole Fruit Salad Bowl 185 ml

RedBull GE Dragon Fruit 355ml

RedBull GE Dragon Fruit 250ml

PureNorth Lemonade Seltzer 355ml

PureNorth Black Cherry Seltzer - 355ml

PureNorth Cucumber Lime Selter 355ml

Gatorade Black Ice Limited Edition 828ml

Noble Vegan Jerky Teriyaki

Herbaland Kiwi Vegan Protein Gummies

Annie's Macaroni and Cheese (gluten-free)

Good Thins Multigrain Rice Crakers (gluten-free)

Smartfood White Cheddar Popcorn 220g

Hungry Buddha Bars Chocolate Chip 40g

TRUBAR Daydreaming About Donuts - 50g

Korean BBQ Flavored Seaweed

Quest Cookies and Cream Nutrition Bar

Doritos Sweet Chili Heat 80g

7-Select Sour Cream & Onion Ridged 65g

Jack Links Jumbo Teriyaki Beefsteak 2oz

7-Select Chocolate Fudge Brownie 113g

7-Select GO! Nuts Dark Chocolate Almonds 57g

7-Select Tortillas Zesty Taco 75g

Jack Links Jumbo Beef Jerky Original

7-Select Tortillas Nacho Cheese 240g

Tostitos Salsa Medium 418ml

7-Select Sweet Southern Heat Mix 125g

Maynards Sour Patch Kids 60g

Livewires Strawberry Cables 100g

Audreys Cherry Cheese Danish 142g

Kit Kat Roasted Almond Tablet 120g

7-Select Sour Suckers 450g

Reese's Big Cup King Size

Oh Henry Level Up King Bar

Aero Peppermint King size 63g

7-Select Peach Rings 550g

Reese's Sticks King Size (4 pieces)

NongShim Shin Black Noodle Cup

Windstor Salt & Pepper Shakers

Dinner Kit Hard & Soft Taco kit

Pop Tart Frosted Strawberry 384g

Naked Noodle Chow Mein 2.75oz

NongShim Shin Cup Noodle Soup

Carnation Evaporated Milk

Carnation Hot Chocolate 10ct

Naked Noodle Singapore Curry 2.75oz

Colgate Regular Toothpaste

Durex Condoms Sensitive Thin

Neo Citran Extra Strength Cold & Flu Night

Aleve Pain Reliever Liquid Gels

Cashmere Bath tissue - 4 Pack

Aleve 220mg Pain Reliever

5-Hour Extra Strength Tropical Burst

Robitussin Cough Control Extra Strength 100ml

Clear Eyes Extra Strength

Meow Mix Original Choice Dry 2kg

All purpose 5.5 inch Scissors

7-Eleven AA Batteries (8 pack)

7-Eleven AAA Batteries (8 pack)

Solo Grips Plastic Plates

Bear Bone Maked Roasted Pumpkin Dog Treat

Beggin Strips Beef & Bacon 170 g

Sharpie Black Permanent Marker

BIC 4 Colour Pen (12 pack)

All Purpose Glue Stick 15g (2 pack)

BIC Med Cristal Ball Black (2 pack)

Lil Tree Vanilla Pine (2 pack)

Bear Bone Sunflower Seed Butter Dog Treat
Frequently asked questions
Can I order 7-Eleven (1 Carlton Ave) delivery in Toronto with Uber Eats?
Yes. 7-Eleven (1 Carlton Ave) delivery is available on Uber Eats in Toronto.
Is 7-Eleven (1 Carlton Ave) delivery available near me?
7-Eleven (1 Carlton Ave) delivery might not be available everywhere in Toronto, so enter your address to see if it's available near you.
How do I order 7-Eleven (1 Carlton Ave) delivery online in Toronto?
There are 2 ways to place an order on Uber Eats: on the app or online using the Uber Eats website. After you've looked over the 7-Eleven (1 Carlton Ave) menu, simply choose the items you'd like to order and add them to your cart. Next, you'll be able to review, place, and track your order.
What's the best thing to order for 7-Eleven (1 Carlton Ave) delivery in Toronto?
What's best at 7-Eleven (1 Carlton Ave) is totally up to you and your personal preference. If you're in need of some inspiration, consider trying one of the items featured in "Picked for you."
How do I get $0 Delivery Fee at 7-Eleven (1 Carlton Ave) in Toronto?
The Delivery Fees may vary depending on a number of factors, like your location. Enter your Toronto address to see the current Delivery Fee. You can also explore the Uber Eats membership and subscription options available in your area to see if you can save money on 7-Eleven (1 Carlton Ave) delivery with $0 Delivery Fee on select orders.