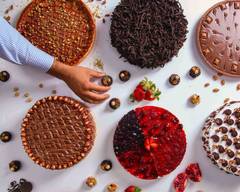 PAPARICO CONFEITARIA
View delivery time and booking fee.
Location and hours
Rua Tom Fagundes 68, Juiz De Fora, LATAM 36033-300
Sunday
Closed
Monday - Friday
02:00 PM - 08:00 PM
Saturday
Closed
---
Papariquinhos

Deliciosos biscoitos artesanais.

Massa de brigadeiro com pedacinhos de biscoitos enrolada no açúcar

Paparico

Novidade

Creme de chocolate branco, ao leite e meio amargo + chocolate Kinder + pão de ló.

Creme de chocolate ao leite e branco + creme de Kit Kat + Kit Kat + bolo mesclado.

Pão de ló + brigadeiro branco + brigadeiro de pistache.

Bolo de chocolate + creme ao leite + Nutella + castanhas picadas.

Pão de ló + creme branco + pedaços de Raffaello.

Pão de ló + brigadeiro branco + creme de abacaxi com coco.