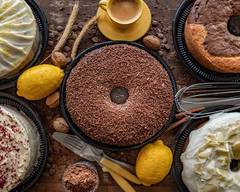 A Boleira (Campinas)
$ • Desserts
4.7
(62)
  •  
View delivery time and booking fee.
Location and hours
Rua Capitão Adelino Platt, 61, Florianópolis, SC 88101080
Sunday
11:00 AM - 06:00 PM
Monday
11:00 AM - 07:00 PM
Tuesday - Friday
09:00 AM - 07:00 PM
Saturday
09:00 AM - 06:30 PM
Rua Capitão Adelino Platt, 61, Florianópolis, SC 88101080 • More info
---
Bolos

Bolos com aprox. 950gr - A cobertura é do próprio sabor do bolo, com exceção do bolo de cenoura que a cobertura é de brigadeiro.

Nossos bolos têm, em média, 750gr.

Bolo de Cenoura com o Dobro de Cobertura

Bolo de cenoura com o dobro de cobertura de brigadeiro

Festa

Bolinho Brigadeiro Recheado

Serve aproximadamente 10 pessoas.

Vela Palito Faísca de Prata (4 unidades)

Bebidas

Quer doar um bolinho?

Quer dar uma ajuda em meio a essa crise da covid-19? Selecione essa opção e doe um bolo para quem está na linha de frente do combate ao Coronavírus. Quem vai receber? Policiais, médicos, enfermeiros, porteiros, motoboys, garis, lixeiros, entre outros que se arriscam diariamente para fazer nossas vidas mais fácil enquanto podemos ficar em casa. <3 Obs.: não é possível escolher para quem e para onde o bolo vai. As doações são juntadas e doadas a instituições pré-selecionadas. Depois, a ação é divulgada pelo Instagram.