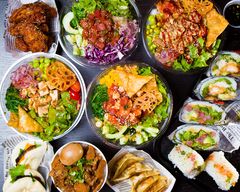 Poke Station and Kitchen
4.7
(99)
  •  
View delivery time and booking fee.
Location and hours
313 Huntington Ave, Boston, MA 2115
Sunday
11:30 AM - 09:30 PM
Monday - Saturday
11:00 AM - 09:30 PM
You've found one of the 3 most popular Poke delivery spots in all of Boston. Curious to know what's the best thing to order here? Of the 29 things on the menu, the fisherman bowl is one of the most ordered and the korean fried chicken and the tempura burrito are two of the items that are most commonly ordered together at this evening go-t...
Show more
You've found one of the 3 most popular Poke delivery spots in all of Boston. Curious to know what's the best thing to order here? Of the 29 things on the menu, the fisherman bowl is one of the most ordered and the korean fried chicken and the tempura burrito are two of the items that are most commonly ordered together at this evening go-to. • ¢¢ •
Asian Fusion
 • 
Local Eats
313 Huntington Ave, Boston, MA 2115 • More info