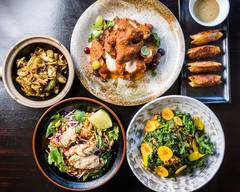 Coreanos
4.7
(200+)
  •  
View delivery time and booking fee.
Location and hours
172 Brighton Ave, Boston, MA 2134
Sunday
11:30 AM - 09:00 PM
Monday
11:30 AM - 09:15 PM
Tuesday
Closed
Wednesday - Thursday
11:30 AM - 09:15 PM
Friday - Saturday
11:30 AM - 10:15 PM
This place is not just one of the most popular places for delivery in Boston, it's one of Uber Eats users' 3 favorite places for Korean delivery. Wish you could ask Coreanos customers what's best here? If you could, you might expect the answer to be the chicken poppers, since it's one of the most-ordered items on the entire menu at this e...
Show more
This place is not just one of the most popular places for delivery in Boston, it's one of Uber Eats users' 3 favorite places for Korean delivery. Wish you could ask Coreanos customers what's best here? If you could, you might expect the answer to be the chicken poppers, since it's one of the most-ordered items on the entire menu at this evening go-to. • ¢ •
Korean
 • 
Asian
 • 
BBQ
172 Brighton Ave, Boston, MA 2134 • More
Fast & reliable
 • 
Tasty food
---
Picked for you

Homemade rice bowl with onions and carrots, pan-fried with assorted sauces with your choice of topping.

Sweet and tart with a hint of peach.

Bite-sized fried chicken drizzled in assorted sauces on a bed of French fries.

Five assorted cold vegetables on a bed of rice with your choice of protein and topped with a sunny side egg.

Single taco on two corn tortillas, topped with slaw, cilantro, sesame seeds, assorted sauces, and a side of lime and jalapenos.

Appetizers/ Sides/ Tteokbokki

Soft rice cakes, vegetables, and fish cakes cooked in sweet red chili sauce. Includes a fried kimmari seaweed roll and hard-boiled egg.

6 pcs fried vegetable dumplings with a side of dumpling sauce.

French fries topped with shredded cheese, drizzled with our homemade sauces, garnished with scallion, and sesame seeds.

Fries with a side of spicy mayonnaise.

LG Miso Soup

Vegetarian. Small soups are already included with all rice entrees and grilled entrees.

Side White Rice

Side Kimchi

Korean Fried Chicken

Bite-sized fried chicken drizzled in assorted sauces on a bed of French fries.

Korean Fusion

Single taco on two corn tortillas, topped with slaw, cilantro, sesame seeds, assorted sauces, and a side of lime and jalapenos.

10" flour tortilla with your choice of protein, cheese, and kimchi with assorted sauces.

French fries topped with kimchi, cheese, scallions, sunny side egg, and assorted sauce.

Single taco on a flour tortilla topped with house slaw, assorted sauce, and garnished with red onions, cilantro, and black sesame seeds. Includes lime and jalapenos on the side.

Rice Entrees

Five assorted cold vegetables on a bed of rice with your choice of protein and topped with a sunny side egg.

Homemade rice bowl with onions and carrots, pan-fried with assorted sauces with your choice of topping.

Korean style fried rice with kimchi and onions, topped with sunny side egg and your choice of protein.

Grilled Entrees

Korean marinated beef with onions, carrots, and scallions. Garnished with seeds. Includes rice and miso soup.

Korean marinated grilled short ribs with onions, carrots, and scallions. Garnished with seeds. Includes rice and miso soup.

Medium-spicy korean marinated pork with onions, carrots, and scallions. Garnished with seeds. Includes rice and miso soup.

Spicy

Korean style fried pork cutlets. Includes side romaine salad, rice, and miso soup. Katsu sauce on the side.

Korean style fried chicken cutlets. Includes side romaine salad, rice, and miso soup. Katsu sauce on the side.

Drinks

Sweet and tart with a hint of peach.

Brewed ginger iced tea and uncaffeinated with a medium sweetness with a hint of lime.

Unsweetened Peach Iced Tea

Iced black tea with a hint of peach. Garnished with lemon and mint.

Unsweetened Matcha Iced Tea

Garnished with lemon and mint.

Vietnamese Cold Brew Iced Coffee