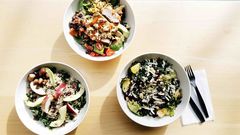 B.Good (301 3rd St)
4.3
(25)
  •  
View delivery time and booking fee.
Location and hours
301 3rd St, Cambridge, MA 2142
Sunday
11:00 AM - 07:30 PM
Monday - Saturday
11:00 AM - 08:30 PM
This place is among the 3 most popular spots for Sandwich delivery in all of Cambridge. You might be wondering what's the best thing on the menu. Of the 43 things on the menu, the Sweet Potato Fries is one of the most popular and the Kids' Burger and the Side Caesar Salad are two of the items most commonly ordered together at this evening...
Show more
This place is among the 3 most popular spots for Sandwich delivery in all of Cambridge. You might be wondering what's the best thing on the menu. Of the 43 things on the menu, the Sweet Potato Fries is one of the most popular and the Kids' Burger and the Side Caesar Salad are two of the items most commonly ordered together at this evening go-to. • $ •
Sandwich
 • 
Salads
 • 
Juice and Smoothies
 • 
Healthy
301 3rd St, Cambridge, MA 2142 • More info
---
Bowls

Avocado, black bean corn salsa, sauteed veggies, quinoa, kale, tomatoes, cilantro, lime, chipotle vinaigrette

Super grains, egg, kale, brussels sprouts, butternut squash, crunchy chickpeas, red wine vinaigrette

Apple, bacon, avocado, quinoa, kale, dried cranberry, pumpkin seeds, scallions, red wine vinaigrette

Zucchini noodles, eggplant meatballs, parmesan, kale, tomato, marinara

Grilled chicken, feta, cucumber, tomato, radish, romaine, super grains, hummus, za'atar, red wine vinaigrette

Salads

Butternut squash, cheddar, brussels sprouts, beets, chickpeas, kale, pumpkin seeds, balsamic vinaigrette

Grilled chicken, parmesan, croutons, romaine, lemon Caesar vinaigrette

Grilled chicken, avocado, black bean corn salsa, tomato, mixed greens, toasted corn, chipotle vinaigrette

Zucchini noodles, spicy slaw, romaine, pecans, cilantro, spicy coconut dressing

Sandwiches

Antibiotic-free chicken breast, buffalo sauce, lettuce, tomatoes, blue cheese dressing

Chipotle Bacon Chicken Sandwich

Antibiotic-free chicken breast, cheddar cheese, bacon, lettuce, tomato, chipotle aioli

Cheddar cheese melted on grilled country bread

antibiotic-free all white meat chicken tenders, lettuce, tomato, B.GOOD sauce

antibiotic free chicken breast, parmesan, lettuce, caesar dressing on a whole wheat wrap

Burgers

Antibiotic-free beef, cheddar cheese, chopped pickles, B.GOOD sauce, lettuce, tomatoes, red onions

Antibiotic-free beef, cheddar cheese, bacon, avocado, B.GOOD sauce.

Antibiotic-free beef, cheddar cheese, bacon, jalapeño ranch dressing, jalapeño slaw

Veggie patty, avocado, pickled red onions, tomato, chipotle aioli

The Beyond Burger®, cheddar cheese, lettuce, tomato, red onions, pickles, B.GOOD Sauce

cheddar cheese, bacon, egg, avocado

The Beyond Burger®, cheddar cheese, jalapeño slaw, red onions, BBQ sauce

Sides

za'atar, olive oil, country bread

4 pieces, marinara, parmesan

Butternut squash, cheddar, brussels sprouts, beets, chickpeas, kale, pumpkin seeds, balsamic vinaigrette

Romaine, parmesan, croutons, lemon Caesar vinaigrette

Buffalo Cauliflower Bites

Kids

Kid's Spaghetti & Meatballs

Shakes / Smoothies

kale, apple, pineapple, banana, pineapple juice

Acai, strawberry, banana, almond milk, pineapple, chia, lemon

strawberries, bananas, honey, greek yogurt, lemon

dark chocolate shavings, honey, banana, coconut milk, raw cocoa

blended with locally-made ice cream

blended with locally-made ice cream and raw cocoa

Drinks

Kevita - Kombucha Pineapple Peach

Kevita - Lime Mint Coconut

Spindrift - Raspberry Lime

Desserts