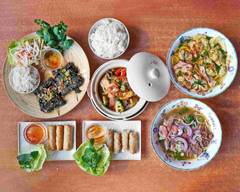 Location and hours
Lesbroussartstraat 58,, Ixelles, Brussels 1050
Sunday
Closed
Monday
18:00 - 22:00
Menu
Tuesday - Saturday
12:00 - 14:00
Menu
18:00 - 22:00
Menu
L'Indochine
Lesbroussartstraat 58,, Ixelles, Brussels 1050
Enter your address above to see fees, and delivery + pickup estimates.
Picked for you

62.Nouilles sautées au poulet

63.Nouilles sautées au bœuf

109.Canard à la pékinoise et crêpes de riz

73.Porc caramélisé au gingembre

Potages

4.Potage piquant au poulet

5.Potage aux cheveux d'anges

7.Potage végétarien

Entrées froides

15.Rouleaux froids au porc

Entrées croquantes

30.Loempia au poulet et soja

Rouleau de printemps, rouleaux aux bœuf, lap's, salade saïgonnaise et entrées frites. Pour 2 personnes.

23.Nems végétariens

26.Ailes de poulet frites

27.Ailes de poulet farcies

29.Raviolis frits "wan tan"

Soupes

32.Nouilles au poulet curry

33.Nouilles au canard laqué

Sui kao "raviolis aux crevettes"

Wan tan "raviolis au porc"

Soupes végétariennes

41.Nouilles aux légumes et tofu

42.Hu tiêu aux légumes et seitan

43.Vermicelles aux légumes, tofu et seitan

Dim sum

45.Bouchées aux crevettes "ha cao"

46.Bouchées au porc "xiu mai"

Plats végétariens

51.Tofu au bambou et champignons

52.Tofu et seitan à la citronnelle

55.Nouilles sautées aux légumes, tofu

56.Vermicelles sautés légumes, tofu

57.Aubergines sautées tofu et seitan

Entrées et soupes en plat

17.Vermicelles au bœuf citronnelle

18.Vermicelles mixtes "bœuf et nem"

Canard, porc et raviolis farcis"

Riz

59.Riz cantonnais Indochine

Woks de nouilles

Poulet, crevettes et porc.

62.Nouilles sautées au poulet

63.Nouilles sautées au bœuf

64.Nouilles croquantes mixte

66.Pâtes de riz aux crustacés

Crevettes, calamars, surimi et pâté de poisson.

Woks de bœuf, porc et agneau

69.Bœuf piquant sur plaque

70.Bœuf au basilic cambodgien

73.Porc caramélisé au gingembre

Ananas, aubergines et champignons.

76.Porc rôti au miel "xa xiu"

77.Haché de porc à la citronnelle

78.Haché de porc au tofu "ma pa tofu"

Grillades

Bœuf, poulet, agneau, crevettes et spare ribs.

83.Brochettes d'agneau aux 5 parfums

84.Brochettes de boeuf aux feuilles de citron

85.Brochettes de poulet grillées au saté

Woks de poissons et crustacés

102.Ratatouille de crevettes, poissons, poulet, boeuf et légumes sauce Hoi sin

90.Scampis grillés à la façon du chef

92.Crevettes aigres-douces

93.Crevettes au curry vin day

94.Crevettes à la grappe de poivre

95.Pangasius vapeur au gingembre

96.Saumon piquant à la tomate

99.Marmite de cabillaud caramélisé

100.Marmite paysanne de crevettes et porc

101.Marmite du pêcheur au curry

Woks de volaille

103.Poulet à la citronnelle

104.Poulet au curry indien

105.Poulet vapeur au gingembre

106.Poulet aux algues de mer

107.Poulet au tofu et haricots noirs

108.Canard laqué au jasmin

109.Canard à la pékinoise et crêpes de riz

110.Canard vapeur au gingembre

111.Canard à la sauce d'huître

112.Canard aux asperges et princesses

Spécialités de la maison

Bœuf crépinette aux légumes "la lop"

114.Ballekes aux crêpes de riz "nem nuong"