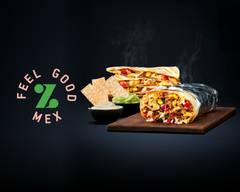 Location and hours
28 Southside Dr, Hillarys WA 6025
Sunday
12:01 am - 02:50 am
All Day Menu 4
10:00 am - 09:20 pm
All Day Menu 4
Monday - Thursday
10:00 am - 09:20 pm
All Day Menu 4
Friday
10:00 am - 11:59 pm
All Day Menu 4
Saturday
10:00 am - 11:59 pm
All Day Menu 4
12:00 am - 02:00 am
All Day Menu 4
Zambrero (Hillarys)
4.7 (360 ratings) • Mexican • $
  •  
More info
28 Southside Dr, Hillarys WA 6025
Tap for hours, info and more
Enter your address above to see fees and delivery + pick-up estimates.
Picked for you

Limited Time Menu

Triple T Deluxe Big Burrito

Triple T Deluxe Quesadilla

Burritos and Bowls

Nachos and Tacos

A crunchy taco shell with your choice of filling, cheese, sour cream, cos lettuce, freshly made salsas, and sauce. Vegan (VG) and Vegetarian (V) (excluding cauliflower) include guacamole.

Favourites

Corn Chips and Side

Desserts

Drinks

Mountain Dew Energised 600ml

Schweppes Trad Raspberry 600ml

Cool Ridge Spring Water 600ml

Cool Ridge Sparkling 500ml

Gatorade Berry Chill 600ml

Charlies Honest Apple 300ml

Charlies Honest Orange 300ml

Lipton Ice Tea Peach 500ml

Lipton Ice Tea Lemon 500ml

PERKii S/berry W/melon 350ml

PERKii Mango P/fruit 350ml

Remedy Raspberry Lemonade 330ml

Remedy Ginger Lemon 330ml

Shine Blueberry Lemonade 330ml

Shine Peach Passionfruit 330ml

Shine+ Charged Blood Orange 500ml
If you, or anyone you are ordering for, has allergen concerns, or would like to know more about what is in our food; please CLICK HERE for our nutritional information.
Frequently asked questions
Can I order Zambrero (Hillarys) delivery in Perth with Uber Eats?
Yes. Zambrero (Hillarys) delivery is available on Uber Eats in Perth.
Is Zambrero (Hillarys) delivery available near me?
Zambrero (Hillarys) delivery might not be available everywhere in Perth, so enter your address to see if it's available near you.
How do I order Zambrero (Hillarys) delivery online in Perth?
There are 2 ways to place an order on Uber Eats: on the app or online using the Uber Eats website. After you've looked over the Zambrero (Hillarys) menu, simply choose the items you'd like to order and add them to your cart. Next, you'll be able to review, place, and track your order.
What's the best thing to order for Zambrero (Hillarys) delivery in Perth?
What's best at Zambrero (Hillarys) is totally up to you and your personal preference. If you're in need of some inspiration, consider trying one of the items featured in "Picked for you."
How do I get free Zambrero (Hillarys) delivery in Perth?
The Delivery Fees may vary depending on a number of factors, like your location. Enter your Perth address to see the current Delivery Fee. You can also explore the Uber Eats membership and subscription options available in your area to see if you can save money on Zambrero (Hillarys) delivery with $0 Delivery Fee on select orders.