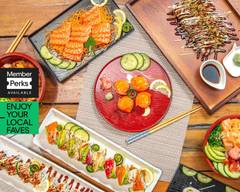 Location and hours
75 Lynbrook Boulevard, 29, VIC 3975
Sunday
9:00 am - 5:00 pm
Monday - Friday
8:30 am - 6:00 pm
Saturday
9:00 am - 6:00 pm
Toro Sushi
4.8 (250 ratings) • Japanese:Sushi • $
  •  
More info
75 Lynbrook Boulevard, 29, VIC 3975
Tap for hours, info and more
Enter your address above to see fees and delivery + pick-up estimates.
This place is among the hottest delivery spots in all of Melbourne on Uber Eats. Love latte takeaway as much as the rest of your city? You'll be happy to know it's offered at Toro Sushi. Like to do as the locals do? Then consider placing an order from this spot, because Melbourne locals love it. • $ • Japanese: Sushi
 • 
Seafood
 • 
Healthy
Picked for you

Chicken Crispy with Avocado

Hand Roll Made with Fresh

Salmon Fresh with Avocado

Chicken Crispy with Cucumber

Special California with Avocado

Chicken Crispy with Avocado

Avocado Cucumber

Tempura Veggie with Cucumber

Spicy Tuna Cooked with Avocado

Spicy

Spicy Salmon with Avocado

Spicy

Spicy Prawn Cooked with Cucumber

Spicy

Chicken Teriyaki with Cucumber

Prawn Cooked with Avocado

Prawn Tempura with Cucumber

Salmon Smoked with Avocado

Beancurd with Cucumber

Spicy Chicken Crispy with Avocado

Sashimi Pack

fifteen pieces of Salmon sashimi

Salmon & Tuna Sashimi 15pcs

Twelve pieces Salmon
Three pieces Tuna


Salmon Belly Sashimi 6pcs

Six Pieces of Fresh Salmon Belly

Nigiri Pack

Sakura Salmon Nigiri 4pcs

Eight pieces.
Seared Salmon with Mayo & teriyaki sauce

URAMAKI Pack

Ten pieces. Panko Prawn cucumber Roll with crispy shallot and spicy mayo on top

Ten pieces. cooked Prawn avocado and cucumber with salmon and avocado on top

Assorted Pack

Eight pieces of mix salmon prawn Inari tamago crab stick avocado Nigiri

Futomaki Roll

Bento Box

Don

Four Pieces of Panko Prawn With Japanese Curry Sauce on Top!!

Poke Bowl

Fry me up

Vegetable Korokke 2pcs

Japanese deep-fried Breaded mashed potatoes and Vegetables

A-La-Cart & Inari & Salad

Party Platter

Platter #1 Handroll showdown

22pcs Salmon Sashimi 8pcs Salmon Tobiko 8pcs Salmon Nigiri

8pcs Salmon Tobiko 8pcs Tuna cooked 8pcs Crispy Chicken
4pcs Salmon Nigiri 16pcs Mini Maki Roll

Sweets

Japanese Cream Mochi (rice cake)

Drink

Perrier Sparkling Water 330ML
Frequently asked questions
Can I order Toro Sushi delivery in Melbourne with Uber Eats?
Yes. Toro Sushi delivery is available on Uber Eats in Melbourne.
Is Toro Sushi delivery available near me?
Toro Sushi delivery might not be available everywhere in Melbourne, so enter your address to see if it's available near you.
How do I order Toro Sushi delivery online in Melbourne?
There are 2 ways to place an order on Uber Eats: on the app or online using the Uber Eats website. After you've looked over the Toro Sushi menu, simply choose the items you'd like to order and add them to your cart. Next, you'll be able to review, place, and track your order.
What's the best thing to order for Toro Sushi delivery in Melbourne?
What's best at Toro Sushi is totally up to you and your personal preference. If you're in need of some inspiration, consider trying one of the items featured in "Picked for you."
How do I get free Toro Sushi delivery in Melbourne?
The Delivery Fees may vary depending on a number of factors, like your location. Enter your Melbourne address to see the current Delivery Fee. You can also explore the Uber Eats membership and subscription options available in your area to see if you can save money on Toro Sushi delivery with $0 Delivery Fee on select orders.