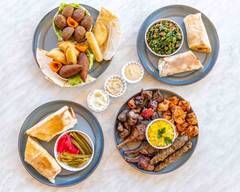 Location and hours
196 Wishart Road, Shop 1, Upper Mount Gravatt, APACX 4122
Sunday
11:00 am - 08:00 pm
Monday
Closed
Tuesday - Thursday
11:00 am - 08:00 pm
Friday - Saturday
11:00 am - 09:00 pm
Tabbouli
4.8 (142 ratings) • Middle Eastern • $$
  •  
More info
196 Wishart Road, Shop 1, Upper Mount Gravatt, APACX 4122
Tap for hours, address and more
Enter your address above to see fees and delivery + pick-up estimates.
Love chicken kebab takeaway as much as the rest of your city? You'll be happy to know it's offered at Tabbouli. The Chicken Platter is one of the most ordered items among Uber Eats users and the Cheese Sambousik X 3 and the Mixed Grilled Platter are two of the things most commonly ordered together at this evening go-to. • $$ •
Middle Eastern
 • 
Seafood
 • 
Breakfast and brunch
 • 
Comfort food
Picked for you

Breakfast

Boiled fava beans with parsley, tomato, olive oil and garlic dressing served with lebanese bread.

Chickpea paste with a dash of olive oil served with lebanese bread.

Starters

Your choice of lamb or chicken or both with cheese,
chips and your choice of three sauces

Minced lamb recipe with pine nuts encased within a cracked wheat saucer shell, grilled to perfection.

Three pieces. A vegetarian rice recipe wrapped in vine leaves.

Vegetarian Fritter
Allergy warning: contains egg.

Dips

Platters

Sambousik and Kebbeh Platter

Fish and Chips and Platter

A special kofta burger served with tomato, lettuce , onion, chips and choice of 2 causes.

Salad

Parsley salad and cracked wheat dish.

Tossed salad served with crispy Lebanese bread and pomegranate juice.

Wraps

Grilled marinated chicken, tomato, onion, lettuce garlic and tomato sauces wrapped with Lebanese bread and pressed.

A vegetarian wrap with Zucchini Fritters and Hummus and Tabbouli.

Yaprak donor lamb kebab (shawarma)

Herbed lamb kebab with lettuce, tomato and onion with your choice of 2 choices of sauces wrapped with Lebanese bread and pressed.

Herbed chicken with lettuce, tomato and onion with your 2 choices of sauces wrapped with Lebanese bread and pressed

Kids Meals

Deserts

Per piece. Rice pudding with rose and orange blossom water.

Per piece. Layered pastry filled with nuts and drizzled with syrup.

Drinks

Extras

A generous serving of our delicious seasoned hot chips

Lamb Cutlet chargrilled to perfection.
Frequently asked questions
Can I order Tabbouli delivery in Brisbane with Uber Eats?
Yes. Tabbouli delivery is available on Uber Eats in Brisbane.
Is Tabbouli delivery available near me?
Tabbouli delivery might not be available everywhere in Brisbane, so enter your address to see if it's available near you.
How do I order Tabbouli delivery online in Brisbane?
There are 2 ways to place an order on Uber Eats: on the app or online using the Uber Eats website. After you've looked over the Tabbouli menu, simply choose the items you'd like to order and add them to your cart. Next, you'll be able to review, place, and track your order.
What's the best thing to order for Tabbouli delivery in Brisbane?
What's best at Tabbouli is totally up to you and your personal preference. If you're in need of some inspiration, consider trying one of the items featured in "Picked for you."
How do I get free Tabbouli delivery in Brisbane?
The Delivery Fees may vary depending on a number of factors, like your location. Enter your Brisbane address to see the current Delivery Fee. You can also explore the Uber Eats membership and subscription options available in your area to see if you can save money on Tabbouli delivery with $0 Delivery Fee on select orders.