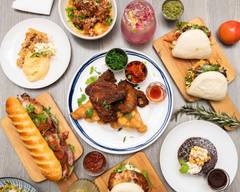 Location and hours
342 Mccullough St, 49, Sunnybank, 4109
Sunday
8:00 am - 3:30 pm
Weekend Breakfast
5:00 pm - 9:30 pm
Dinner
Monday - Wednesday
11:00 am - 2:30 pm
Weekday Lunch
5:00 pm - 8:30 pm
Dinner
Thursday - Friday
11:00 am - 2:30 pm
Weekday Lunch
5:00 pm - 9:30 pm
Dinner
Saturday
8:00 am - 3:30 pm
Weekend Breakfast
5:00 pm - 9:30 pm
Dinner
Delivery • Pickup
Opens Saturday 8:00 AM
Lunch

Crispy bacon, two pieces of chorizo, two pieces of hash brown, two pieces of croissant, two pieces of haloumi, avocado, mushrooms, sourdough, two serving of mini açai bowl, four fried eggs and tomato chutney.

Duck Fat Roasted French Fries

with bulgogi & garlic aioli

gluten free with chickpea batter; served with lemon & miso aioli

On croissant; with spinach, poached eggs and gochujang hollandaise

Finished in a Cantonese style soy, shaoxing & oyster sauce; served with green peas, poached eggs on scorched rice (gluten free, dairy free)

Bacon & Eggs plus 2 Sides

bacon and eggs (your way - please comment; if no comment then it comes as poached) with sourdough, tomato chutney and 2 sides of choice

Bacon & Eggs plus 3 Sides

bacon and eggs (your way - please comment; if no comment then it comes as poached) with sourdough, tomato chutney and 3 sides of choice

Bao Sliders

beef patties, preserved olive mayo, kimchi and melted cheese.

with halloumi, thai style salad and pickled green chillis (dairy free)

Desserts

Chocolate and Almond Brownie

Gluten free chocolate and almond brownie with chocolate fudge sauce.

Matcha and White Chocolate Brownie

Gluten free matcha and white chocolate brownie with white chocolate and miso sauce.

Beverages

With one scoop ice cream.

With raspberry, orange and mint.

With elderflower, butterfly pea, rosemary and lemon.

Peach, Pineapple and Black Tea
Frequently asked questions
Can I order Southside Bistro delivery in Brisbane with Uber Eats?
Yes. Southside Bistro delivery is available on Uber Eats in Brisbane.
Is Southside Bistro delivery available near me?
Southside Bistro delivery might not be available everywhere in Brisbane, so enter your address to see if it's available near you.
How do I order Southside Bistro delivery online in Brisbane?
There are 2 ways to place an order on Uber Eats: on the app or online using the Uber Eats website. After you've looked over the Southside Bistro menu, simply choose the items you'd like to order and add them to your cart. Next, you'll be able to review, place, and track your order.
What's the best thing to order for Southside Bistro delivery in Brisbane?
What's best at Southside Bistro is totally up to you and your personal preference. If you're in need of some inspiration, consider trying one of the items featured in "Picked for you."
How do I get free Southside Bistro delivery in Brisbane?
The Delivery Fees may vary depending on a number of factors, like your location. Enter your Brisbane address to see the current Delivery Fee. You can also explore the Uber Eats membership and subscription options available in your area to see if you can save money on Southside Bistro delivery with $0 Delivery Fee on select orders.