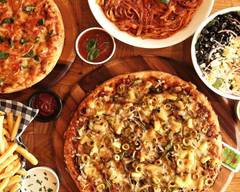 Location and hours
825 Glen Huntly Road , Caulfield, VIC 3162
Sunday
12:00 pm - 08:45 pm
Monday - Thursday
03:30 pm - 08:45 pm
Friday
Closed
Saturday
06:35 pm - 10:45 pm
Shemesh Pizza
4.8 (59 ratings) • Australian • $$
  •  
More info
825 Glen Huntly Road , Caulfield, VIC 3162
Tap for hours, info and more
Delivery • Pickup
Opens at 3:30 PM
Picked for you

Mushroom, black olives, red onion and feta. Includes tomato base.

Deals

Classic Pizza

Tomato base and pineapple.

Fresh Tomato and Basil Pizza

Tomato base, tomato and basil.

Fresh Garlic and Herbs Pizza

Tomato base, garlic and herbs.

Gourmet Pizza

Tomato, black olives, mushrooms and feta. Includes tomato base.

Roasted capsicum, red onion and pineapple. Includes tomato base.

Smoked salmon, capers and red onion. Includes tomato base.

Corn, feta, basil and black olive. Includes tomato base.

Anchovies, red onion, green olives and garlic. Includes tomato base.

Mushroom, olive, onion, capsicum and pineapple. Includes tomato base.

Sun dried tomato, eggplant, roasted capsicum and feta. Includes tomato base.

Pasta

Salad

Other

Sides

Sauces

Red Garlic Sauce

Tahina Sauce

Desserts

Chocolate or vanilla ice cream topped with chocolate or strawberry sauce.

Hashachar Ha'ole, crushed walnuts, and ice cream

Hot Beverages

Cold Beverages
Frequently asked questions
Can I order Shemesh Pizza delivery in Melbourne with Uber Eats?
Yes. Shemesh Pizza delivery is available on Uber Eats in Melbourne.
Is Shemesh Pizza delivery available near me?
Shemesh Pizza delivery might not be available everywhere in Melbourne, so enter your address to see if it's available near you.
How do I order Shemesh Pizza delivery online in Melbourne?
There are 2 ways to place an order on Uber Eats: on the app or online using the Uber Eats website. After you've looked over the Shemesh Pizza menu, simply choose the items you'd like to order and add them to your cart. Next, you'll be able to review, place, and track your order.
What's the best thing to order for Shemesh Pizza delivery in Melbourne?
What's best at Shemesh Pizza is totally up to you and your personal preference. If you're in need of some inspiration, consider trying one of the items featured in "Picked for you."
How do I get free Shemesh Pizza delivery in Melbourne?
The Delivery Fees may vary depending on a number of factors, like your location. Enter your Melbourne address to see the current Delivery Fee. You can also explore the Uber Eats membership and subscription options available in your area to see if you can save money on Shemesh Pizza delivery with $0 Delivery Fee on select orders.