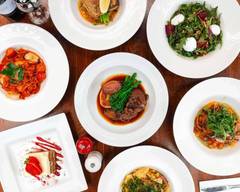 Location and hours
123 Blues Point Road, McMahons Point, APACX 2060
Sunday
12:00 pm - 8:30 pm
Menu
Monday
12:00 pm - 3:00 pm
Menu
12:00 pm - 8:30 pm
Menu
Tuesday
12:00 pm - 3:30 pm
Menu
12:00 pm - 8:30 pm
Menu
Wednesday - Thursday
12:00 pm - 8:30 pm
Menu
Friday - Saturday
12:00 pm - 8:00 pm
Menu
12:00 pm - 8:30 pm
Menu
Piato Restaurant
4.8 (11 ratings) • European • $$
  •  
More info
Closed • Available at 12:00 PM
Tap for hours, info and more
Delivery
30–45 min • $0.49
Picked for you

Marinated Open Lamb Pita Pack For 1

Parppadelle Pasta with Lamb Shoulder Ragu

Slow roasted Pulled Greek lamb shoulder Family Pack

Chargrilled Souvlaki Pack For 1

taramasalata, tzatziki, homous

Sides, Salads & Meze

Greek Horiatiki Salad (GF)

Gluten Free

Spanakopita

taramasalata, tzatziki, homous

Haloumi Cheese

olive oil, lemon, oregano

Warm sautéed green vegetable salad

spinach toasted almonds and lemon olive oil

Zucchini and feta fritters with tzatziki

Lemon, olive oil, oregano

Mains

Marinated Open Lamb Pita Pack For 1

Chargrilled Souvlaki Pack For 1

Fried Salt and Pepper Calamari

With garden and lemon salad.

Pasta & Risotto Mains

Parppadelle Pasta with Lamb Shoulder Ragu

Ricotta Ravioli with basil, walnut pesto

Prawn and ChorizoFettuccine Pasta

With chilli, prawns, chorizo, tomato and extra virgin olive oil.

Served with napoletana sauce

Tossed with chorizo, chilli and a tomato herb sauce.

risoni with tomatoes, herbs

Balmain Bug fettuccine Pasta

With fresh tomato, lemon, spinach, parsley

Family Packs

Chargrilled Chicken Souvlaki Family Pack

Slow roasted Pulled Greek lamb shoulder Family Pack

Dessert

with salted caramel sauce

served cold, just heat up for 2 minutes in a microwave or 6 minutes in a preheated oven

Beverages
Frequently asked questions
Can I order Piato Restaurant delivery in Sydney with Uber Eats?
Yes. Piato Restaurant delivery is available on Uber Eats in Sydney.
Is Piato Restaurant delivery available near me?
Piato Restaurant delivery might not be available everywhere in Sydney, so enter your address to see if it's available near you.
How do I order Piato Restaurant delivery online in Sydney?
There are 2 ways to place an order on Uber Eats: on the app or online using the Uber Eats website. After you've looked over the Piato Restaurant menu, simply choose the items you'd like to order and add them to your cart. Next, you'll be able to review, place, and track your order.
What's the best thing to order for Piato Restaurant delivery in Sydney?
What's best at Piato Restaurant is totally up to you and your personal preference. If you're in need of some inspiration, consider trying one of the items featured in "Picked for you."
How do I get free Piato Restaurant delivery in Sydney?
The Delivery Fees may vary depending on a number of factors, like your location. Enter your Sydney address to see the current Delivery Fee. You can also explore the Uber Eats membership and subscription options available in your area to see if you can save money on Piato Restaurant delivery with $0 Delivery Fee on select orders.