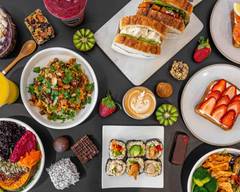 Location and hours
118 Smith Street, Collingwood, VIC 3066
Sunday
Closed
Monday - Friday
7:30 am - 4:00 pm
Saturday
8:00 am - 4:00 pm
Nourish Collingwood
4.8 (123 ratings) • Sushi • $
  •  
More info
118 Smith Street, Collingwood, VIC 3066
Tap for hours, info and more
Enter your address above to see fees and delivery + pick-up estimates.
This place is among the 10 Collingwood North spots users order from most. Love latte takeaway as much as the rest of your city? You'll be happy to know it's offered at Nourish Collingwood. If you like to do as the locals do, consider ordering from Nourish Collingwood, because it's particularly popular among Melbourne locals. • $ •
Sushi
 • 
Salads
 • 
Juice and smoothies
 • 
Allergy-friendly
Coffee & Tea

Lactose-free milk pup cup & House made dog biscuit (pumpkin, egg, cinnamon, whole wheat flour) *human friendly*

Magic

Macchiato

Costa Rica, Don Claudio
Natural (lychee, berries, winey dark chocolate)

Juice + Smoothie

Moodurance Smoothie

Cacao Calm Smoothie

Fruit Refuel Smoothie

Berry Optimum Smoothie

The Healer Smoothie

Vitamin C Smoothie

Mango Tango Smoothie

Cleanest Green Smoothie

Sweet Green Smoothie

Green and Gold Smoothie

New Leaf Smoothie

Protein Green Smoothie

Power Breakfast Smoothie

Peanut Protein Crunch Smoothie

Muscle Mary Smoothie

Protein powder, espresso, creatine, maca powder cacao powder, banana, nut butter and almond milk.
(The perfect energising post-workout smoothie)

1421kj / fat 16g / protein 15g / carbs 30g

Juice

Choose from a number of fresh vegetables, fruit, and leafy greens. Select at least one base, then go for broke!

Make Your Own Smoothie

Add your favourite fruit and greens, choose dairy, alt milk, coconut or filtered water + superfood boosters

Smoothie Bowls

Super Green Bowl

Acai Smoothie Bowl

Dragon Fruit Smoothie Bowl

Morning Glory Bowl

Peanut Butter Cup

Breakfast

Smashed Avocado Toast

Tiger Toast

Yo Toast

Cacao Overnight Oats w Peanut Parfait

Coyo cacao oats with a peanut butter parfait. Topped with caramelised banana and peanuts.

Nutty Nana

Almond butter, sliced banana, and chia seeds

Slice of Toast

Buttered Faraday's Cage Sourdough bread

Sushi

Vegetable Sushi

Jackfruit Sushi

Tuna Sushi

Chilli Tuna Sushi

Standard Sushi Platter (Mixed) Small

Standard Sushi Platter (Mixed) Medium

Standard Sushi Platter (Mixed) Large

Sangas

Lemon oregano chicken, kewpie mayo, avocado on sourdough

Salads

High Protein Pasta Salad

Broccoli Salad

Pulled Pork Burrito Bowl

Harissa Chicken Macro Bowl

Roast Veggie Macro Bowl

Sweets

Raspberry Ripe

Nut Bar

Snickers

Protein Ball

Cold Drinks

Water (600ml)
Frequently asked questions
Can I order Nourish Collingwood delivery in Melbourne with Uber Eats?
Yes. Nourish Collingwood delivery is available on Uber Eats in Melbourne.
Is Nourish Collingwood delivery available near me?
Nourish Collingwood delivery might not be available everywhere in Melbourne, so enter your address to see if it's available near you.
How do I order Nourish Collingwood delivery online in Melbourne?
There are 2 ways to place an order on Uber Eats: on the app or online using the Uber Eats website. After you've looked over the Nourish Collingwood menu, simply choose the items you'd like to order and add them to your cart. Next, you'll be able to review, place, and track your order.
What's the best thing to order for Nourish Collingwood delivery in Melbourne?
What's best at Nourish Collingwood is totally up to you and your personal preference. If you're in need of some inspiration, consider trying one of the items featured in "Picked for you."
How do I get free Nourish Collingwood delivery in Melbourne?
The Delivery Fees may vary depending on a number of factors, like your location. Enter your Melbourne address to see the current Delivery Fee. You can also explore the Uber Eats membership and subscription options available in your area to see if you can save money on Nourish Collingwood delivery with $0 Delivery Fee on select orders.